There are a few ways you can relieve pressure and stress after a hard day's work. Not many of them, however, can compare to the level of healing capabilities and relaxation you can get from a swimming pool.
Unfortunately, Mother Nature likes to pull a little trick called 'changing the seasons', and when she decides the swimming season is over, you and your loved ones can only accept the truth and wait for next year. At least that used to be the case until pool heaters were invented.
First, we decided to battle Mother Nature by using pool heaters, and now we've found a way to cooperate with her by using ones that are powered by sunlight. This way, you can keep swimming in your pool when the weather gets cold, and as a bonus, you're keeping Mother Nature happy by using clean and eco-friendly energy. That's a win-win if there ever was one.
Fafco Solar Bear Solar Pool Heater – Editor's Choice for Pool Solar Heater
Smartpool S601p Sunheater – Best For Inground Pool Heater
Smartpool Wws421p Sunheater – Best For Above Ground Pool Solar Heater
Top Rated Solar Swimming Pool Heaters
1. Fafco Solar Bear Solar Pool Heater – Editor's Choice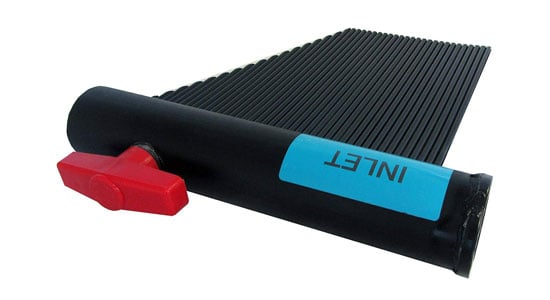 Highlights
Reputable and well-established manufacturer
Designed specifically for above-ground pools
Large solar collector
Mounting base included
One of the first American businesses to dedicate itself to solar water heating, Fafco was founded back in 1969 and has been in business continuously ever since. Over the years, they have become one of the largest distributors of solar pool heating systems in the United States, and are responsible for developing collector panel designs and copolymer blend materials used industry-wide.
The model that we've decided to select as our Editor's Choice for this buying guide is a system designed specifically for above-ground pools. It consists of a massive solar collector measuring 4 x 20 feet, and it features 1.5'' barb connections, which you can lay down next to your pool, thereby reducing the length of the hose needed.
To maximize efficiency and optimize the panels' heating potential, you'll want to install this system on a mounting rack and give it a tilt between 20 and 45 degrees facing South, which is also possible with this design.
The system is enough to keep around the pool with a diameter of 24 feet up to 10 degrees warmer than the ambient temperature, producing up to 80,000 BTUs of heat every single day. Aside from the panels, the solar kit includes rubber tube plugs, cap straps, a mounting base, and an integral bypass valve.
The Fafco Solar Heater takes only about thirty minutes to install. All you need to do is follow the instructions carefully, and you're good to go.
2. Smartpool S601p Sunheater – Best For Inground Pool Heater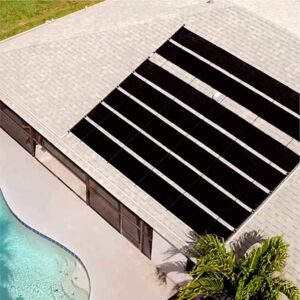 Highlights
Over-molded reinforced header
Best for in-ground pools
Direct flow through the pump
Very affordable option
In terms of in-ground pool heating options, it doesn't get much better than the S601P SunHeater from Smartpool. This heater is also suitable for above-ground pools, but we found that it works best with in-ground solutions.
This solar heating system uses direct-flow if water through your water pump, making the water flow through the solar collectors and heating the water up to ten degrees more than its current temperature value. You can place the polypropylene heating collectors onto your roof or right next to your pool, and they measure four feet wide and twenty feet long.
The S601P is quite similar in functionality to the Fafco Above Ground system that we reviewed above, and it does cost a bit less, but it doesn't include an installation kit. However, this Smartpool product is somewhat unique, with a few features that make it stand out from the rest.
One of the most prominent features that we'd need to point out is its over-molded reinforced header, which does a stellar job providing long-term durability. On top of that, each tube has been designed carefully to increase the amount of sunlight the surface can collect and get the temperature of your pool water as high as possible.
Don't forget to add an SK21 system kit to your cart when ordering this from Amazon, however, since it doesn't come included in the box.
3. Smartpool Wws421p Sunheater – Best For Above Ground Pool Solar Heater

Highlights
Polypropylene heat collector
All-weather
Everything you need is included
Reliable and long-lasting
Explicitly made with above-ground pools in mind, this Smartpool product is a high-quality heating solution that you can rely on to keep your pool warm year-round. The polypropylene heat collector this model comes with will do the job, and you can expect it to perform in all weather conditions.
The solar heater again measures 4 x 20 feet, and you can place it on the ground next to your pool, on the roof, or a mounting rack. Everything you need for the installation comes inside the pack, and it doesn't take much time to set this up on your own if you follow the provided instructions. If you're looking for a reliable and high-performance solar heating system for your above-ground pool, there's no reason to look elsewhere.
This is an excellent product for those who never used a pool heater, as well as those more experienced customers. In terms of customer feedback, this product has received glowing reviews from previous shoppers and seems to have served the majority of its buyers in a more than satisfactory fashion, with customers reporting their pools being heated quickly and reliably.
The polypropylene heat collector will help keep the water in your pool warm and comfortable for your entire family even during the colder months, as long as you have the sun. If you plan to set this heat collector next to your pool, you should keep in mind that some customers noticed a high-pitched noise coming out of it during operation.
4. Goplus Sun Heater Pool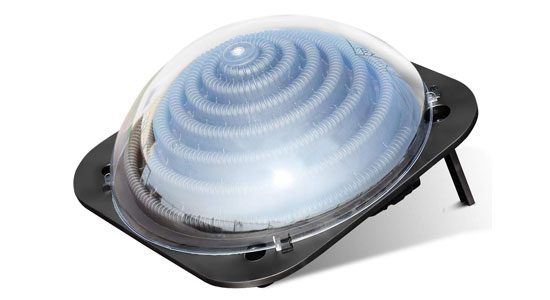 Highlights
Budget option
Easy to install and handle
Dome-shaped design
Small and portable
If there's one thing that could be said against solar pool heaters, it's that there aren't many budget options available. If you want to keep your pool warm using only the power of the sun, you're going to have to splash some cash.
Or at least that was the case until Goplus came out with this incredibly affordable dome-shaped model, specialized in above-ground pool heating. It's fair to say that this isn't the best solar heater money can buy, but it's the most affordable by a long stretch. Also, it's by no means a bad product, and it will give you plenty of bang for your buck.
Measuring only 22.5 inches in diameter and 8.5 inches in height, this dome-shaped heater is definitely on the small side compared to the substantial solar collectors we mentioned previously.
This makes it especially easy to handle and install. While we're on the subject of installation, the Goplus comes with everything you need, including the hoses, and it is designed to warm up a 4000-gallon pool in about 6 hours and keep it warm for as long as the sun is out.
Where the low price begins to show its face is the effectiveness. Unfortunately, you can't expect high performance from this product as it will raise the water temperature anywhere between three and five degrees depending on the weather. Some people may not find the difference enough to justify the purchase, but at this price, we think it's worth checking out.
5. Smartpool S240u Solar Pool Heating System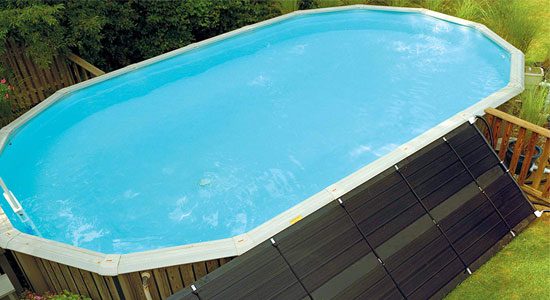 Highlights
80 square-foot collector
Unique design
Solar pill included
Stackable
One of the cheapest traditional solar pool heaters you can buy comes from SmartPool in the form of their S240U heating system. When we say 'traditional,' we mean that this model consists of an 80 square-foot solar collector, rather than a dome-shaped design. If you want to keep your pool extra warm, you might even spring for a couple of these and double the efficiency, but most customers agree that one is just enough to keep their above-ground pool warm.
The model uses a unique design, with two 2 x 20 panels connected by a short hose, rather than one 4 x 20 panel, we've seen in the other models. This one can also be set up on your roof or by the side of your pool, just like the previously-discussed models.
All you need to remember when setting it up is that it needs to receive as much sunshine as possible, so don't set it up right next to your pool or anywhere there's shade.
Everything you need for installation is included in the box, namely a detailed user manual, four stainless steel hose clamps, four end caps, a roll of Teflon tape, and a connector hose. On top of all this, the package includes a bonus solar pill, which will help reduce heat loss in your pool. If you're planning to install the system on your roof or mount it on a rack, however, you're going to have to buy extra accessories.
6. Xtremepowerus Heating System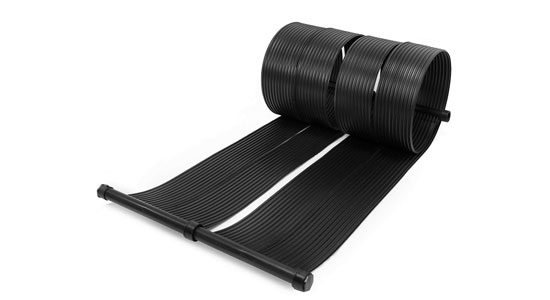 Highlights
Great value
Up to 15 degrees increase in temperature
Hooks directly to filter and pump system
Incredibly efficient
If you're interested in the tested and proven performance of a conventional solar-panel pool heater, and you're looking for one at an unbelievably low price, the XtremepowerUS Heating System might be for you.
This 2 x 20-foot system is crazily affordable, and it hooks up directly to your pool's filter and pump system, so it's easy to install as well. You can have this puppy working its magic in just an hour or so, and have your pool warm by lunchtime. It will increase the temperature of the water up to 15 degrees in an average above-ground pool, which makes it the most efficient panel on this list, aside from being one of the least expensive on the market.
It is difficult to find anything to dislike about this system, to be honest, except for the fact that if you need to heat a larger pool, you may need to get a couple of these panels for increased efficiency. However, with its low price, it's not going to be too taxing on your wallet to add another set. In terms of value, it doesn't get much better than this product, and you'd be hard-pressed to find any solar heater this good for the price.
You can set the panel up right next to your pool, on a mounting rack, or the roof of your home, and while it is going to take up some space, it will give you a level of performance you can't complain about.
7. Kokido Keops Solar Dome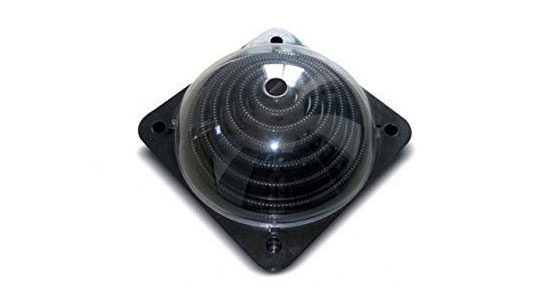 Highlights
Easy to install
Fast and efficient
Stackable
Can warm up to 6,000 gallons
The end of summer does not have to mean the end of the swimming season if you've got the Keops Solar Dome heater from Kokido. This product will let you enjoy a warm pool for a few more months by keeping its temperature at comfortable and toasty levels. No more teeth-clenching when fall rolls around, just hold your breath, hop in, and enjoy the cozy warm water with your family and friends.
This is another excellent product that will let you extend the swimming season without having to pay a fortune on your electric bill. It is an easy to handle and install alternative to the electric and gas-powered pool heaters you can find out there.
It only takes a few minutes to raise the temperature of your swimming pool effectively with this solar dome pool heater. This fast performance means you won't be spending hours pacing by the poolside impatiently checking the temperature of the water, as it'll be ready for a comfortable swim very quickly.
Another cool feature of this dome is that it allows hooking up more than one, which lets you cut down the time and raise the efficiency, meaning your pool water will be even warmer. One of these heaters is intended to warm up a pool of up to 6,000 gallons, while if you've got anything significantly more extensive than that, you should consider getting an additional heater, or you won't notice much of a difference in temperature.
Finding The Best Solar Pool Heater – Buying Guide
Jumping into ice-cold water can be an exciting and healthy experience from time to time. But if you're looking to have a relaxing dip in the pool after a long day, toasty and warm water sounds a lot more appealing.
We've shown you some of the best solar pool heaters on the market. Below, we're going to discuss some factors you should think about before making a purchase.
Things to Consider When Choosing the Best Product
How Do Solar Heaters For Pool Work?
Nothing's more refreshing on a sunny day than a nice dive into a swimming pool. But refreshing doesn't have to mean freezing as well. Getting the water in your pool to the right temperature and saving on the energy bill is as easy as sunbathing with a solar heater.
The swimming pool solar heater is similar to the conventional one. The difference is that with a solar heater, the pool is the thermal tank. Once the water is heated, the solar absorbers will keep it at that temperature by restituting the daily thermal loss.
The system is incorporated into your pump, which takes the water to the absorbers and returns it heated to your pool. Another important thing is that the water runs into the solar collectors only when the pump is operational, to avoid overheating and potential damage to your solar heating system.
Distance Of The Pool From The House
If you plan to place your solar collector on the roof of your house, you should take the gap between the pool and your home into consideration. The greater the distance, the harder your pump is going to have to work to push the water up the side of your house and into the collector. In theory, almost any distance is viable; you'll just need a bigger and stronger pump. Ideally, though, you should use a roof-mounted system if your pool is right next to your house.
Many of the solar collectors we presented in the list above can be placed on the ground next to the pool or onto a mounting rack, so if your pool is further away from your house, consider these options as well. Keep in mind, though, that placing the collector on the ground will negatively affect its efficiency since an angle between 20 and 45 degrees facing the South is ideal.
Above Ground Vs. In-ground Pools
Just like there are two types of pools out there – in-ground and above-ground, there are also two types of solar pool heaters, each designed for one kind of pool. That doesn't mean that each of these types won't work with the other kind of pool, but the performance may be sub-optimal, as the technologies used are somewhat different. Some brands offer products that are equally suitable for both options, but it's a better idea to stick to the type your pool requires.
Another thing to keep in mind is that each solar heater is designed to withstand a specific level of water pressure. If you have a pool pump installed that exceeds the capacity of your solar heater, you could run into some trouble. An excellent solution to that is introducing a bypass valve which will reduce the water pressure exerted by your pump.
Important Features To Look For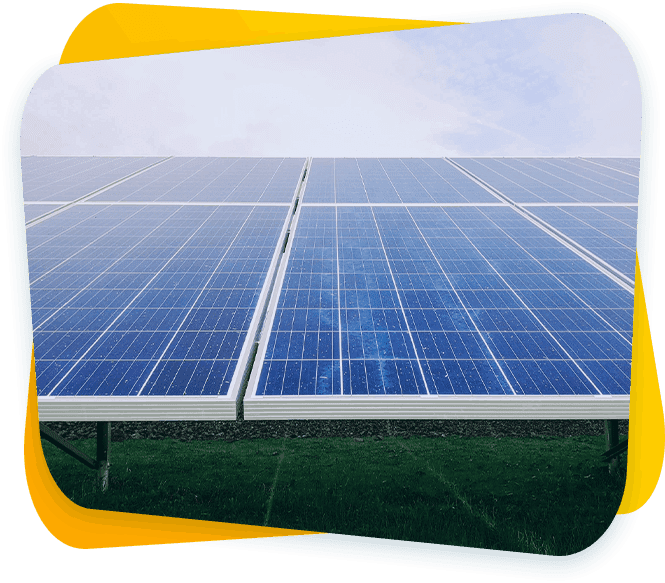 FAQ
Q: How Can I Determine What Size I Need?
A general rule of thumb states that you need a system that exceeds at least 50% of your pool surface. Depending on the depth of the pool, you may want to go up to 100% of the pool-surface size. Solar panels are usually available in sizes ranging from 4 x 8 to 4 x 40 feet. If you plan to mount them on your roof, plan on placing them in a column one beside the other and connecting them with short hoses.
All this being said, each home, rooftop, and pool is unique, and the size of your heater is going to be based on a variety of factors including the direction of the roof, the general conditions in your area, desired pool temperature, geographic location, shading, as well as the shape of the pool itself.
Q: Do I Need A Pool Cover?
Having a thermal pool cover is highly recommended, no matter what heating system you use. Trying to heat a pool with no protection is similar to heating a house with no roof, or trying to bring a pot without a lid to a boil. It can be done, but it's going to take a lot more time and energy.
As a rough estimate, not having a pool cover is going to double the cost of operating a gas heater or heat pump, while it will halve the effectiveness of a solar heater. For added convenience and ease of placement, we recommend getting a roller for your cover.
Q: Is It Easy To Operate A Solar Heater?
Today's solar pool heaters are almost entirely automated, and the controls are very reliable and easy to operate, so there's nothing to worry about on that end. All you need to do is set the thermostat and wait for some sunshine to heat your pool to the desired temperature.
On top of that, the cost of operation of one of these devices is zero, which makes it by far the most economical way to keep your pool water warm.
Q: Should I Worry About It Affecting My Pool Chemistry?
A properly installed solar system should not have any effect on the chemicals in your pool. However, since the pool will be warmer than before and you're probably going to be swimming in it more than before, you will likely need to increase the amount of chlorine you use. You may also want to consider purchasing an automatic pool chlorinator if you don't want to worry about this anymore.
Q: Are Solar Pool Heaters Going To Get More Effective In The Future? Shouldn't I Wait For That?
Even though advancements in technology have driven the price of production down in recent years, the efficiency of solar pool heaters hasn't changed significantly over the past two decades or so.
Most solar panels nowadays operate with an efficiency of around 90%, and it's difficult to expect them to move far past that in the coming years. As far as we're concerned, there's no time like the present to install a solar heater and start warming your pool with the power of the sun.
If you've heard talk about the improvements in solar technology, it was most likely related to photovoltaic solar electric panels. These are used to provide electricity to businesses and homes, and their efficiency is still likely to improve significantly. These panels currently operate in the 14 – 22% efficiency range.
Q: Are There Ways To Make Solar Collectors More Aesthetically Appealing?
You'd be surprised at how many of your neighbors may already have a solar pool heating system in place that is installed in such a way that it blends with the look of the house, or is completely hidden from view.
If installed properly, solar pool heaters do not have to look ugly at all, but if you hate the idea of one of these collectors sitting on your roof, there's always the option of using a mounting rack or placing the collectors on the ground in your backyard where they will not affect the look of the house.
Conclusion
If you're looking for a great way to preserve energy and save money with sustainable and clean power, solar pool heaters are the way to go. Hopefully, reading this guide has made you even more determined to find the right solar heater for your pool, and you've got all the information you need to make a decision.
Whether you're looking for something affordable and compact, or you're interested in performance at all costs, there's a solar heater for you out there. Consider your needs and the size of your pool and find your heater among those listed above. We're sure your family will thank you when they are swimming in a warm pool.
If these weren't enough, check out some other picks from Amazon also: