In case you have a pool outside, in your backyard, or inside in the house, and you are thinking about upgrading its surroundings by installing some lights, it would be good to think about choosing clean energy, or, more precisely, solar power in order to do that.
There is a huge assortment of solar pool lights you can attach to places around it, and make it brighten up the most beautiful way. The great thing is that this way you can save a lot of electricity, and therefore money on the bills, and be a real environment-friendly person.
Comparison Table:
These solar lights can also be used for the illumination of your garden, patio, lawns, decks, and other home areas. So here is the list of best solar pool lights you can currently find in the market.
Top Picks Solar Powered Pool Lights
1. Esuper Floating Inflatable Solar Lights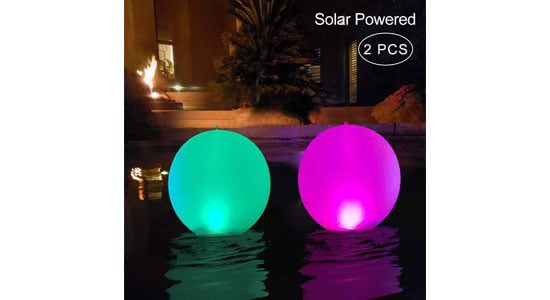 These magical lights are inflatable, and they can float on the surface of your pool. The four different colors will automatically change every 15 seconds, so this can be a great addition to your party scenario. Just like any other solar light, these too are constructed in a way that allows them to charge by day and shine during the night.
In the first place on our list is something many of you would absolutely adore having – floating pool lights inside of the colorful ball lamps. They are very easy to blow up, and besides they have a decorative role, you and your guests can play with them by tossing them around.
If they are exposed to the sun throughout the entire day, they will have the ability to work for six to eight straight hours. There is a hidden solar module that generates the sunlight and converts it into electricity that will power up the LED lights.
Each light is waterproof and dust resistant, they can be used inside or outside, and there is even an option to hang them on a fence or a tree, place them on the table or stake them into the ground. They are quite durable so they can withstand heavy rain or even a storm.
Highlights:
Floatable lights
Decorative and playful
Automatically color-changing module
Easy to blow up
Perfect for parties
2. Solmore 4 Pack Solar Deck Lights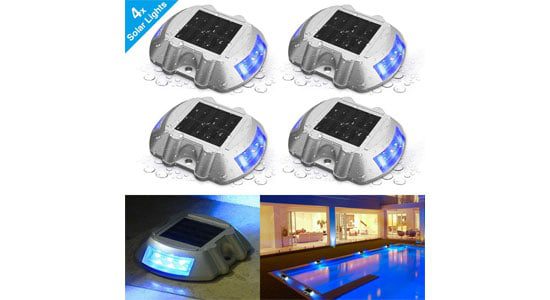 On top of each light base, there is a solar panel, and it needs to be placed in a way that allows it to have full exposure to the sun. These lights will automatically charge during the day and work during the night. Thanks to that, and the fact that every light has six LED bulbs inside of them, you will have a super bright pool space.
If you are looking for on-the-ground type of pool lights, this Solmore package might be the perfect choice for you. They are high-quality made from aluminum alloy, and they are super durable since they can withstand the weight up to nine tons. So even in situations where you step on them or run them over with your car, for example, they won't be damaged for sure.
These lights are very easy to install since everything is wireless-based. You just need to screw them down to the place you want them to be. The great thing is that you can use them also for your lawn, driveway, garden, etc. For 12 hours of charging, they will provide you with 10 hours of brightness.
The rechargeable battery is tightly sealed inside of the housing, so the water splashes won't affect its work, and besides that, these lights are waterproof and resistant to rust, so you won't have to worry about that. The light that is emitted is blue, so it will be a cool decorative detail too.
Highlights:
Easy to install
Super durable
High-quality made
Decorative and practical
Waterproof
3. Betim Solar Floating Pool Lights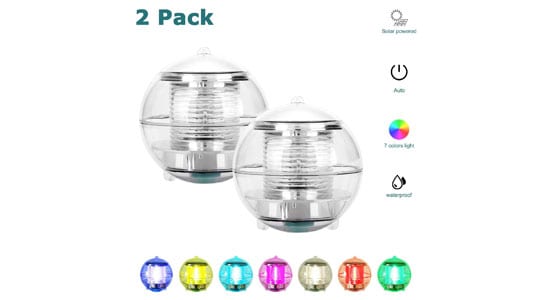 They have an option to automatically change seven colors, with a gentle and slow flash shift. Because of that, these lights will be great for pool parties as part of the decoration. They have solar panels installed, so if you leave them to charge for eight hours, they will provide you with the 12 hours of spectacular illumination.
Lighting balls are quite popular these days, especially if we are talking about solar lights for pool areas. Because of that, we present you with one of the best floating pool lights you can find in the market. These lights are waterproof, clearly, since they have an optimized bottom that keeps the battery safe and makes them rotate smoothly.
It is essential to turn the on switch before installing them, and then the lights will work automatically – they will be off and charging during the day, and on shining through the entire night. Besides putting them on the water surface to float, you can also hang them above the pool, the patio, garden, etc
. Given that each one of the balls has a hole on top, you can connect them with a rope and let them stay in series. These lights are eco-friendly and energy-efficient, so you will save a lot on electricity bills and still have great lighting in your yard and pool area.
Highlights:
Floating light
Eco-friendly
Color changing
Easy to install
Hanging option
4. Blibly Swimming Pool Light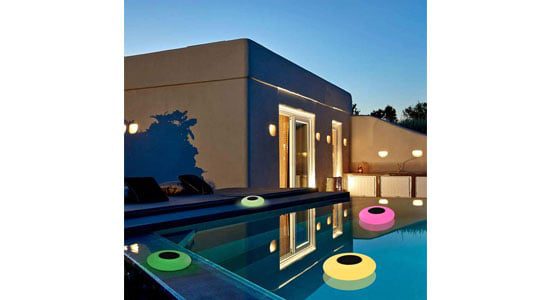 They are working entirely based on solar power, and they need to stay under the direct sunlight for eight hours in order to be fully charged. After that, they can work, providing the light for the entire night. Given that these lights have an option of changing 16 different colors, they will transform your outdoor space into a great decorative place.
These are the pool floating lights that can also be placed around the pool area, or anywhere in your backyard or indoors. The Blibly lights are dustproof and waterproof, so they can stay outside if it's raining, or inside of the pool.
The lights come with the remote controller, so there is an option of shifting colors manually, as well as choosing between four distinctive modes. You can place them on the surface of your pool and let them float freely, which will be super interesting for kids and your guests.
You won't need the help of professionals to install and set them up, because they are effortless to handle and you will get the instruction manual to do it all by yourself. Bright, shiny, and colorful pool lights will be a great addition to the wedding, birthday parties, and all other gatherings in your home.
Highlights:
16 different colors
Four modes
Remote controller included
Easy to install
Floating lights
5. Game Solar Underwater Light Show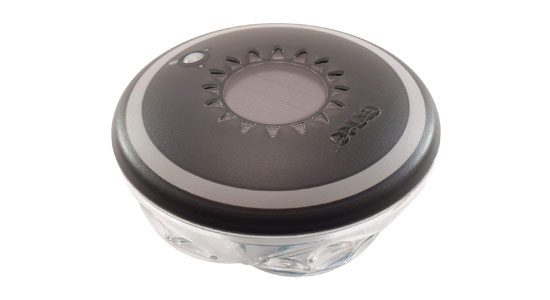 Now, something a bit different. This is an underwater solar-powered light you can use for your indoor or outdoor pool. It is a very durable and long-lasting item you can place in the water, and it will provide you with a stunning light show.
It has a solar panel on top of it, so you need to put it under the direct sunlight in order to charge fully. After that, it can shine bright for eight hours during the night. Since the system has a rechargeable battery, this process needs to be repeated every day, and it doesn't need additional batteries.
Even though the light can work automatically – it will go on when it's dark, and off, charging when the sun comes up, it can also be managed manually with the help of the on/off switch. The light will emit seven different colors in the water, creating a beautiful underwater effect.
The lights will shift on their own during the use, so the entire pool will look very decorative. The usage of this light is appropriate for all sorts of parties, but also quiet evenings with your partner since they will provide a romantic atmosphere too.
Highlights:
Underwater light
Light show
Color changing
Easy to install
Manual control included
6. Homyy Solar-powered Floating Lamp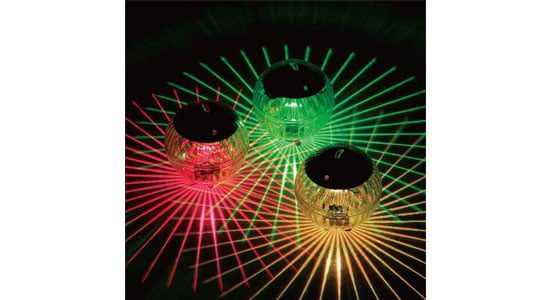 This three-piece set of colorful and super fun solar light floating balls is quite affordable and quite popular on the market. The manufacturer claims lamps are made in a high-quality manner, and that they are resistant to water, so you can place them in the pool.
Each ball contains a little solar panel attached to the top, so when it's exposed to the sun, it can collect and generate sunlight into the electricity that will turn on the lights. But for them to work through the night, they need to be fully charged.
At the bottom of the balls, there is a switch you need to turn on before use. The lights will change seven different colors automatically – green, purple, yellow, blue, red, white, and orange, so it will create an amusing atmosphere in your pool area or in your garden, given that they are multi-practical and you can place them wherever you want.
They can float on the water, or, you can connect all the balls together through the hole on top and hang them on the curtain, fence, tree, above your patio, etc. They are energy-saving and environment-friendly floating pool lights.
Highlights:
Easy to install
Floating
Hanging option
Energy-saving
Environment-friendly
7. Sunwind Pool Side Solar Lights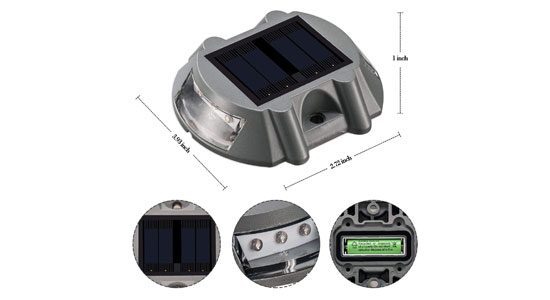 Here are the solar deck lights that can illuminate your pool area, as well as some other places in your garden or backyard. They come as the set of six pieces, they are made from an aluminum alloy that's very durable and can withstand nine tones, so there is no danger of damaging them easily.
The system is easy to install, so you will be able to set it up by yourself, with the help of a manual, and at the end of the day, you will have effective lighting undisturbed with wires all around.
They can be mounted vertically or flat on the ground, fence, wall, deck, tiles, etc. Each light has six LEDs that can cover the 180-degrees area around them, so you don't need to put them too close to another one. These lights can work up to eight to ten hours when they are fully charged, which is more than enough.
They have better waterproof performance than the generation before them, and the battery compartment is very well packed, so there won't be a chance for the batteries to be damaged. It's just important to put them in before setting the lights up.
Highlights:
High-quality made
Very durable
Waterproof
Easy to install
Six LEDs in each light
8. Winzwon Floating Solar Changing Lights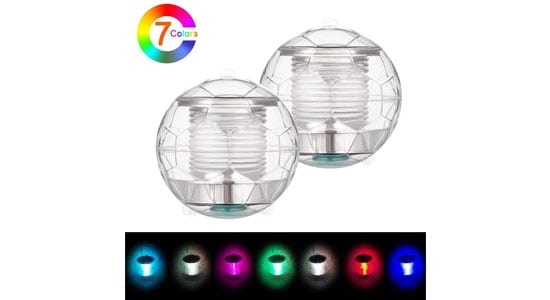 Impressive, round-shaped solar pool lights that look a lot like football can be a great addition to your backyard area. They are floating pool lights that come in a package of two, and have an option of shifting seven different colors automatically.
They will create a beautiful and interesting effect in your swimming pool, fountain, or garden pond. On top of each light, there is a solar panel that transforms the solar power into electricity.
If you leave them to the direct exposure to the sun, they will charge, and then, when the night comes, provide light. The lights are made from good-quality PC material, they are very lightweight and compact, as well as waterproof, which is expected given they can float on top of the water surface. Thanks to the hole they all have, you can make a connection between them with some kind of rope, and then hang them on a tree, curtain, or some other place.
The vivid look they will provide will be perfect for long summer nights, pool parties, and other gatherings with your friends when you want to turn your backyard into some magical and cool place. The lights will do everything on their own, they will turn on in the dawn and turn off in the dusk.
Highlights:
Floatable
Football shaped
Waterproof
Work automatically
Hanging option
9. Topadorn Solar LED Pool Rotating Light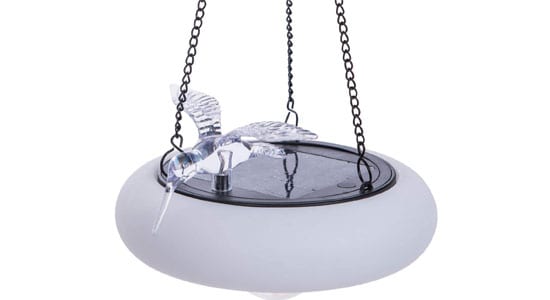 If you are looking for a great outdoor decoration, or more specifically, for some beautiful pool lights, we believe this is an excellent choice for you. Topadorn solar lights have two options – one includes placing them in the pool water, and another making them hang above the water or some other area.
In both cases, the effect will be stunning. They have solar panels on the top so they can gather and convert sun rays into the energy the lights will work on, so they need to be placed under the direct sun during the day.
After eight hours of charging, they will be able to provide the light for the entire night. These lights have a lampshade that will be in one color, but also the rotating RGB lamp above that will emit the diversity of color inside of the pool.
Another detail in the shape of a flower or hummingbird will be shining in distinctive color too. Everything is waterproof and works automatically, so you won't have to think about it, and it is an energy-saving object that won't cost you a thing after you purchase it. This light is excellent for parties and other occasions like birthdays, weddings, etc.
Highlights:
Floating and hanging
Stunning light effects
Rotating RGB lamp
Waterproof
Works automatically
10. Lotus Flower Waterproof Floating Lamp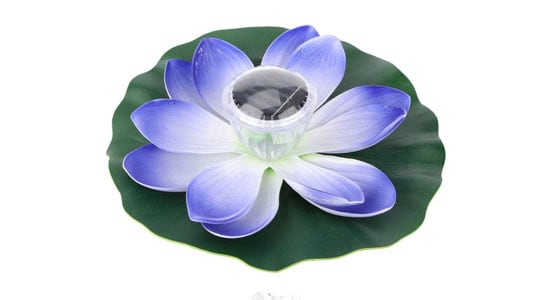 Solar-powered pool lights can have different shapes. This one, for example, is quite interesting given it looks like a lotus flower that can float on the water's surface. If you put it in your pool, it will create a romantic atmosphere, because these objects will shine in many colors and move around with the wind breeze. Every flower has the ability to change seven different colors, and the main part contains LED lights that are very durable.
It is waterproof and easy to install, so you can put them literally anywhere you want in order to illuminate and decorate indoor or outdoor areas. In the middle part, there is a solar panel that collects and generates power for the lights, so you won't spend any money on electricity. These flowers are eco-friendly and energy-saving, plus, they are quite affordable.
When the sun is up in the sky, you have to turn the switch on and let the battery charge so that the light can be able work when the time comes. The high-quality polycrystalline solar panel will absorb sun energy pretty fast, and the crystal ball is structured in a way to prevents the lamp from tilting.
Highlights:
Floating
Flower-shaped
Romantic atmosphere
Easy to install
Fast charging
Finding the Best Solar Pool Lights – Buying Guide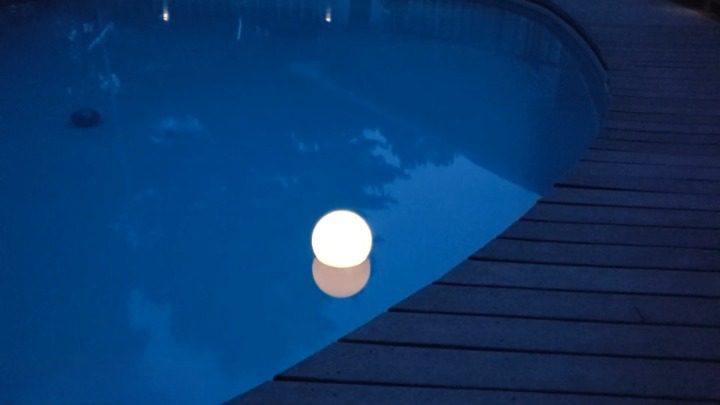 The main characteristic of solar pool lights is that they are decorative, innovative, and energy-efficient. They will bring the light into your backyard or garden area while remaining environment-friendly and money-saving.
When thinking about buying them, you need to think about what you need them for, where you plan to place them, what type of solar pool lights do you want to have, and how good are their solar panels.
Things to Consider When Choosing a Solar System
1. Usage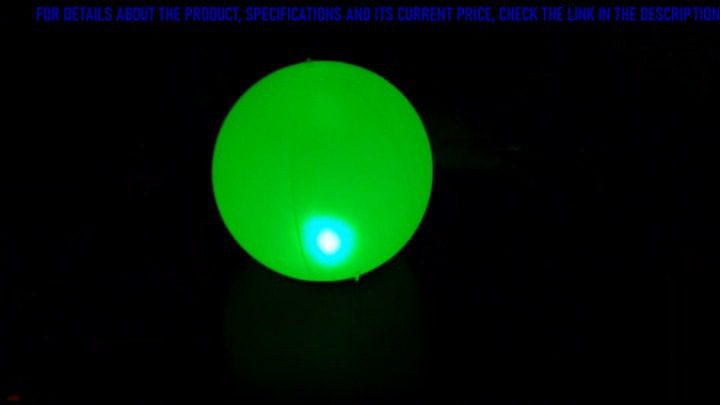 Solar pool lights are, as the name itself says, decorative lights for pool areas, but people tend to use them to illuminate some other outdoors, or even indoor places quite often. Their main purpose is to bring the light into the pool and its surroundings, so they are mostly made in a way that allows them to float on the water. It is important to decide on their primary usage before purchasing them because they can offer different things and have different features.
Floating lights mostly have an automatic color shift, for example, so they will give you a playful atmosphere, while dock lights are very bright and are made to illuminate the specific spot extremely well. The market is so versatile when it comes to this topic, and it would be best to research a bit on what's out there. You can use some of these lights in more than one way, and it would be good to know your options in advance.
2. Placement
Solar lights can be placed in the water, to float, they can be attached to the tiles around it, they can be hung above the pool, placed on the grass, etc. Given that they are waterproof and resistant to all weather conditions, quite often they are being attached to the front or backyard lanes, stairs, on the patio, or in the garden in order to mark the way, but also, they can be pin-up to the tree, fence, curtain, or some other high place as an interesting ornamental detail.
The fact that you can put them and use them in many different ways is one of the best things about them, besides the fact they won't spend your electricity. You can illuminate the indoor pool with them too, you just have to make sure they have full access to the sun during the day to charge.
3. Solar Panel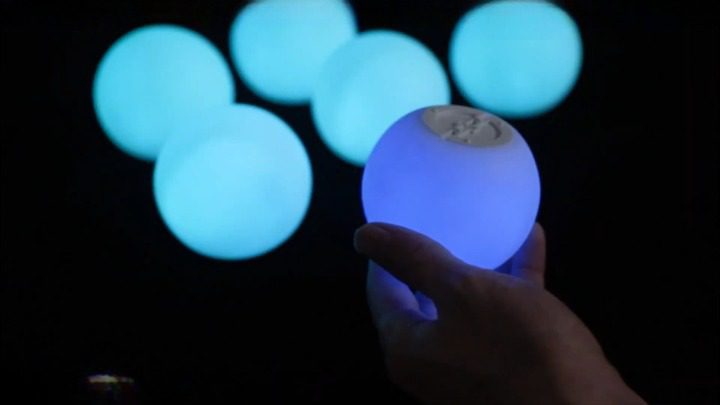 On top of every solar pool, light is a solar panel that has a task to collect the sunlight and transform it into usable power. They usually need around eight hours to charge, during the day time, in order to be able to provide enough electricity for the lights to work through the entire night.
The whole system is mostly created so the lights can work automatically, which means they will turn on when the dusk comes, and turn off when the dawn appears.
The solar panel needs to be high-quality made, and it's not important whether it is monocrystalline or polycrystalline, as long as it works just fine. Make sure to check with the manufacturer about its performances before deciding on the purchase, because usually, you won't find as much information about this aspect in the brochures.
4. Types of Solar Pool Lights
In terms of how they work, all solar pool lights are the same. They have a solar panel that generates sun power and turns it into electricity lights can work on. If we talk about the shape they can have, there is some diversity, but mostly they are round-shaped, and ball-shaped, especially if they are made to float on the water. But the most crucial distinction is based on their usage and the place you wanna put them. So we have on-ground solar lights and floating solar lights.
On-ground lights are essentially marker lights that can be attached to different materials in the same distance, so they can brighten up the specific area – the pool area. They are waterproof, so the splashes from the pool won't damage them, they are very durable, weather-resistant, and quite strong, in the sense of the light power.
Floating lights are mostly colorful and light, they can be placed in the pool, and they have mainly decorative purposes.
Important Features to Look for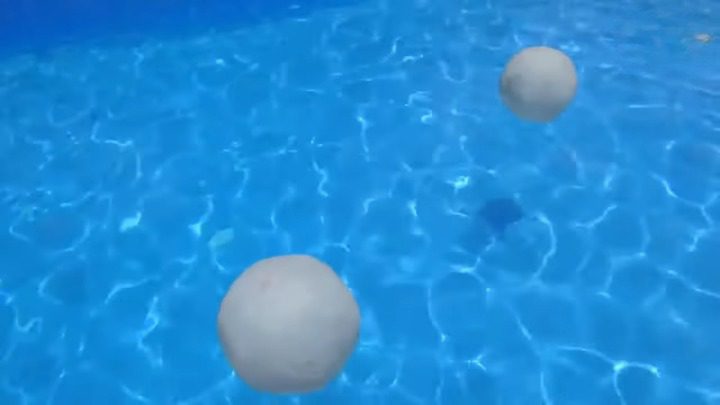 1. Versatility
Solar lighting for pools can be quite versatile. Most of these items are floatable, so you can put them in your pool, but also in your pond in the garden, fountain, or other non-water places like grass, stairs, path lanes where they can just lay, be decorative, and practical.
Many of them are multifunctional, so people use them to light up the driveway, or to illuminate the docks, yachts, and other places. Quite often, they can be hung on a tree or fence, or some other high site, to be a cute decoration for parties, weddings, birthdays, and many more celebratory occasions.
2. Quality
Most of these solar pool lights are quite affordable, and they come in a set of two, three, or a couple more.
Depending on the material they are built, they can be super durable and high-quality made like those marker dock lights that can withstand cars running over them, but those floating ones are made of plastic mostly, so you need to be a bit more careful with them. If you want to make sure they are resistant and durable, check the reviews of people who already have them.
3. Waterproof and Weatherproof
Since we are talking about items that will be installed or placed outside mostly, they have to be both waterproof and weatherproof. And they usually are. You can put floating lights in the water because their battery compartment is firmly sealed, and when it comes to those that need to be attached to the ground, you can be calm because the splashes of water won't harm them.
In case there is a storm outside, you should store the ones that are not screwed to the ground just in case they don't break in a gust of wind.
4. Durability
This aspect depends on the solar light type and the material they are built. Lights that have aluminum foil or stainless steel base are super durable. They can withstand up to 10, sometimes even 20 tons of weight, which means almost nothing can break them.
Other lights are usually created from PC plastic, and they are not so resistant. You need to be careful in order not to break them, but again, they are not made of glass, so you can be relaxed. Manufacturers usually claim their lifespan is a couple of years, which is not so bad if you take into consideration their price.
FAQ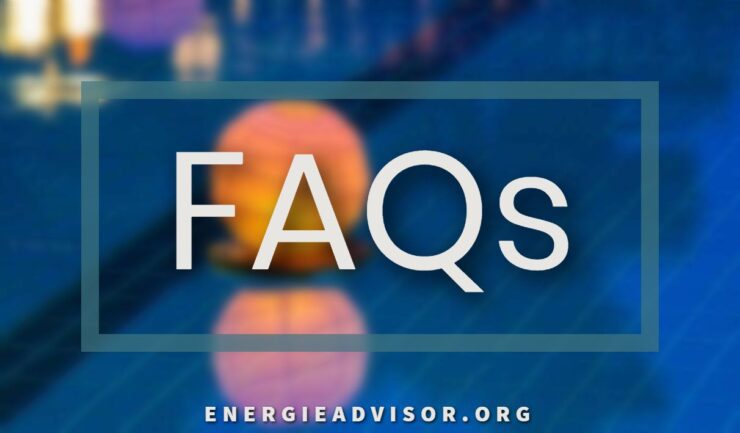 Q1: Why Should I Buy Solar Pool Lights?
There are a couple of reasons you should do that. First of all, it's a matter of safety. You don't want to have a deep hole full of water in the middle of your backyard and to leave it be in the total dark. It's just a matter of time before some accidents will happen. The second reason is the decoration. The light reflecting on the water that's slowly moving in the wind is a spectacular sight.
Your yard will look stunning if you make sure a couple of lights are illuminating the pool area. And the third thing is actually the most beneficial given it will save you a lot of money. Thanks to the fact these lights work entirely on the power of the sun and solar system, your electricity bills will stay the same even after you install them.
Q2: How to Know Which Solar Pool Lights Are the Best?
Well, this is really a matter of opinion, and it is determined by many factors. When it comes to the brand, you should do a little bit of research and see what the experiences people who bought some of these lights have, how satisfied they are and what their main concerns are.
Another thing that's quite important is to see what are the specifications of lights – what type of battery is used, what type of solar panel is on top of each light, what material the base is made of, how long can they work in continuity, etc.
Q3: How Long Is the Warranty for Solar Pool Lights?
We cannot answer this because it's different from manufacturer to manufacturer. In order to have reliable information when it comes to this matter, you should contact them and check the specifications. The warranty for solar pool lights can be from a couple of months to a couple of years, it all depends.
Q4: How to Store Solar Pool Lights in the Winter?
There is no strict rule about this, you should just remove the floatable or hanging solar lights from the outside, and delay them in some kind of storage in order to protect them from bad weather until the next summer season.
You can use the original packaging and put them in those boxes, for example. Other lights that are on the ground, attached to the soil, are the ones that can stay outside, so it won't be necessary to unscrew each one of them and remove them from their place.
Q5: How to Install the Solar Pool Lights?
These lights are created in a way they are able to do almost everything on their own. You will most likely get a manual where you can see what the steps you need to follow in order to install them are, but those are pretty basic stuff.
They usually come fully assembled, and you just need to put the battery in, if needed, and turn the switch on. That's it. The instruction will tell you how many hours they need to charge before being able to start working. And if you decide on buying marker lights, you will have to screw them to the ground with some simple tools.
Q6: How to Clear and Maintain Solar Pool Lights?
The procedure is very simple. It would be good to take a bucket of clean water and a soft sponge and to wipe each light off very gently. That way, you will remove the filth, which is important, especially for solar panels, so they can work properly and be fully efficient.
If you see that there are some greasy spots, you can use dish detergent and try removing them with it. Again, with soft and gentle movement.
Conclusion
There is no doubt your pool will totally be transformed when you put these sorts of lights inside or around it. The colorful floating balls or flower-shaped lamps will bring in magic into your backyard, and on-ground lights will make sure this part of your household shines bright and luminous.
There are many options you can go with when it comes to this subject, so make sure to go through all these lines above just to make sure you know what to expect. And remember that the most important part of these lighting systems is the solar panel that needs to work perfectly in order to provide enough electricity for these objects to shine through the night.