If you are already familiar with the power and all the benefits of solar panels, we completely understand your decision to stay on a solar energy course and install solar outdoor lights in your garden or backyard.
On the other hand, you may be skeptical and not ready jet to go off-grid and generate power for your household with the help of a solar system, but still, you find the whole thing intriguing. In that case, take baby steps and get to know this technology through the usage of the best solar lights.
They can provide you with fantastic ambient light that will shine on your yard paths, pool area, or garden sports. It's up to you where you want to put them. The fact is, you will save a lot of money on the electrical bill, while your home will be all bright and shiny.
If you like to believe you are a modern guy or girl that's always a step in front of his generation, this is definitely something that will prove you are right.
Our Top Reviewed Products
1. Tomcare Landscape Lights – Best Solar Lights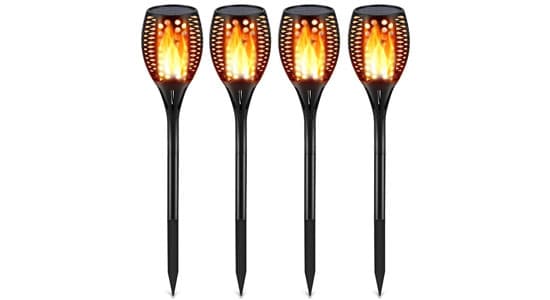 Highlights
Based on LED light
No wiring needed
10 to 12 hours of work
Rechargeable Li-ion battery
Durable and waterproof
If you are looking for something spectacular for your garden, we suggest these flickering flames torches lights that are super modern, but with a sense of exotic traditions. They represent the safe alternative to the real open flame products, given they are based on LED light that has a gentle and mode-enhancing glow.
One of the best things is that they don't need any kind of wiring, you can just put them anywhere outside, and they will work just fine. Prior to the first use, they have to be charged for two sunny days, but later on, they will need to be exposed to sunlight for eight hours only. The assessment is that torches will provide you with light 10 to 12 hours during the summer and five in the winter days.
They have a rechargeable Li-ion battery from 2200 mAh that's built-in, and the lights work entirely on solar energy. The idea is to place them at the desired spot, let them collect the sun energy the whole day, and just watch how they turn on suddenly at dusk, lighting on the ambient beautifully.
The set comes with four torch pieces, four extended pipes, four ground spikes, and a manual. Each light is 43 inches tall, and it weighs around half of pound. They are quite durable, waterproof, and can withstand any weather at any time of the year. You will enjoy having these around your benches, garden tables, and other backyard accessories.
2. Beau Jardin Silver Lights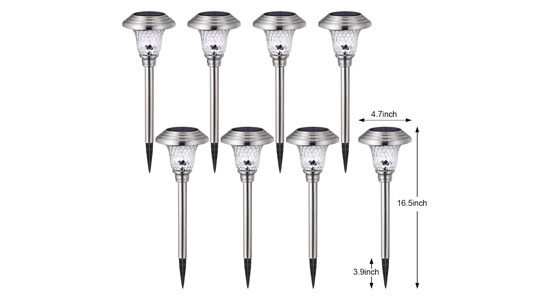 Highlights
Modern design
Wireless solar kit
Easy to install
Rechargeable battery included
Eight to 12 hours of work
Here is another outdoor solar light set made of stainless steel with diamond-shaped glass on top. They are 16 inches tall and 4.7 inches wide in diameter. It's a wireless solar kit that has eight pieces, perfectly enough to lighten up your entire backyard. The modern design that combines glass and metal will be a great addition to your new home, and their substantial textured will proved excellent durability.
Like the previous set, this one is also very easy to install. You just need to take pieces out of the box and carefully stick them into the ground.
They don't need any wiring since each item is based on LED solar landscape lighting. Lights contain solar panels that will absorb sunlight during the day, and then convert it into the electricity that will make your garden all bright and decorative.
The rechargeable AA Ni-MH battery is included. The fact that light will turn on automatically as the sun goes down, and then turn off in the early morning will prolong the battery's lifespan and durability. The kit is eco-friendly and has high efficiency. The lights will shine from eight to 12 hours, depending on how much solar energy they generated, without any extra electricity needed.
Although sticks are covered with glass caps, they are waterproof and resistant to any weather conditions. Whether it's snowing, raining, whether there is frost or extreme heat, they will work just fine, without any problems. The manufacturer claims that the stainless steel and rugged plastic structure will guarantee the longest-lasting life, which places them in the top ten solar lights on the market at the moment.
3. Brightech Ambience Pro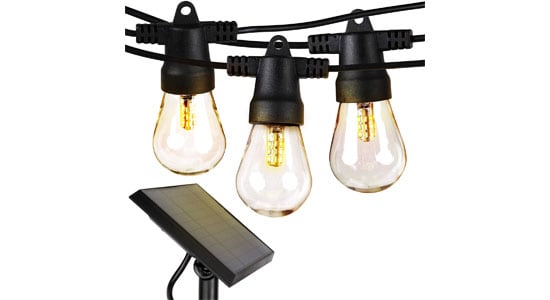 Highlights
Shape of a bulb
Extremely durable
Resistant to all weather conditions
Three-year warranty
Easy to install
These bistro-style solar garden lights are super attractive since they have the shape of a bulb. They will create a gentle, romantic sensation in your patio, and transform your average garden to look like the exotic European cafe shop. You can place them on a stake in the ground, or attach them with a clip to a pergola roof.
Most of their users are thrilled with the light they provide thanks to the solar panel placed somewhere in the backyard, where sunlight can charge it well. Even though they seem sensitive and fragile, they are extremely durable and resistant to all weather conditions. Customer reviews show they are able to withstand winds up to 50MPH.
You can choose different bulb shapes and different voltage and the installation process is quite simple. After you set everything up, you may leave the light like that the whole year. Since bulbs are created from high-quality plastic, they won't be easily broken. When it comes to the heat, they are proven to resistance to 122 degrees Fahrenheit.
Every piece is 27 feet long, the lights are separated by 20 inches, and the solar panel is placed six feet away from the first bulb. The fact the manufacturer is offering you a three years warranty speaks a lot about their confidence and how proud they are with their product. So if you doubt whether to purchase this kit or not, don't. It's perfect for barbeque parties, romantic dinners for two or birthday parties in the backyard.
4. CGN Garden Solar Lights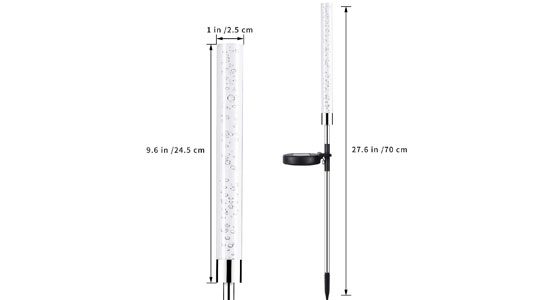 Highlights
Interesting and colorful concept
Color-changing working mode
Waterproof and durable
Easy to install
30-day return policy
Now something a bit different and unique. We present to you the solar-powered lights with a bubble effect, which will bring an interesting and colorful concept to your backyard. You will be amazed by these lights – they are 100 percent based on solar energy, and they have a color-changing working mode, which means they will shift from pink to yellow and green periodically.
The main part is eight inches tall transparent acrylic bubble tube that has RGB LED light in it. You will get two of these in a set if you decide to purchase it. Each one has a built-in 2V and 120mAh solar panel attached to its stick near the ground. Everything is super durable, waterproofed, and very easy to set and install.
You have to place them so the sunlight can charge the solar panels for five to eight hours, depending on the weather. They need to be located in a spot without shelter, so they could absorb solar energy better. When it's a cloudy day, they will still manage to work, but they will need a bit more time to reach full charging capacity. But bear in mind that the rainy day will affect their work for sure – they will be less bright and their working hours will be significantly shortened.
These lights don't need wiring. All you have to do is to unscrew the lamp cap than to turn on the light switch and set up all the pieces together. Each stick can be directly inserted into the soil, and that's it. Notice that they probably won't work the first day, because the battery may be completely empty due to the long-distance transportation. The brand has a 30-day return policy, so if you are not pleased with them, send them back, you will get the full refund.
5. WOHOME Outdoor Solar Garden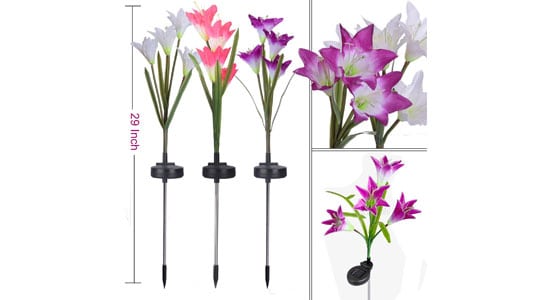 Highlights
Lights in a shape of a flower
High-quality materials made
Resistant to all weather conditions
Six to eight hours work
Affordable price
If you are a supporter of unconventional solutions, you will be thrilled with these solar garden lights that look like lily flowers. Each item is made of high-quality materials, including tame fabric and waterproof glass, creating an impression of real flower that's resistant to all weather conditions.
Both leaves and steam have the support of an iron wire, which will make them super flexible and able to bend in different angles. Every item has a small solar panel attached to its bottom, thanks to which sunlight will be converted into the right amount of solar energy. You can place them around the yard paths, and make a spectacular welcome message for your guests.
Every stick is equipped with 600mAh built-in battery and, therefore, can provide the light six to eight hours if it's fully charged during the day. Lilies will automatically light up when the night comes, but their most special feature is the ability to change seven colors.
They will transit from one to another, giving your home a truly unique ambiance, perfect for any occasion – from barbeque to romantic evening or a party.
For a quite affordable price, you will get four stems that will work despite the rain, storm, or frosting. There is no wiring, and you will set everything up without a fuss. All you have to do is to "plant "a flower and turn the switch on.
6. INNOGEAR Upgraded Solar Lights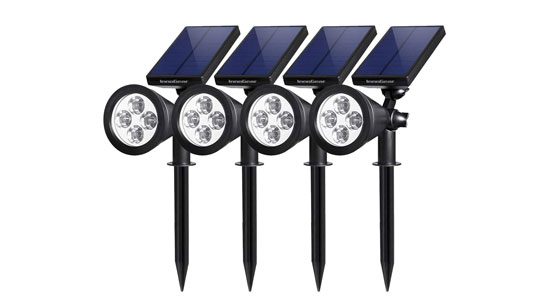 Highlights
Waterproof and heatproof
Two modes available
Rechargeable battery
Movable light head
Fast charging solar panel
Among the best solar lights at the market right now is certainly InnoGear's upgraded product. It has separate adjustable light and solar panels, which will be able to illuminate your desired spot, thanks to the energy it generated from sun exposure. This new version of the light has 1.5W monocrystalline silicon that can charge much faster than other similar items in the same sun condition.
The light is made of high strength ABS material, which is waterproof and heatproof, and it's very inconspicuous, which is excellent if you want to illuminate the garden path or a yard discreetly. You can place it in the ground with the help of a spike or mount it on the wall if you prefer it that way.
The great thing about this 4-piece set is you can choose between two modes – one is a low-light mode which will provide you with eight to 12 hours service, and another, the high-light mode will give you bright outdoor light for four to six hours. Like most solar lights, these too will turn on automatically when the day starts to fade and go off in the morning, with the first signs of a down.
The panel should be well adjusted, on 180 degrees, so it can directly face the sun. It has a 2200mAh rechargeable battery that will allow excellent efficiency. Also, the light head is movable so you could turn it one side or another, up or down, depending on what you want to illuminate.
7. JOOMER 2 Pack Solar String Lights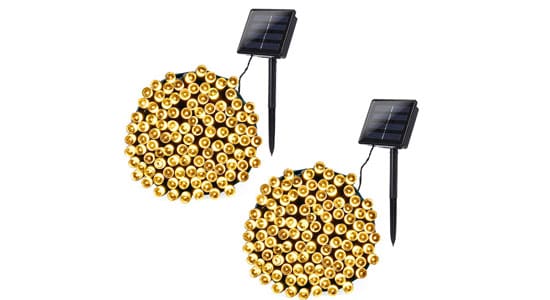 Highlights
Eight different modes
Waterproof and weather resistant
Built-in memory chip
Rechargeable battery included
Six to eight work hours
Okay, the holiday season is over, but the new one will come sooner than you think. In order to be prepared in time, think about purchasing these solar Christmas lights. They are a bit more expensive than the usual ones, but they are worth every penny. You will not have to pay extra utility electric costs because they work on a solar energy supply exclusively, and besides that, they are super cute and romantic.
Just place them whenever you want, on a tree, patio, lawn, porch, gate, pillars, or some yard construction, and let them do the work. Light will turn on automatically when the sun goes down, and switch off at daytime. They have two buttons and eight different modes you can choose from depending on the occasion.
You can use these solar lights outside because they are waterproof, but they can also withstand a heavy storm or snow load. The great thing is that the set has a built-in memory chip that will remember the last mood you used, so you won't need to reset it every day. The 1200mAh battery is rechargeable, and it will require around six to eight hours to get to the full capacity.
For little more than $30, you will get two packages of 72 feet long string with a solar panel you can place on the ground. The wire between the panel and the first LED light is around six feet long, which will be enough to find a perfect sunny place for the panel. These solar fairy lights are an ideal choice for the wedding ceremony, Christmas party, holiday, some garden gathering, etc.
8. Solar Street Lights Outdoor Lamp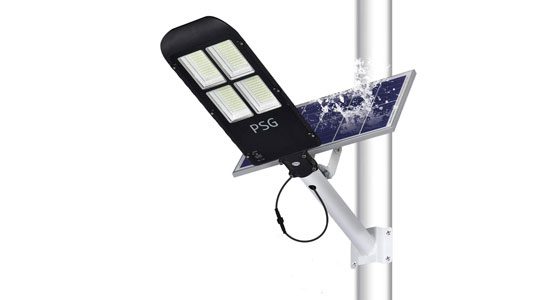 Highlights
High quality made
Five-year warranty
Remote controller included
Multiple modes
24 work hours
These super bright solar LED lights are high quality made solar products that have bright 300W illumination power, suitable for many outdoor needs. They are several times better than traditional light bulbs and belong to the category of best solar street lights.
Because of its strength, the price is a bit higher, but this solar set comes with an adjustable metal bracket, so you will be able to install it on the wall and light up a basketball court, for example, the pool area, street, park, etc. The manufacturer is offering a five years warranty, which can tell you a lot about their attitude and confidence regarding this solar item.
When it's all set up, the light hat will have attached a solar panel on it, which will work on its own. The light will turn on in the evenings and stop providing the service when the new day comes.
You will get a remote controller also, which is a bit unusual, and that way, you will be able to choose one of its multiple modes – induction mode, bright mode, three, five, and eight-hour mode, and constant light mode.
This is a high efficiency and power-saving light that will work for 24 hours if the battery is fully charged, but it needs to be placed on a location that will provide it with constant sunlight during the day.
The product is made from aluminum and ABS, and the package includes one solar panel, one street light, one remote control, four screws, two nuts, two assembly accessories, one bracket, and a manual.
9. AOOTEK 120 Led Solar Outdoor Motion Sensor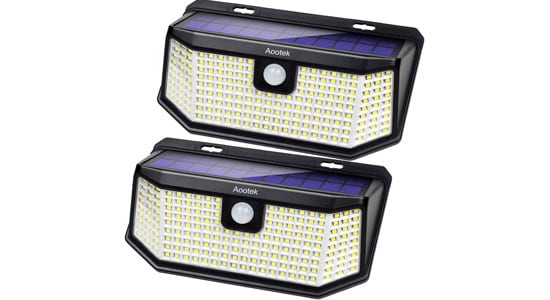 Highlights
Motion sensor based
Wide-angle illumination
High-efficiency
Extremely wide detection range
PET laminated solar panel
This Aootek unique sensor light has three options. The first one is the security mode, which means the light will turn on and off based on a motion sensor. The other one will make it work non-stop through the night, and the last one has a smart brightness control – the light will stay on the whole night, but it will also become brighter when there is some motion.
The spotlight has wide-angle illumination, high-efficiency 120 LED lights, and it will provide you with much better brightness power than most others in the same category. Also, it's great benefit is an extremely wide detection range – greater PIR sensor and upgraded motion detector will notice people up to 26 feet within angle of 120 degrees.
On top of the light itself, there is a PET laminated solar panel which guarantees more energy-saving and long-term durable usage. Given that it's also waterproof, you can use it for any kind of outdoor construction like patio, wall, roof, lawn, gutter, pathway, garden, porch, etc.
This solar motion sensor light can be installed very quickly, you will just need a wall plug and screws that come in a set, but there are no cables or any kind of wires. The recommended height for mounting is 5.6-6.6 feet, but make sure the light is positioned so it can always be exposed to sunshine.
10. TOMCARE Solar Lights Metal Flickering Flame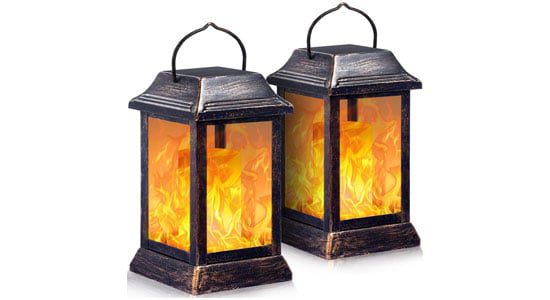 Highlights
Vintage design
Original flame effect
High quality made
Eight work hours
Rechargeable battery included
Vintage design, which will bring the retro feeling, and spectacular flame effect, are two things that will best describe these unique solar lights. They are made from high-quality metal with a rust proof finish that guarantees they are super durable and that you will be able to use them over and over again for many years. Besides that, each side is covered with a poly-plastic with glass effect, which means they won't easily break.
However, the most attractive part, when it comes to this particular light, is the dancing flame sensation that brings a warm and romantic atmosphere. You can put these lights along the pathway, on the table, or around the pool, place them on the ground, the tree or shepherds hook, and make the outdoor region around your house truly beautiful.
On top of each lantern, there is a solar panel that generates sunlight into solar power that makes it work. You should know that it will start charging only if the button is switched on and that both working and charging time will be dictated by the weather and the period of the year. Also, you must not install two of these too close because they won't work then.
Products are waterproof so they can withstand rain and storms, and they have 2000mAh rechargeable battery. They will need around eight hours, on average, to hit their full capacity and work through the night. The solar lanterns are on automatic working mode, which means they will light up in the evenings and shut down in early mornings.
Categories to Choose From
Outdoor
If you are looking for outdoor solar lights, you should know that there are many different types, and each one of them serves a specific purpose. Before purchasing one, you should ask yourself do you want them for the sake of security, decoration, illumination, or something else.
There are solar motion security lights, Christmas lights, atmosphere lights, solar flood lights, street lights, solar-powered shed lights, string lights, path lights, flagpole lights, lamp posts, etc. Whichever you decide to choose, make sure it's waterproof and that it can withstand all kinds of bad weather.
Indoor
Although most of these prepositions are based on an outdoor usage of solar light, there are also lights you can use inside your home or another facility. We are talking about portable light that is based on solar power, the one you can use to illuminate any room.
There are a couple of different types, but most of them have a separate solar panel so you could put it somewhere, regardless of the position of the light itself, where it can absorb the sun's energy. Then there are also solar tube lights as well as solar skylights.
Finding the Best Solar Powered Lights – Buying Guide
So, you have concluded that solar lights are something you are very interested in, and now, you want to decide which set is the best for you. In order to do that, you should determine what is your main priority, what type of solar lights you want, and then compare a couple of them having in mind features we mentioned below.
Things to Consider When Choosing the Best Product
Usage
First of all, you cannot make a mistake if you decide to go green and reach for an alternative source of light power rather than using electricity. The automatic system that most solar lights companies are using is quite reliable. The most common use of solar lights are outdoor types such as garden, security lights, street lights, path lights and much more. Still, if you want you can also opt for indoor solar lights and add a wonderful solar skylight to your room or bring brightness with solar lights that go with separate solar panels.
Money
You may have to pay a bit more money for quality solar-powered lights upfront but when you look at it, in the long run, it will pay off since you won't have to pay for your electric bill. The price of the lights depends on their types so some will cost more or less, for example, solar street lights are usually more expensive so if you want a cheaper option with a bit less brightness you can consider buying upgraded path lights.
Solar-Powered Lights vs Electric
The most important distinction is that the solar power lights use renewable energy directly from the sun while wired lightning gets it from your home's electricity. The sunlight will charge the battery during the day while the lights are off, after which they will start working as the dark comes down. Installation of solar lights don't require professionals such as electricians, you can do it yourself. You will not have problems with maintenance as well since the LED lights have a lifespan of more than 20 years. Electric lights need more in-depth maintenance due to the wiring.
Important Features to Look For
Brightness
As we said, most solar lights are using LED bulbs whose light output is measured by Lumens. So, it won't be the same if you put the light model that will produce 40 Lumens or the one with a capacity of 400 Lumens.
The first one will provide you with romantic and soft light, which is excellent for your garden or another kind of landscape, while the other can lighten up the whole street and is usually used for security reasons with a motion detector. But don't forget that the amount of sunlight during the day is dictating the strength of its illumination during the night hours.
Battery Capacity
Manufacturers are usually using batteries based on the 24-hour cycle. Those are programmed to work around eight to 10 hours and to charge just as long during the day when the sun is up. Some of them will work right the first day, while others may need a couple of days to set properly before start delivering the light.
It's not unusual they have the dusk-till-dawn sensor, which is great and super practical if that's what you are looking for, you just need to make sure solar panels which are generating the energy are placed at the location of direct sunlight.
Style
There are so many shapes, sizes, types, and styles of solar lightening. It's a matter of your personal aesthetics, which one will you choose for your backyard, garden, patio, or pathway.
They can be very minimalistic or unnoticeable, there are those in the shape of candles or lanterns that have a retro vibe, and then, there are solar lights with a contemporary design and solar panel in the main focus. One thing is certain – you can choose and fit them with the rest of your decoration or overall home image.
Materials
The materials these solar lights are made of, especially those that are created for outside usage, are always waterproofed and resistant to all kinds of bad weather. We are talking about high-quality metal, ABS plastic, and glass that are super durable and can withstand massive storm, extremely high temperature, or substantial snow loads. The construction of the light needs to be durable, just like the solar panel itself. So make sure not to forget to check this feature when purchasing them.
Solar Quality
The quality of the solar panel is probably one of the most important things. We are quite sure you are looking for solar light, which will have a battery charged in just a couple of hours, and provide you with the bright and consistent lightning during the entire night. That part depends on the panel itself, how good it is, how fast can it generate the sunlight into the power for the lights.
The experts say that the desirable solar conversion rate is around 18 percent. Certainly that they will work better if the sun is consistent and present the whole day, than when clouds come and hide it for a while, but that's not a thing you can influence.
Solar Lights Installation Guide
We are aware that there are numerous types of solar lights and that the installation process is a bit different for each of them, but some general lines of the procedure are the same. First, you need to find the right place in your garden or backyard that has full sunlight exposure for the whole day.
Every solar light has a solar panel that contains little solar cells able to transform the sun's energy into the power that will lighten them up. That energy will be saved inside their built-in batteries.
Then, it's time to install the item. Some of the lights should be pushed into the ground, some just placed on a lawn, some, if we are talking about string lights need to be stretched on the wall or some kind of holders, some mounted on the wall and so on. When doing that, think about the space you want to be illuminated.
It's necessary to read the manufacturer's manual carefully. See if there are some steps you need to follow before putting the lights up to work. For example, sometimes you have to leave the lights to charge for a couple of days before switching the on button. Some of them have the movement sensors, some automatically detect when it's dark and start emitting the light them, and the setting up procedures may be a bit different.
FAQ
Q: How Do Solar Lights Work?
Solar lights work thanks to the photovoltaic cells, which have the ability to transform sunlight into direct electrical energy. That electricity is then stored in the battery that's placed inside the solar light, where it stays until it's needed. That's a process that lasts during the day. When the night comes, solar cells stop converting process, and photoreceptors turn the lights on.
The battery sends the stored power into the LED lights that are mostly used, and the light starts shining through the night. That will end when the battery is dried out, or when the days reappears again – photoreceptors will shut off in that case.
This is a process that is based on a repetitive cycle. For this to work, solar panels need to be placed at the location that has full access to the sunlight. Otherwise, there won't be enough power to illuminate your backyard the whole night.
Q: How to Clean Solar Lights?
Read the manual so you can disassemble your lights the proper way. Do it carefully because some parts might be fragile. Locate the battery and take it out to see if there was any kind of oxidation. If you see some ashy colored spots, clean them with a soft brush. After that, see what condition solar panels are in.
In order to do their job as they should, they need to be super clean. Take a damp and remove dust and dirt from it. You have to be gentle, solar panels are exceptionally delicate, and remember not to brush them. Check if the base of the light is okay, and then assemble it all over again.
Q: How to Fix Solar Lights?
First, check the landscape around the light, plants can grow and block the solar panel, so it doesn't have the right exposure to the sunlight, and soil can gather on top of it which will prevent light from working well, or at all. If that's not a problem, try by switching it on again, or changing the battery.
Q: How Long Do Solar Lights Last?
On average, the outdoor solar lights should work well for three to four years. After that period of time, they will probably need a replacement. The LED lights can last quite long, up to ten years, but if they stop working earlier than that, you should know that they cannot be replaced.
CONCLUSION
If you are thinking about transforming your backyard into the little outdoor heaven, we suggest you include solar lights too. They will not be a burden since they will not add to your electricity bill, and at the same time, they will create a beautiful atmosphere and bring on the security aspect as well.
They don't have wires, the installation process is a piece of cake, the maintenance is extremely simple, and the benefits are huge and numerous. This is an investment you won't regret.
Here are some other interesting models that you might like: