People are becoming more and more aware of all the great benefits clean energy can provide. As an unquestionable reason, there is certainly the money issue, given that it will allow you to save some in the long run, but also, everybody agree that it gives you a great sense of accomplishment by taking care of your surroundings and the planet overall.
Global supplies of renewable electricity are in constant growth, and it is predicted they could expand by 50% by 2024. Technologies based on solar panel systems and wind are at the core of these transformations that are taking place across the global energy system.
The Guardian even reported that this ongoing renewable energy revolution could even get in the way of the world's current need for oil and coil.
WindyNation is a company many people tend to praise when it comes to high-quality solar panels, designed to provide low-cost alternative home power solutions. Here are some of the top-rated solar panels we reviewed.
Top Picks Windynation Solar Panels
1. Windynation 100W Flexible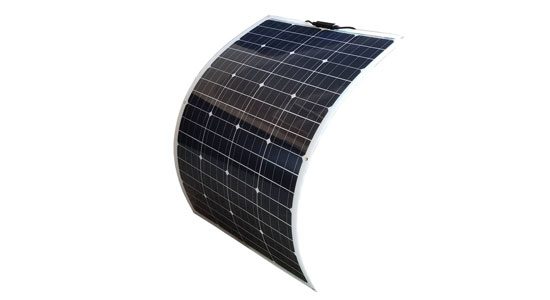 Highlights:
Bents up to 30 degrees
Lightweight and thin
Easy to mount
Both this solar panel and its junction box are completely resistant to water, so they can be used for any outdoor purpose and in any weather conditions. The panel is based on monocrystalline solar cells that are proven to be highly efficient.
If you are looking for supper flexible solar panels for some uneven and curved surfaces like sailboats, RVs, tents, or campers, this is the product that will answer your needs. This WindyNation solar panel can be bent to a maximum of 30 degrees, and therefore mounted on places and objects that are not suitable for standard stiff ones.
It weighs around four pounds, so it can be easily moved and placed in a different location, and it's also very thin and light, it has only a 1-inch thickness.
Thanks to the six metal grommet mounting holes that are evenly spaced, the panel can be attached and mounted in the desired space without fuss. But if you prefer, you can also use adhesive or Velcro to set it up. It comes ready for installation with MC4 Connectors that are pre-attached, and 36 inches long 12 AWG solar cable. In order to eliminate battery draining at night, there is a blocking diode in the junction box.
2. Windynation 100W Solar Panel Kit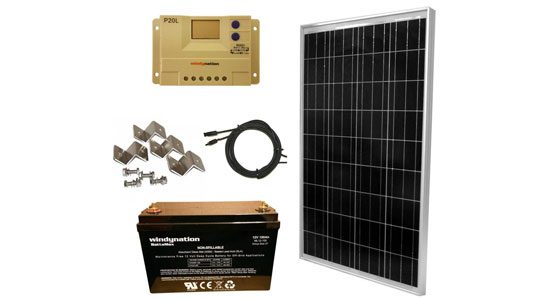 Highlights:
Multiple usages
Mounting parts included
Easy installation
Depending on sunlight availability, this 100 Watt WindyNation Solar Panel can provide 350 Watt-hours on average or 33 Amp hours of charge per day. It comes in a set, together with a 20-Amp solar charge controller with an LCD display that's user-adjustable, with all necessary MC4 connectors, 40 feet long 12 AWG cable, mounting hardware, and 12 Volt BattaMax battery.
The charge controller that's included can support up to three 100W solar panels for a 12-volt system, or six 100W solar panels for a 24-volt system. But there is certainly an option of adding more solar panels and, therefore, more batteries in the future, if needed.
According to its users, this WindyNation solar panel set is excellent for home usage, but also for RVs, cabins, and boats, as well as for remote and backup power use. Its charger controller has settings that are user-adjustable, and LCD screen can show solar panel status, voltage, battery state, and DC load draw. It's compatible with AGM, lead-acid, lithium, and gel batteries.
3. Windynation Complete 400 Watt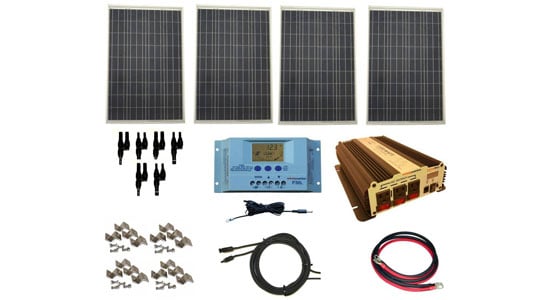 Highlights:
Easy to set up
Fair price
Good for off-grid objects
The complete includes four 100 Watt solar panels based on polycrystalline technology, all necessary MC4 connectors, 40 feet of solar cable (12 AWG), 30-amp P30L charge controller that has LCD display as well as adjustable options. This solar panel set can be used for a household since it will produce 1600 Watt Hours or 135 Amp Hours (Ah) on average if the right amount of light is available.
But, it's a much better option for an off-grid object. It will give power to boats, sheds, and commercial RVs, it can be quite useful for remote cabins and camping, and it is able to easily light poles and gates, which will enable avoiding the need for trenching and laying cables.
Then, there is solar mounting hardware, two pieces of battery cables that can connect the inverter to a 12V battery, and previously mentioned 1500 Watt VertaMax DC to AC power inverter.
WindyNation's 100 Watt Solar Panel combines long-term reliability and stability with high efficiency. The set has an excellent performance rate when it comes to low irradiance conditions and high temperatures.
A couple of these panels can generate backup power for some important appliances like a refrigerator during a power outage. The manufacturer assures you that if you buy everything together, as a solar kit, you will, for sure, save up a lot of time and money.
4. Windynation 200 Watt (2PCS 100 Watt)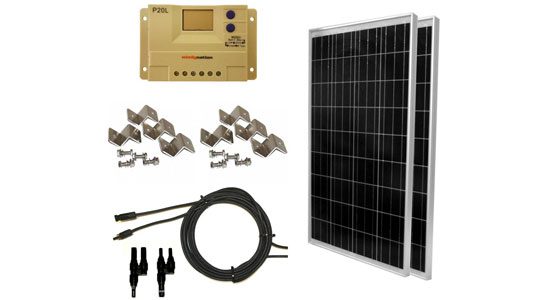 Highlights:
Easy to install
Great for RVs
Long-lasting battery
In front of you is a 200 Watt solar kit that can provide you up to 200 watts of free, clean, and renewable power. Like all previous models, it's designed for back up and remote power use for homes, cabins, boats, and RVs. If the sunlight is getting to them, these two solar panels will generate 800 Watt-hours or 67 Amp hours of charge per day, on average.
The kit comes with two 100 Watt WindyNation solar panels, 40 feet of UL Listed 12 AWG solar cable, 20-Amp LCD solar charge controller that has user adjustable settings, all MC4 connectors needed, necessary mounting hardware and installation manual, so you can set everything up by yourself.
The charge controller that comes in a kit can handle up to three 100W solar panels for a 12-volt system and six 100W solar panels for a 24-volt system. The LCD screen is able to show the battery state of charge, voltage, solar panel status, and DC load draw. It's compatible with gel, lead-acid, AGM, and lithium batteries.
Why Choose Windynation?
WindyNation is a well-known solar panel manufacturer that produces different components for small wind and solar generators. With a desire to make renewable energy available to everyone, they seek to support the growing community of DIY solar panel enthusiasts who are interested in learning and trying to put things in order by themselves rather than just paying someone else to do the job.
Their products are all designed in a way to meet one criterion – making low-cost and high-quality alternative home power solutions that will be available for homeowners all around the world. Their slogan says it all – Clean power to the people!
Things to Consider When Buying Windynation Solar Panels
1. Kits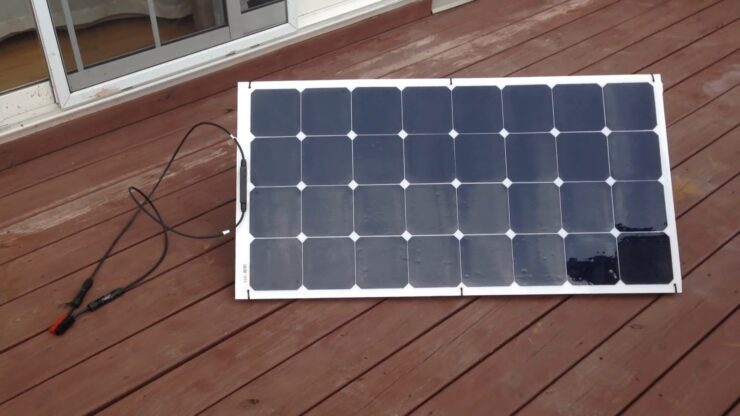 Given that WindyNation is all about providing complete ready-to-go solar panel kits so that their customers can set everything up and install the solar system on their own, you should decide if that's what you are looking for.
Besides the solar panel itself, their solar set always includes cables, connectors, sometimes inverter, LCD display, mounting parts, and everything else needed for a job to be done. Now, if you are trying to find a way to save up some money, this isn't such a bad idea. Especially if you are buying smaller and simpler sets for some off-grid objects.
Separately bought parts are usually more expensive, and this way, you won't have to hire any help. The problem may be the fact that sometimes those kits are not complete. Some parts, crucial for setting the system up, might be missing. Or, it can happen that the kit includes components that are low quality, so pretty soon, you will be in a position to replace it with another, which will cost you some.
But if you see it all as a drag, and you are not motivated to take on a DIY project like this, it would be better to consider some other options that include professionals, whether for consulting about each step or for preparing and installing the entire system.
2. Return Policy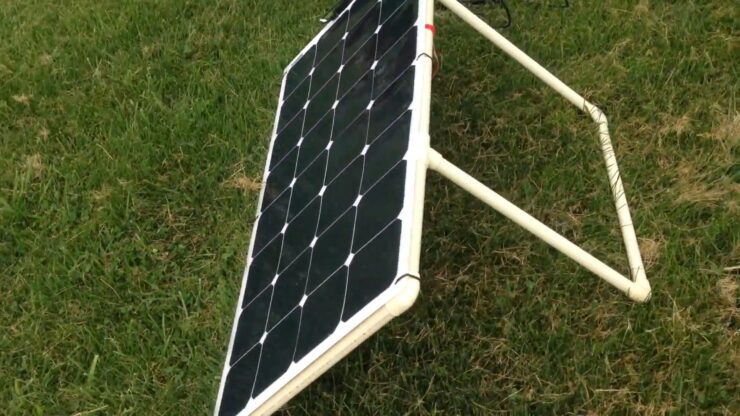 If you are not satisfied with the WindyNation product, you should take the following steps: before anything, you need to contact the company, give them their original sales order number and obtain a Return Material Authorization (RMA) number. RMA is valid for the next 30 days, so the return must be done in that time frame. The customer needs to pay return shipping charges, as well as to use reputable carriers that can provide for sure proof of delivery.
When it comes to refund-returns, the product has to be returned in the original packaging within 30 days from the delivery. It needs to be in overall good, new, and resalable condition, packed with all additional accessories. If any part of the product is missing, Windy Nation can reject the return. Regarding this matter, some would say they seem to be quite needy.
Conclusion
The decision to try your luck with solar panels will bring you only the benefits and good experience, although you may be skeptical about it right now. It's right to be careful, to invest little by little, and try doing some things on your own, like installing your first solar panel system.
If anything, you will get to learn so much about this subject, things that will blow your mind and teach you how to master a new skill. The WindyNation is definitely the right choice for you since they are trying hard to prove that solar system isn't the luxury of wealthy and privileged individuals, but an option for all of us who are ready to make some changes.