There's nothing wrong with you wanting to feel more safe and secure, but you need to find the fine line between being cautious and scaremongering. So if you believe having some kind of security system will help you stay calm, and at the same time you would like to rely on solar power instead of electricity, we think you are in the right place.
We present you with solar-powered security cameras you can use for surveillance of your backyard, parking lot, or some other areas around your home or working space.
They are created for multiple purposes, but the best thing is that you can easily take them with you wherever you go, even to off-grid places like the countryside or a construction site, because these cameras don't need any kind of wiring.
They work on the sun's energy that's generated through the solar panel into the rechargeable battery. Given that you can install the system on your own, you won't even have to hire professional help, which will save you some money as well.
10 Top Rated Solar-Powered Cameras
1. Reolink Argus 2 + Solar Panel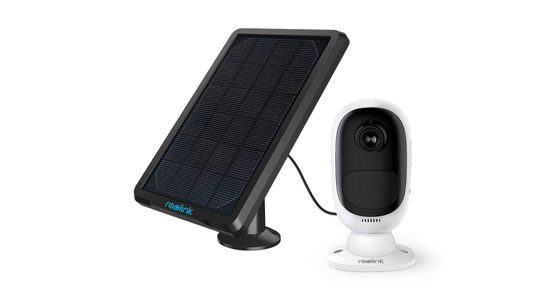 Highlights
No wires needed
Easy to install
Good quality and advanced night vision
Works with Google Assistant and Alexa
Accessed via free Reolink software
The camera has good quality and advanced 33 feet of night vision, so you will get crystal clear videos with a 130° wide field of reach. The starlight CMOS will guarantee you a safe and secure home system that can be set up with a magnetic base. This is a new-age solar panel-based security camera that works without wires and is very easy to install without the need for drilling on complicated mounting.
It has a beautiful modern design, an excellent solar panel that will provide it with a non-stop power supply, and a rechargeable battery. The great thing is that it works with Google Assistant and Alexa, but this one is not included in the package.
Everything the camera records will be saved at the 64 GB SD card and on cloud storage, so you will be able to go through your clips whenever you want. This way, the risk of losing all your footage won't exist, and you won't have to worry about privacy leaks. Keep in mind that the system support only 2.4GHz Wi-Fi.
The camera can be accessed by a remote via free Reolink software. Thanks to that, you can live view or playback the security footage by using your smartphone devices, iOS, or Android. Reolink app is completely free for the camera system clients, and a monthly subscription is not required. Up to ten family members will be able to access the surveillance camera simultaneously.
2. Soliom 1080p Home Wireless IP Cam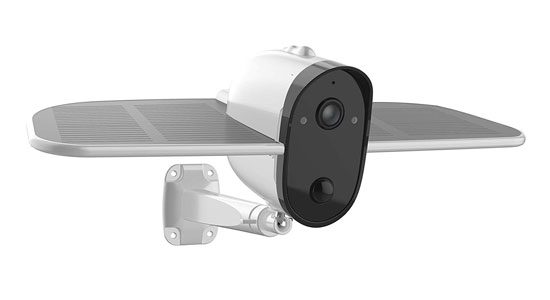 Highlights
High-quality and waterproof made
Two-way motion detection technology
Full HD video quality
Excellent night vision
Two-way talk
You can now have the security system without the need to spend money on large bills since this camera is self-sustainable and works entirely on the power of the sun. It has a built-in 4000mah battery and an exclusive technology based on two-way motion detection that will reduce false alerts. It works like this – when the camera detects some motion, it will send an alert to your phone. Then, the footage will be saved in a memory card or the Cloud.
We present you with the upgraded version of the SOLIOM home security camera that has solar panels integrated into it. It has a fantastic and super cute design that will remind you of the little airplane, and it's made from high-quality materials that are waterproof and can withstand extreme weather. The camera can work at the temperature from -4℉, to 140℉, which is outstanding.
It has advanced 1080p full HD video quality thanks to multi-layered glass lenses. The camera has an automatic setting that will switch from day to night mood, and its excellent night vision has 33-49ft visible distance. If you adjust the PIR sensitivity to high, the camera will catch the motion quicker and more accurately within its 8-15 feet range.
This security system is very easy to install, you just need to follow the instruction manual. It implies downloading Soliom free app so you can remotely monitor your garage, yard entrance, garden, home, office, or some other area all the time with live view video. The best part, however, is the possibility to have two-way talk, to hear and speak to anyone that's in camera range.
3. Fuvision Wireless Camera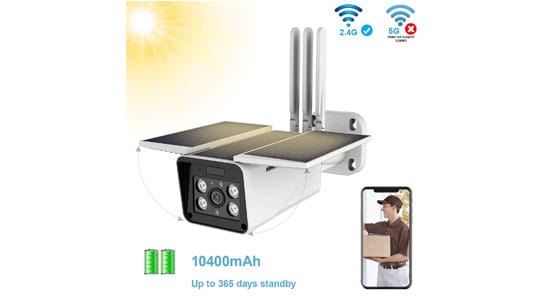 Highlights
Controlled remotely
Advanced motion sensor
Infrared night vision
HD video with date/time watermark
110-degree angle reach
The system has an advanced motion sensor that's built-in and based on new high technology, so it will send you an alert whenever it detects something in your backyard, garage, patio, or another secured area. The entire video material will be saved on an SD card that is not included in the package, which means you will have to buy it separately. Here is another super modern solar-powered security camera that is Wi-Fi enabled, which will give you a chance to control it remotely.
Anywhere, anytime, if you want to, you can stream real-time videos or download footage to your smartphone. All you need to do is to set everything up, which is a piece of cake job, and to install an app that will allow you access. But know that there are no monthly fees or any kind of service contract.
There is an infrared night vision built-in inside the camera that has a range of up to 36 feet. But besides that, there are some other excellent features as well – a full HD crystal clear video that even has a date/time watermark, auto switch day to night setting, and wide 110-degree angle reach.
The camera is made from high-quality ABS plastic that can resist all kinds of weather, from rain to extreme heat. It has a 10400mAh rechargeable battery with high capacity that will record and send the alerts only when some motion is detected. That way, no battery power will ever be wasted.
4. Yeskamo Solar Powered IP Camera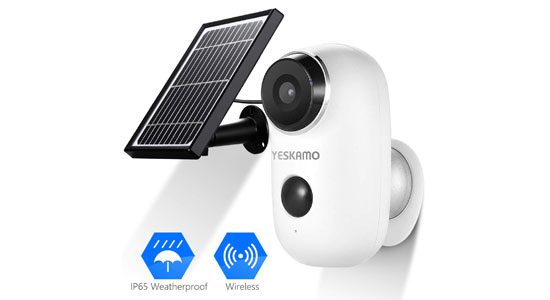 Highlights
Built-in rechargeable battery
Wide viewing angle
Advanced motion-sensitive dual sensor
Installation parts included
One-year warranty
It has a very wide viewing angle, which will significantly reduce the number of blind spots, as well as an advanced motion-sensitive dual sensor that has the ability to detect objects with heat signatures. You will have to download the CloudEdge app and to establish a wireless connection between your phone and solar-powered security camera, to get the alerts if anything, like humans or animals, approach your property.
The Yeskamo security system has two separate parts – the wire-free camera and a small but effective solar panel that needs only three days of non-stop sunlight exposure in order to work for the entire month. The device has a 6000mAh Panasonic rechargeable battery that's built-in, and it works well with 2.4GHz Wi-Fi. But have in mind that if you watch a live stream, often you will consume much more power.
The package includes all necessary parts for installation, as well as an instruction manual, so you will be able to set it up all by yourself. And since there are no wires or electric cords, your exterior will look just fine. The camera, just like the solar panel, is waterproof, so it will work fine even if it rains, and it has a high-quality metal housing with great standard workmanship.
It comes with a worry-free warranty for one year and technical support as long as you have it. The two-way audio system will give you a chance to talk and hear anyone who is in its range. It creates excellent 1080P full HD quality videos with an opportunity to manually zoom in to see all the details.
5. Reolink Go 4G-LTE Mobile Security Camera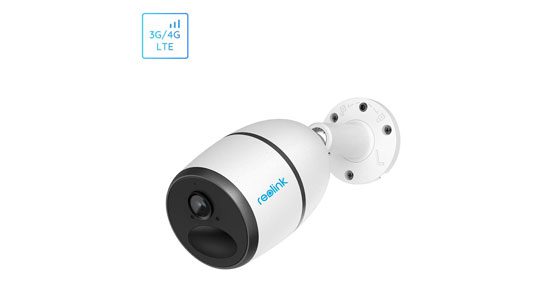 Highlights
110-degree wide range
Full HD vision
Supports 4G-LTE and 3G networks
Great night vision
Smart motion detector
The camera can be charged by solar panel or by a universal 5V 2A phone adapter, but neither one comes with the package, so you will have to purchase them separately. Keep in mind that you should buy Reolink solar panels for them to be compatible. Reolink solar-powered wireless security camera has a full 1920x1080p vision with a 110° wide range, and it supports 4G-LTE and 3G networks.
With a rechargeable battery and waterproof design, it will suit you for any kind of surveillance needs, like the one at your home, your office, backyard, parking lot, RVs, trailers, etc. It's 100 percent wire-free, and it doesn't require internet access.
It has a great night vision that reaches up to 33 feet, and thanks to the advanced two megapixels starlight image sensor, this camera will be able to catch all the details during day or night. Also, it has a smart motion detector that will warn you if anything's going on around your private property. The system will send you alerts via email, sound alarms, or customized voice messages if there is something you should see if any motion is detected.
Like most of the new age cameras, this one too has a two-way audio option. The built-in speaker and microphone will allow you to listen and speak with any person who is in an optimum range of the product. If you place in the SD card, you will be able to save all the footage and to go through them anywhere, anytime.
6. Mycommand Solar Trail Camera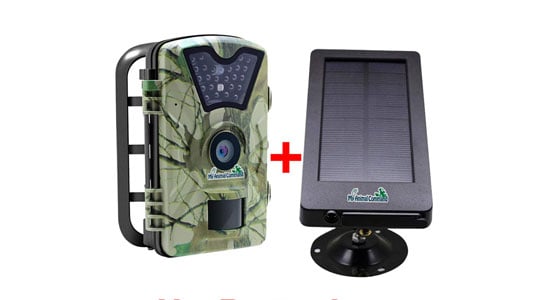 Highlights
Long lasting battery
Excellent sound quality
Sensor trigger
Waterproof, shockproof, and dustproof
Mounting parts included
The camera can capture 12MP images, and it has excellent sound quality, which will ensure you clear footages. If you want, you will be able to save them by using a standard size SD card up to 32GB. Regarding the night vision, this particular camera has an auto IR filter, which means it will deliver superb quality footage. Also, it uses a 2.4inches LCD screen enriched with 262K color, so the vibrant display cannot be questioned at all.
Now, this is something a bit different. It's a security setting that has a spy camera and solar power pack from 2500mAh that can keep camera recording day after day, without worrying that the battery may run out because it can last up to six months or even longer. The design is quite rough, without modern touch, which isn't so unexpected given it has a specific purpose.
If you like to hunt, this is something you will appreciate for sure. This security setting has 0.5s trigger time, and it has a 90 degrees cover angle, which will allow the camera to detect any small movement. With it, you won't miss anything. Thanks to sensor trigger every time, there will be three photos captured.
The set is, as expected, waterproof, shockproof, and dustproof. It's super durable, so no matter what the weather is like, or if any accident with it happens, it will continue to work and to provide you with much-needed surveillance footage. The package includes manual as well as all mounting parts, so you won't have a problem attaching it anywhere you want.
7. Enster Camera With Motion Sensor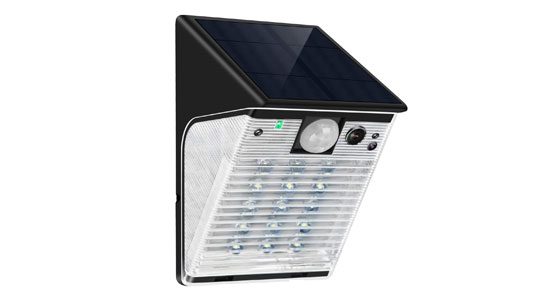 Highlights
No wires needed
Easy to install
30 feet motion detector
Great HD resolution images
One-year warranty
There are no wires included, and the setting up is super easy. It will take less than five minutes to install it with the help of basic tools. The camera comes with double-sided adhesive tape that will allow you to place it wherever you want. It has a motion detector that works up to 30 feet, but the best part is that any movement that happens in a range of 9.8-16.4 feet will turn the security light on in a second.
This solar-powered backup camera will give you the security you need for your home area or some other private property you want to keep on the eye. It's a 3-in-1 product – a camera, light, and a solar panel. This self-sustainable product works on a sun-generated power that's saved up in a 2500mah battery, so you won't have to pay the electricity bill for these two.
Since it is another smart device, the camera will start recording only when there is some kind of motion, so it won't waste the battery without good reason. The footage will then be placed on an SD card, which you have to purchase separately.
This security camera has fantastic HD resolution images you will be able to scan remotely, in real-time through the mobile app. Unlike some previous articles, this one has only a one-way audio setting, so you will be able only to hear what's happening in the camera range. It comes with a one-year warranty, so you will have an option to return it if you are not satisfied with its service.
Finding The Best Solar Security Cameras – Buyers Guide
Three things are for sure – you want your security system to work on solar power, to be mobile and in your price range. If you are a rational person you will find what you are looking for, just make sure all other boxes are checked as well – great footage quality, wide range camera, motion sensor, upcoming alerts, etc.
Things to Consider When Choosing a Solar System
Usage
Just like any other security cameras, these solar power-based ones are also used for surveillance. If you are looking for a way to make your home or some other place a safer area, this is something you should definitely consider.
But having in mind that this system can be used to monitor and protect all those remote areas and off-grid places where running cables would be overly expensive or even impossible, it seems like the benefits of solar security cameras are huge. This way, you can see what's happening on your construction site, your barn, RV, rural house, etc.
Some researchers have shown that they are used for some other, non-typical purposes, like for automatic number plate recognition in urban areas by police, for monitoring the interior of reactors in the chemical industry, for keeping track of the employee's actions by their employers for preventing bullying and vandalism inside the classrooms, etc.
Placement & View Angle
You have to think about two things regarding this matter. The first one is where you want to put your camera, so it provides you with maximum protection, and another is where to locate your solar panel, so it has the best possible access to the sun throughout the entire day.
If you have a device that combines these two in one, you won't have a problem with this aspect, but in case these two are separated, you may find yourself in a position to rethink the location of the camera because the panel needs to be both close to it and exposed to the sun.
Also, before installing the system, think about the angle you want to be covered by the camera. Usually, they are able to catch a wide area, but depending on the location they are set in, there might be some blind spots, and you want to avoid that.
Wired Vs. Wireless
Before determining what type of security system you need, you have to be aware of the difference between wired and wireless solar-powered cameras. The greatest advantage of wired security is the fact they cannot interfere with wireless signals, so they are quite reliable, and they are great for huge properties.
If you have more than four cameras, this will provide them to be well-linked. But, the wireless system will give you the much-needed mobility and the opportunity to install it wherever you need it at that moment easily.
When it comes to this type of solar panel-based camera, you should know that they need to be placed in your Wi-Fi range in order to provide you with a real-time forage you can see on your phone or computer wherever you are. In other cases, you will need to have an SD card installed so the video material can be saved for later search.
Important Features To Look For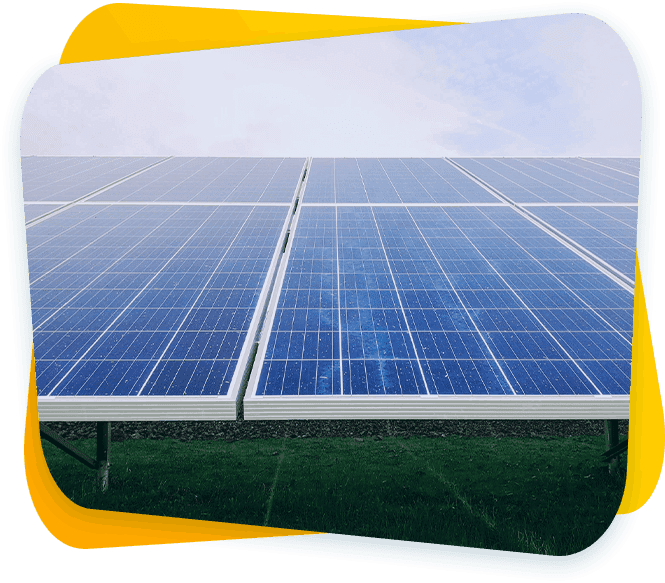 FAQ
Q: How Do Solar Surveillance Cameras Work?
They are pretty simple, actually. They are made with an integrated solar panel or with it as a separate piece of equipment. They are small, have a built-in battery, as well as a Wi-Fi connection to your smart devices. The solar panel, or the camera itself, needs to be placed at a spot that has a lot of sunlight during the day, so it can generate it into the power device will work on.
The camera will record what's happening around your private property, usually with a range of 30 feet, and if it has a motion detector, it will alert you via an adequate app you have to install if anybody is approaching.
Some of them also have speakers and microphones, so you can hear the people that are in the range of the camera, but also speak with them. The footage can be recorded and saved in an SD card or on Cloud, so you can later search through the material, but thanks to modern technology, you should always have real-time access to it.
Q: What Are The Benefits Of Solar-powered Security Cameras?
The benefits of using solar-powered security cameras are huge and multiple. First of all, there is no wiring or cables, so the aesthetic of your outdoors will be preserved, and the installation is very easy. You won't need to hire any professional help because you will be able to set it up with the help of a manual and some elementary tools.
Second of all, most of them have motion sensor, as we previously mentioned, so not only will the system start to record and save the footage, but you will receive the message or email if someone is sneaking around your house.
Given the fact they have a quite wide angle, there won't be blind spots if you place them properly, and since they are almost always waterproof and high-quality made, you won't have to worry about the bad weather and if it's going to interfere with its work.
The new-age technology provides them with excellent images, so you will be thrilled with those made while the camera is on night vision. The obvious thing, the fact that they work on solar energy means that you won't have to pay for electricity for this purpose, which is undoubtedly great.
Q: How Much Money Will I Save With A Solar-powered Security Camera?
We cannot say the precise amount, but long term, the amount will be significant. Having in mind that surveillance cameras should be working non-stop, day and night, the electricity they would use would leave a memorable mark on your electricity bill. This way, by using only the energy of the sun, you will save yourself quite some money for sure.
Q: Where Will Be The Surveillance Footage Stored?
There are two options. You can use a camera with an SD slot and save all the footage on the SD card. You will be able to playback the material and manage the video later on. Or, you can set up the cloud storage and save the footage there. It will allow you to access it anywhere and anytime if you have an internet connection.
Q: Are There Government Incentives For Solar-powered Security Cameras?
Solar security cameras with clean power sources are getting great attention and becoming very popular because the public is becoming more environmentally conscious. In order to encourage that and to stimulate more people to adopt solar power technology, the governments of some countries, such as Canada, the US, or the UK, are offering some incentives like tax credits, FIT programs, rebates, etc. for installed solar devices like cameras.
Conclusion
If you were thinking about setting up a security system based on solar panels, but you were not ready to make a decision, we hope we gave you everything you needed to do it finally. There is no doubt that the benefits of using this kind of device are huge and numerous, so the only question is when are you going to try one.
They will definitely keep your property safe, save you a lot of money, and make it possible to relocate them to the places you need to protect the most at the moment.
If these weren't enough, check out some other picks from Amazon also: