Solar technology has been making considerable strides in recent years when it comes to portability and general usability. Countless new products are hitting the market every year, and that may make it challenging to find the right product to spend your hard-earned money on. That's why we do the best we can to reliably point you in the direction of the brands you can trust.
In preparing for this Buyer's Guide, we reviewed dozens of products, and our final list is based on many factors. Those include things like the features of the product, value for money, and the reputation of the manufacturer. We even make a point of reading countless reviews from previous customers.
Comparison Table:
If you choose a solar power bank from the list below, you can be sure that it will be one of the best products in this category available on the market.
Top Picks Best Solar Chargers & Power Banks
1. Oryto Qi Wireless Portable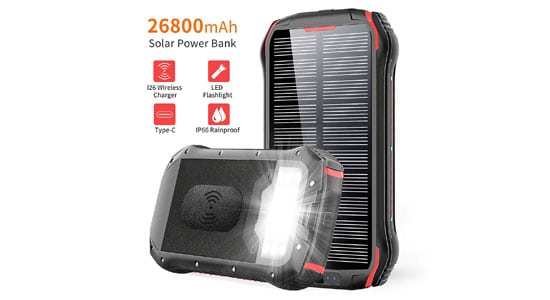 Highlights:
Excellent battery capacity
Great for camping trips and long hikes
USB type C output
Wireless charging
Can charge up to four devices at the same time
With a remarkable capacity of 26,800 mAh, the ORYTO Qi Solar Power Bank is one of the leaders in this category. There are few solar power banks on the market today that can match the ORYTO in terms of capacity. This means that this power bank is an excellent choice for long hikes, road trips, or camping trips. It also means it can be used for larger devices that require more 'juice.'
In case your whole family or group of friends wants to use this during your trip, they'll be happy to hear that it has three outputs, including a USB type C, and a couple of USB 3.1A outputs. These are the latest in USB technology, and it means they can offer the fastest charge possible.
The charging of the power bank from a wall socket takes anywhere between 10 and 13 hours from zero to full charge, through its micro USB port. Another excellent feature delivered by the ORYTO Qi is wireless charging, which can be used in addition to the aforementioned wired output options. This means you can charge up to an incredible four devices at the same time, which is more than most solar power banks out there.
Thanks to some smart technology inside, the ORYTO can detect the power requirements of any device it is attached to and adjust the output accordingly. This means it can deliver the most appropriate current at any time, preventing short-circuiting and overcharging of your electronic devices.
2. Yelomin 20000MAH Portable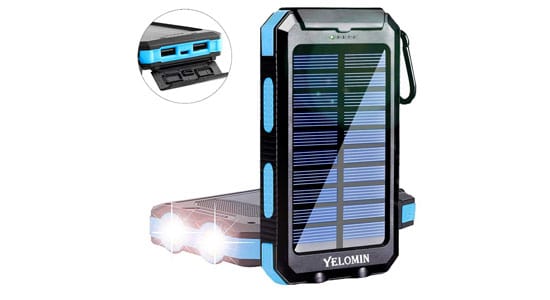 Highlights:
Includes a compass
Ideal for hiking and camping
LED flashlights
Highly reliable and durable
Smart Express feature
Next up, we have a pretty cool portable solar charger and power bank from a company called Yelomin. Aside from the obvious solar charging and power storing capabilities, this power bank offers a couple of exciting features that you might not find on other solar power banks out there.
First of all, it comes equipped with a compass making it ideal for camping trips and any outdoor hiking adventures. It also features bright dual LED flashlights, which will come in handy if you're in the middle of the woods during the night. The lights even offer an S.O.S. Morse code signal for emergencies.
The durability and reliability of this device are assured by the use of high-quality silicone, PC, and ABS materials in the manufacturing process. The sturdy case offers protection from wet weather, impact, and dirt. On top of that, the smart tech inside the device protects your devices from current fluctuations, short circuits, and voltage overload.
You'll be happy to know that the Yelomin power bank is capable of adjusting its output to the device it is charging, offering protection from any electric failures. It has two USB outputs, and thanks to its Smart Express feature, it is capable of charging two devices at the maximum speed available.
There's a clear representation of the current status of the battery delivered by the five pilot lights on the top of the power bank. Also, the lights change color depending on the method used to charge the device – blue means it's charging through the USB port, while green indicates solar charging.
3. Beartwo Ultra-compact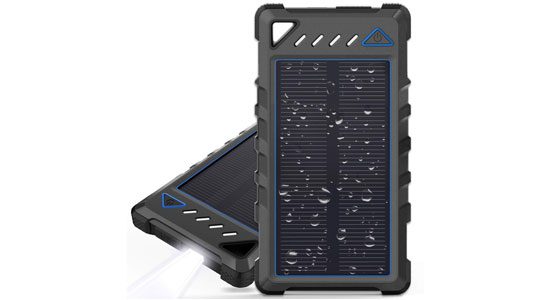 Highlights:
Compact and portable
Dual USB output
Can be submerged in water with no consequences
Bumper case
LED lights
When it comes to the compactness of the design and general portability, this is one of the best solar power bank products available on the market in 2020. It is one of the lightest and smallest power banks out there, which makes it easy to carry around and use in your everyday activities.
It is capable of simultaneously charging two devices using a dual USB output on the bottom. If you have a couple of devices you use daily, or you and your partner would like to charge your phones at the same time, this will allow you to cut down significantly on your charging times. Using a 5V/2A adaptor, you can charge the BearTwo Ultra-Compact in about 4-5 hours from a wall socket.
One of the coolest things about his power bank is the fact that it is entirely waterproof, meaning it can be fully submerged or drenched in the rain with no consequences. Each USB port has a rubber cap on it, which seals tight protecting the battery and the solar panel from any water damage. The bumper case makes it sturdy and robust, more than capable of withstanding some impact shock from being dropped or bumped around.
There's also a built-in LED flashlight, which includes three modes – normal, strobe and S.O.S. A single button allows for convenient control and switching between the flashlight modes, which is especially useful in case you need to turn on the S.O.S. signal in an emergency.
4. Feele Solar Power Bank With 4 Solar Panels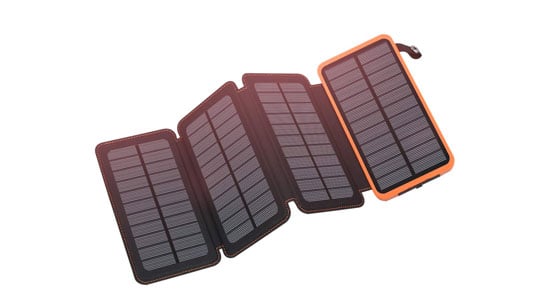 Highlights:
Four solar panels included
Large battery
Attractive design
IP-65 waterproof and dustproof
This excellent power bank uses four highly efficient solar panels and combines them with a portable battery to produce one of the best solar power banks available on the market today. Thanks to the four solar panels, the device is capable of charging from zero to full in about 25-30 hours in ideal conditions.
Because it has a 25000 mAh battery, when fully charged, the machine is capable of charging most smartphones out there at least 8-10 times, depending on the size of the smartphone battery itself.
Needless to say, those are excellent specs in terms of performance, but what makes the Feele stand out, even more, is the attractive design. The small case it comes in, at first glance, seems like it has no right to be as efficient as it is due to its compact size. The trick is in the panels that can be unfolded as needed making the device larger and capable of taking in more sunlight.
The aesthetically pleasing case is quite durable as well, as it is made of a combination of synthetic leather and hard plastic. This combination makes for a highly attractive yet functional and sturdy design. In terms of water and dust resistance, the device has an IP-65 rating, meaning that it cannot withstand full submersion in water, but is capable of handling large splashes, while it is completely dust-proof.
Two USB ports are available to charge your devices, and they are both covered by rubber seals to protect the device from water and dust damage while not in use.
5. Beswill 8000MAH Solar Charger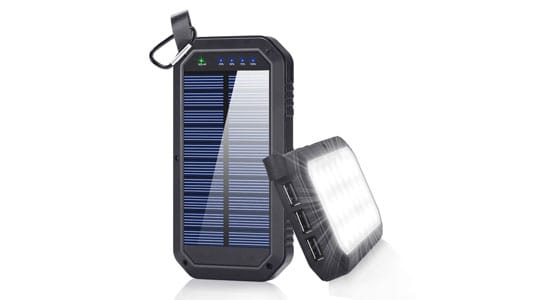 Highlights:
Weighs less than 0.5 lbs
Extremely compact design
Budget option
Perfect for short trips
Whether you're going camping or making a quick weekend trip, your backpack is probably stuffed to the brim with not much room to spare. If you add a large power bank to that set-up, you're going to have a bad time trying to lug around that amount of weight. This solar charger hopes to help you get around that problem by being the most portable a solar charger can be.
Weighing less than half a pound and measuring only 5.5 x 3 inches, it is a perfect companion to throw into any backpack or handbag. Another thing the BESWILL has going for it is the price since it is one of the most affordable solar power banks on the market today. So, if you're looking for a portable solar power bank with great reviews and a more than reasonable price point, look no further.
The small size comes with some disadvantages as well, of course. Most notably, the battery size of 8000 mAh, which should be enough to charge your phone 2 – 3 times depending on the size of the phone's battery. This makes it unsuitable for charging a tablet or multiple devices at the same time, even though it does have three USB outlets at the bottom.
However, it is perfect if your phone's battery isn't great, and you're out and about and don't want to be weighed down by a large power bank. It's even got a fabric loop in one corner, making it easy to use the included carabiner to clip it on a backpack.
6. Blavor Qi Portable Charger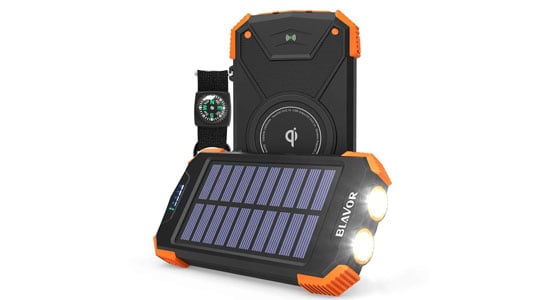 Highlights:
Multiple input types
Outstanding build quality and durability
IPX4 waterproof
Heavy bumper case
Next up, we have one of the internet's favorite power banks currently, and there are a few reasons for that. Starting with the basics – it has 10,000 mAh of power. This allows you to charge most of your wireless devices multiple times during the day. So, if you're on the go, it's a great solution to keep you plugged in and powered up. Just like any other power bank, it's super easy to use.
It's got a USB plug on the bottom, where you can plug in any charging cable for any device you could need to charge with this thing. It also comes with a USB-C input, which allows you to charge the power bank faster than you could with any other type of charging base.
Finally, there's a micro-USB port as well, so if you're in a situation where that's the only cable that you have available, you can charge this guy with that as well. That makes two charging options, as well as a universal USB outlet that allows you to charge any device with any USB cable.
That all sounds great, but you could argue it's pretty standard stuff. So, what sets this thing apart? Some of our favorite things about the Blavor Qi are the durability and build quality. This device is IPX4 water-resistant, meaning it can take heavy splashes and rain without a problem. If you take a closer look at the design, you'll realize it has a heavy bumper case with hard extra-rubberized corners for drop protection, extra durability, and longevity.
7. Goertek 25000MAH Solar Power Bank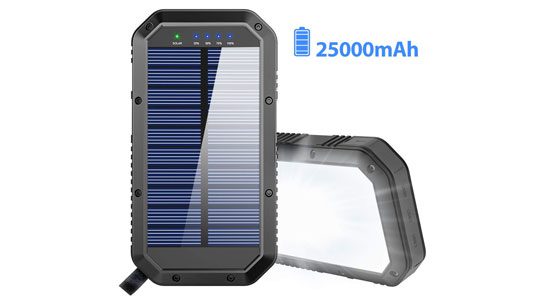 Highlights:
Large lithium-polymer battery
Indicator lights
Three USB outputs
36 bright LEDs across the front
Affordable
One of the best-reviewed and most remarkable products on the market today comes in the form of the 25000mAh Solar Power Bank from GoerTek. The quality and performance that this device is capable of are near-perfect, especially considering the affordable price point.
The 25,000 mAh lithium-polymer battery means that this power bank can be used to recharge your phone 6 – 10 times, depending on the size of its battery. You can also use it to recharge a tablet at least once, and even 2 – 3 times for smaller tablets.
In terms of aesthetics, the GoerTek uses a stylish and sleek black cover that makes it blend in seamlessly, while the ABS material in the cover will protect the charger from damage. Use a 5V/2A adapter to fully charge the bank and the solar panel to keep it charged for longer. The device features a blue light that indicates that it is charging through the USB input, and a green light indicating that it is currently using solar power.
There are a total of three USB outputs to charge your electronic devices. Thanks to the size of its battery, this means you can quickly charge all your electronics at the same time without worrying about GoerTek running out of power.
Finally, the device features 36 bright LEDs spread across its entire surface, which makes it an ideal companion for camping trips or nighttime hikes. It features three modes of operation which you can easily switch between to conserve battery. If you only ever used this power bank as a flashlight, it would still be worth the purchase.
Finding the Best Solar Power Banks – Buying Guide
So, you've decided to get yourself a solar power bank to keep your devices charged while you're on the go. The problem is, you don't know where to start looking, and what you should be looking for. Don't worry, that's why we're here.
Below, we're going to talk about some of the most important factors when it comes to choosing an excellent solar power bank, so read on.
Things to Consider When Choosing the Best Product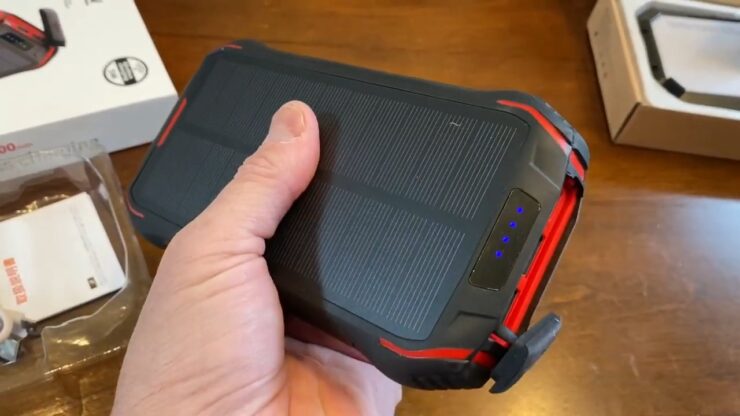 1. Usage
You can use your solar power bank in whatever way you consider most appropriate. Depending on your lifestyle, these devices have plenty of potential uses and can bail you out of many tricky situations. Every user is different, however, and everyone uses their power bank in different scenarios and for various reasons.
The first thing that comes to mind when it comes to solar power bank uses are camping trips, or those situations when you know you're going to be outdoors for a long time, and there aren't going to be any electricity sockets nearby. If you find yourself in these types of situations, often, this alone is probably a good enough reason to consider getting a solar power bank.
The great thing about solar power banks is that they can continuously be recharged using the sun, which makes them an excellent choice for those situations when you're outside a lot.
It should also be noted that these types of power banks don't hold enough electricity to power your entire camp during a camping trip. For that, you're going to have to look at some portable solar panels. Solar power banks are used mainly to give you some extra electricity in an emergency, to power your small devices such as phones or tablets.
2. Portability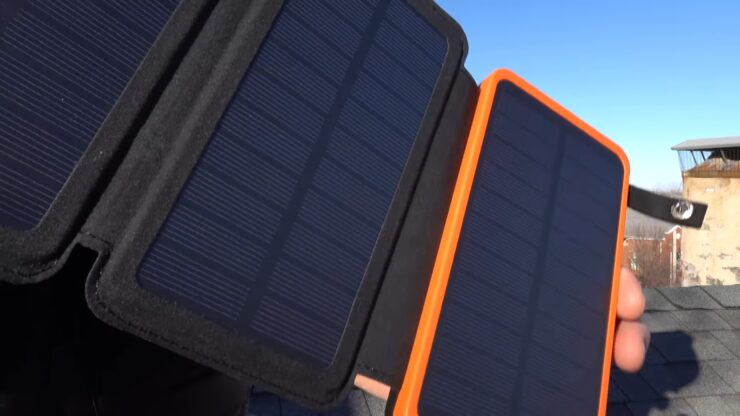 Whether we like to admit it or not, our lives today are tethered to our portable devices. Most of us store our entire lives on our phone, and the idea of it running out of battery fills us with anxiety. Now, whether that's a healthy set of circumstances or not is a topic for another time, but the facts are the facts.
Therefore, we all need an equally portable power bank to store electricity so we would be able to power those small devices that our lives so greatly depend on. As far as technology has advanced, phone batteries are still relatively small and unreliable, so if you're somewhere without a source of electricity, you could quickly find yourself in trouble.
Having a solar power bank, you can take anywhere without having to worry about its weight or size is ideal. That way, you'll never have to worry about running out of power again.
3. Solar Power Banks VS Solar Chargers
If you're new to the world of solar, you may be confused by the distinction between solar power banks and solar chargers. Since some manufacturers like to use confusing jargon, it can sometimes be hard to know exactly what the difference is, so we don't blame you.
Solar chargers are devices designed to charge your tablet or phone, but they only include the panel itself with no backup battery. They require you to either charge your phone directly only when the sun is out or purchase a separate power bank, which you can charge during the day. These panels are typically larger than those you find on solar power banks, meaning they can charge your phone quickly and efficiently, but they have no use unless sunlight is available.
Solar power banks, on the other hand, not only include a battery, but it is arguably their most important feature, while the solar panel serves as an auxiliary source of power when you're out and about. You are meant to charge one of these through a wall socket, just like you would a regular power bank, and use the relatively small solar panel in a pinch.
Important Features to Look for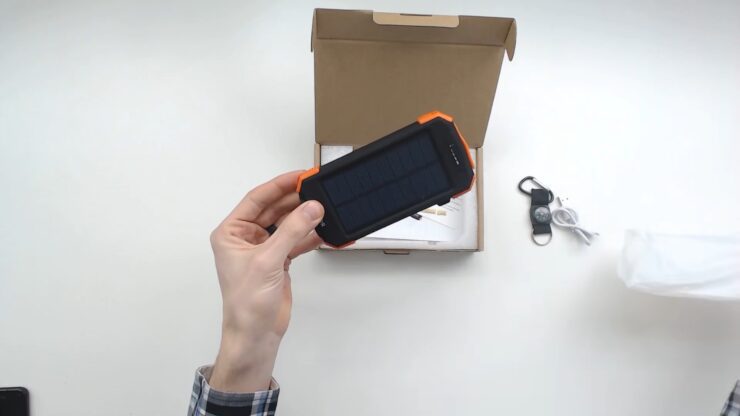 1. Battery Capacity
Battery capacity is arguably the most crucial factor to take into consideration when thinking about purchasing a solar power bank. This measurement, usually represented in milliamp-hours (mAh), shows the amount of power that can be stored inside a battery.
Portable power banks are made in all kinds of sizes, ranging from tiny ones only capable of storing about 2000mAh to juggernauts with the ability to store as much as 50000mAh. The former wouldn't be able to fully charge a modern smartphone even once, while the latter could be able to sustain your laptop, tablet, and smartphone through several recharging cycles.
2. Size and Weight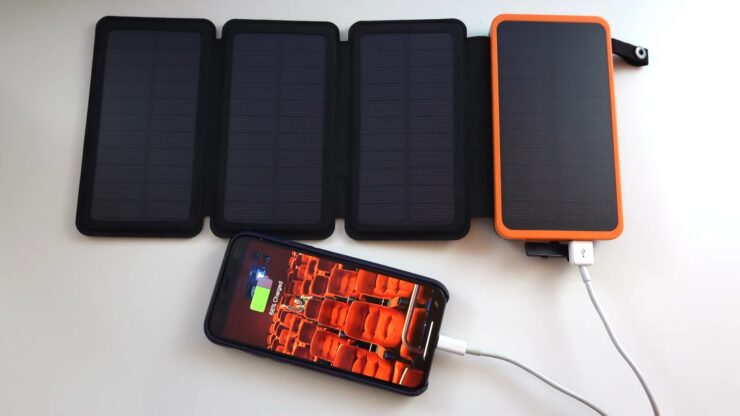 Closely related to the previously discussed issue of portability, size and weight are massive (no pun intended) factors in deciding which solar power bank to choose. As we stated before, having a power bank with a considerable capacity, quick-charging capabilities and a bright flashlight is no use if it's too big for you to take anywhere.
The best solar power banks try to find the middle ground between capacity and size and hopefully manage to get the best of both worlds. Consider your needs, and what you plan to use your solar power bank for.
3. Durability
Since these devices are often used outside and carried around in backpacks and pockets, they need to be quite durable if they hope to continue working for a long time. That's why many manufacturers out there choose to put their solar power banks in protective bumper cases, or even foldable wallet-style wraps.
It's always a good idea to check product reviews from previous customers for any signs of problems in terms of durability. You wouldn't want to spend your hard-earned cash on one of these, only to have it break down within a few months.
4. Resistance to Weather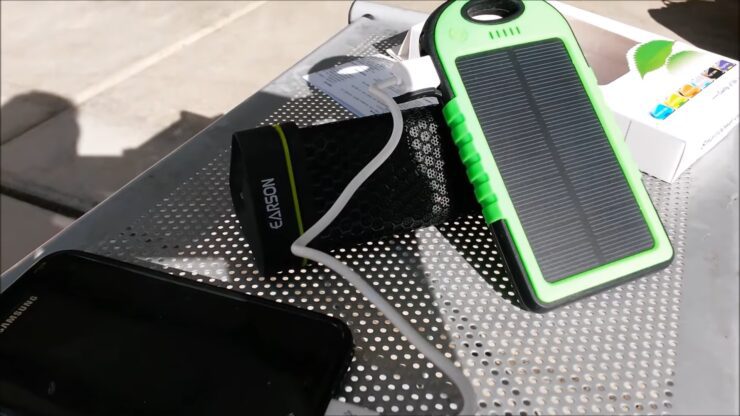 Every manufacturer likes to boast about the weather resistance of their products. This is true for solar power banks just as much as any other device out there. However, few power banks were actually tested and received certification.
If you're planning on going on an extended camping trip, you want to know that your solar power bank can withstand the elements, as well as a few knocks along the way. That's why it's a good idea to focus on devices with an IP rating, which shows a product's capability to deal with dust and water.
FAQ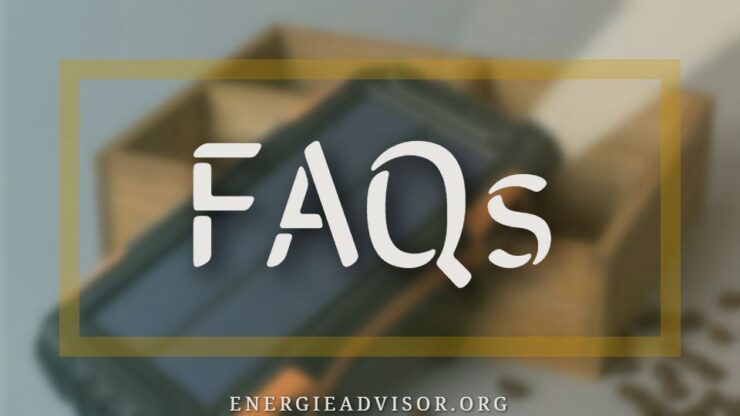 Q1: How Many Charges Can I Get Out of a Solar Power Bank?
This depends almost exclusively on the capacity of the power bank in question compared to your phone's or tablet's battery size. It's also not as simple as dividing the former number with the latter since charging is most often not 100% effective.
For example, your phone or tablet most likely needs a 5V charging capacity, while many power banks out there are only capable of providing 3.7V. This means that 26% of the capacity is lost during charging. Therefore a 10,000mAh solar power bank is going to be able to recharge a 2,000mAh phone battery only 3.3 times, rather than the expected 5.
Q2: How Long Does It Take to Charge a Solar Power Bank Using Only the Sun?
This is another question that depends on the capacity of the device as well as the solar panels it has available. The larger the capacity, the more it's going to take, but the larger the solar panel, the quicker the charge.
Another massive factor when it comes to this question is the amount of sunlight available. In cloudy weather or partial shade, your power bank is going to charge more slowly. There's also the longevity of the battery since some lower-quality cells will take longer to charge towards the end of their lifecycle.
Q3: Does My Solar Power Bank Retain Its Charge Indefinitely When Not in Use?
As is the case with any battery, solar power banks are not capable of holding their charge indefinitely. Most good power banks can hold their charge anywhere between three and six months before you start to see any significant loss. Lower quality banks will discharge quicker, and most will suffer a considerable loss of power in a matter of weeks.
This is a case of 'you get what you pay for most of the time, and if you're looking for an emergency power supply that you can set aside without having to worry about it for months, it might be wise to bring out the big bucks.
Q4: How Many Times Can I Charge My Device Using the Same Solar Power Bank?
The answer to this question differs greatly depending on the model of your power bank. Things like internal components and manufacturing quality vary from device to device, so it's difficult to predict how many charges you can get from a single power bank. All of the devices on our list have been proven to have at least 500 charge cycles in them, and most likely, you can expect a lot more.
Since solar power banks are generally not used daily, this means you can safely expect to use your device for years before it starts to have trouble charging your electronics.
Q5: What Can I Charge With a Solar Power Bank?
There is a wide range of devices you could charge with the power banks we listed above. Any device that you can power using a USB cable can be charged with a solar power bank. These include things like phones, tablets, portable consoles and even some laptops.
That said, if you plan to charge a larger device like a tablet or laptop, it would be wise to get a larger power bank – one that has a capacity of at least 10,000mAh, ideally closer to 20,000.
Conclusion
In this Buyer's Guide, you had a chance to see some of the top solar power banks on the market today. We evaluated them, assessing their particular advantages and disadvantages, as well as their specs and features. Solar power banks can be handy devices for those of us who like camping and spending our time outdoors.
They are especially handy in emergencies when you need a bit of extra 'juice' to keep your small devices going. That said, solar power banks work best when charged from the grid. While the integrated solar panel can offer some power in an emergency, it is not capable of fully charging your power bank quickly.