Having in mind that solar energy became very appealing to so many people and that there is a growing demand on the market regarding solar panels, their manufacturers and solar panel brands are continually racing to get your attention and trust.
They tend to do all the work for you – inform you about the benefits of going solar or going entirely off the grid, suggest the best solutions for your particular case as well as the most suitable panel kits, calculate the cost, the efficiency, the surface area you will need to cover with the solar system, and much more.
Comparison Table:
It's true, this topic is relatively new for all of us, and many don't really know much about clean energy, but if you're thinking about turning to this concept and lifestyle, you need to start informing yourself from a bunch of sources. You cannot let them manipulate you.
That's the reason why we decided to single out all those reputable solar panel makers and compare their quality and their offers. It's on you to find the most appropriate brand which will be able to answer all your needs and turn your enthusiasm into something tangible. First on our list is Eco-Worthy.
Top Picks Eco-worthy Solar Panels to Buy
1. Eco-worthy Backup Alligator Adapter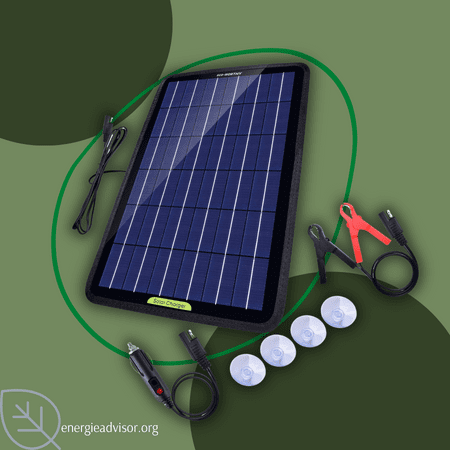 It provides energy-saving and environmental protection while being very handy and easy to use, especially when it comes to outdoor activities like camping or traveling. This 10 Watts solar panel does not demand maintenance, it's lightweight, dustproof, shockproof, and rust-proof, which are considered to be great benefits.
Also, you can use it for a trickle charger. The new era of technology has some great stuff to offer. Here is a portable solar panel charger for vehicles like cars, motorcycles, snowmobiles, and trucks, but this product is definitely the best solution for boats.
Together with this solar panel comes four pieces of suction cups, one cigarette lighter plug with a 19-inch cord, one alligator clip adapter, and one charger suitable for a 12 Volts battery with a 57-inch cord.
It has a unique design of clips that will prevent short circuits, as well as a built-in blocking diode, which can block the reverse discharge. Bear in mind that this solar panel should not be used for charging your completely empty battery, it's a solar battery maintainer that will keep it alive and extend its lifespan.
Highlights:
Weighs under 1.5 pounds
Easy to use
Shockproof and rust-proof
No maintenance needed
Portable
2. Eco-worthy 195W 12V Solar Panel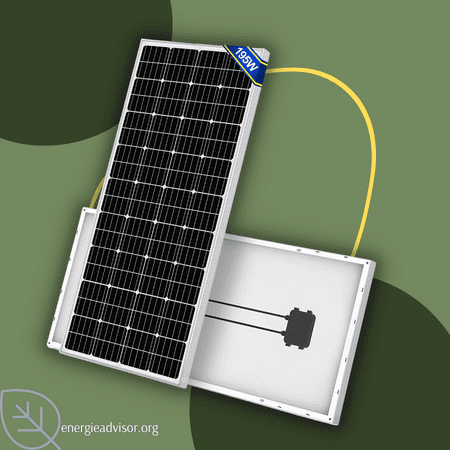 This solar panel is most suitable for off-grid situations and objects like RV's, cabins, boats, sailboats, tents, trailers, trucks, and golf carts. It is made of an aluminum frame that's resistant to corrosion, and adequate for extended outdoor usage. The manufacturer claims it can last for decades.
Also, it has high transparency and iron-tempered glass with anti-reflection and impact resistance. The ideal output of the panel is 1000Wh per day, and it comes along with a fast-charging 50Ah battery that can be replenished around 50 percent in about one and a half hours, which mostly depends on the availability of the sunlight.
Regarding the installation process, it won't be so difficult since there are pre-drilled holes on the backside of the panel for grounding, but also for securing its stability. The experts believe they go along best with large rail mounts for some additional security.
This solar kit comes with a five-year defective warranty on workmanship and all materials. But, when it comes to performance guarantee, the manufacturer says it will have 95 percent output during the first five years, 90 percent within ten years, and it will be on 80 percent power strength when it reaches 25 years.
Highlights:
Fast mounting
Durable
Adequate for off-grid objects
3. Eco-Worthy 400 Watt Monocrystalline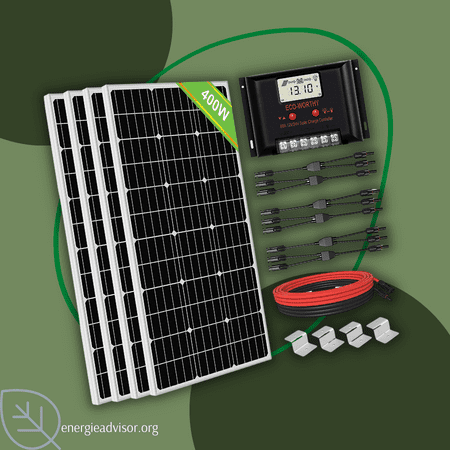 The whole package includes four 100W solar panels, one 16 feet long solar cable, four sets of Z mounting brackets, one charger, and three pairs of Y branch connectors. The system also has an external heat sink, which will provide faster heat dissipation and aluminum alloy housing so you won't have to worry about its lifespan.
The monocrystalline 400W solar panel kit, which has a daily output of 2KWh, is ideal for home use, but also it can be a great off-grid solution for trailers, RVs, cabins, sheds, and boats.
Depending on the availability of sunlight, it can charge a fully 12 V 100Ah battery in around four hours. Those who enjoyed this solar system praise the fact that the 60A charge controller with LCD display can show charging status, which is quite a practical feature
The best thing, however, is the fact you can make some changes like expanding the system up to a maximum of 1000W or 2000W or adding an off-grid inverter in order to be able to use a 110V AC Appliance. The controller is suitable for GEL, sealed, flooded, and Li batteries.
Highlights:
Good relation price/quality
It can be expanded
It can be used for off-grid objects
4. Eco-Worthy 12V 100W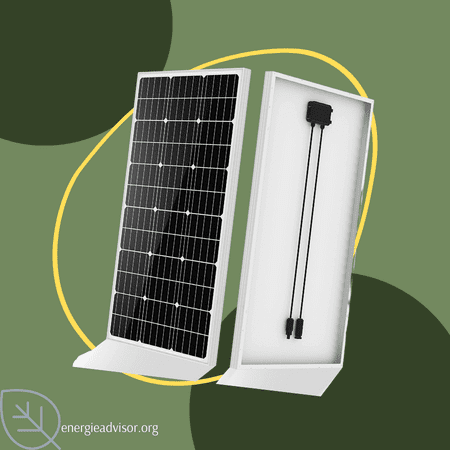 Although it's believed solar panels aren't working well when the weather is bad, the truth is their capacity will be slightly reduced, but this one, in particular, has excellent results and performance on a cloudy day. So many people are interested nowadays to invest in solar panels for off-grid objects, so there are many offers that can be suitable. Here is another one from an Eco-Worthy manufacturer, ideal for boats, caravans, RVs, etc.
It's one 100W solar panel that comes with a 20A LCD charge controller able to handle up to 12V systems or 24V systems. The daily output is 0.5 KWh, but it can be conditioned by the amount of light. It weighs a bit more than 20 pounds, and it's beginner-friendly, so you can set it up by yourself.
It has a one-year product warranty and a worry-free return policy. Also, the package includes one 16 feet long 12AWG cable with an MC4 connector. It can light up the fridge, lamp, power pumps, heater, TV, mobile phones, laptops, etc.
Highlights:
Easy to install
Great performance on a cloudy day
Worry-free return policy
5. Eco-worthy 120W 12V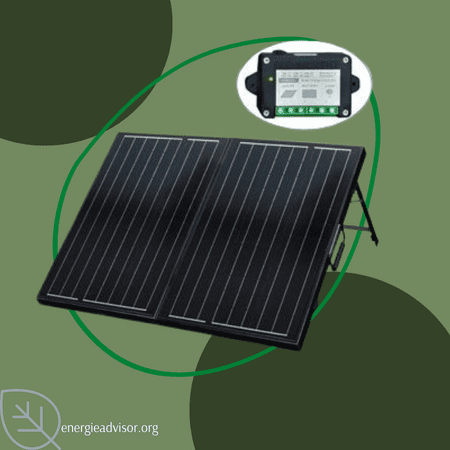 It's a ready-to-use solar panel, you just need to fold it up and face it towards the sunlight. It has a charge controller that is pre-installed and wired for this particular system based on 12V. The manufacturer is claiming that after the system is set up, it will quickly start to generate energy and that it can be used to power up any 12V DC device.
This foldable and portable solar panel is the new favorite thing among solar clean energy users, especially those who are nature lovers and enjoy camping and hiking. It's also great for military needs and all different off-grid systems like caravans, boats, RVs, solar pump watering systems, etc.
The kit includes two 60V solar panels, one pair of 10 feet solar cables, one set of an adjustable aluminum stand, one 15A charge controller, and one pair of 30A alligator clips, handles, and latches. The fact it's foldable will keep the panel safe when you are not using it, and it has good solar efficiency, so you can trust it when being outdoors.
Thanks to the low-voltage system, you will avoid electric shock hazards, and as another benefit, there is a corrosion-resistant frame that will provide a long lifespan for the panel. They say it can last for decades and withstand snow loads as well as high winds.
Highlights:
Foldable and portable
Corrosion-resistant aluminum frame
High-efficiency
Easy to install
Why Choose Eco-worthy?
Eco-Worthy is a solar panel manufacturer and wholesaler since 2002, during all those years, managed to create a good reputation among its customers and consumers. The brand was founded by former renewable energy engineers who wanted to offer people good, safe, and affordable solar panel kits.
Some claim that they were one of the top sellers in the field of off-grid systems since the beginning, but besides that, they can provide you with different types of solar panels, solar inverters, hybrid solar wind kits, solar fans, batteries, charge controller, grid-tie solar kit, solar tracking kit, pump kit, and many other solar-related accessories.
Things to Consider When Buying Eco-worthy Solar Panels
Before purchasing solar panels for your household, or some off-grid object, you need to know a couple of things. These are the guidelines you should follow to get to the right decision.
1. Solar Panel Type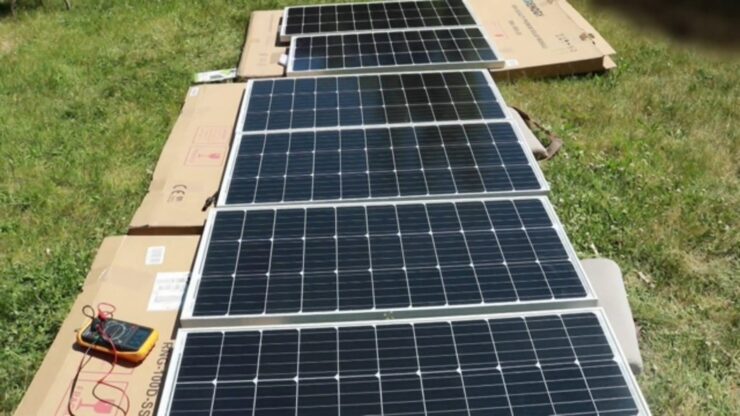 There are different types of solar panels you have to consider, and therefore to conclude which one can serve you the best. Each one is based on a specific technology and specific features, so they will have a different outcome.
Eco-Worthy has five types of solar panels on their offer – monocrystalline, polycrystalline, foldable, flexible, and portable solar panels, so they can pretty much meet any of your needs. There's even a hybrid system that combines solar and wind energy, as well as the pump system based on water supplied method.
2. Purpose and Efficiency
You have to ask yourself what you need solar panels for in the first place, and how efficient they have to be in order to provide you with enough power. Some of them are adequate for house roofs, some for uneven surfaces like the top of the RV or boat, and some for emergency charging, hiking, camping, or travel.
They are offering high-quality solar panel equipment and all the necessary part you will need to set up the off-grid or grid-tie systems. They can provide you with solar construction that doesn't require a lot of space, and as many of their users claim, they have reasonable prices that are aligned with their quality.
3. Service and Support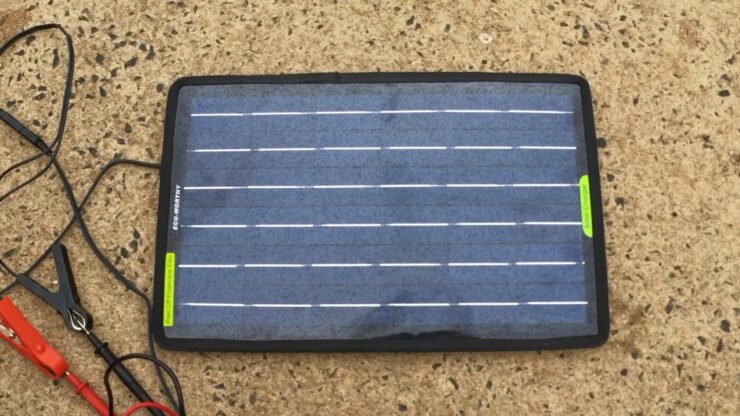 The brand has worldwide delivery, and you can even get some items with free shipping. Also, if you decide to return the products, you will get a refund within 30 days of receipt, as long as it was not used.
On their website, you can find and download user manuals, which will help you to understand Eco Worthy's solar products, as well as solar panel system basics, and instructions that will make purchasing and installing renewable energy systems safe and successful.
But, regarding customer support, you should know that they don't usually provide this service during weekend days unless it's an urgent matter.
Conclusion
Eco Worthy owns the whole spectrum of solar products and other energy-efficient options, which will bring you and our planet much-needed benefits.
They are considered to be a trustworthy and well-equipped seller who tends to provide affordable and high-quality products for all those who are willing to embrace a green and better life.