When we talk about generating solar power and increasing the efficiency of our solar system, inverters are the key piece we need to pay attention to. They are the most important link between the direct sunlight and electricity we can use in our household. Thanks to them, direct current from the panels will be transformed into an alternating current that is disposable to us and our needs.
Of course, the quality of solar panels will mostly dictate the efficient rate of the system, but inverters are another thing crucial for this aspect. You should know that some solar panels will come with built-in inverters, but in other cases, they need to be purchased separately.
But let's first see what solar panel inverters actually are. They represent devices that convert the power accumulated by solar panels into electricity we can use for home applications, lighting, heating, etc. Here is the list of best solar inverters that are available on the market right now.
Solaredge Hd-wave Inverter – Editor's Choice
Mophorn 1200w – Best Micro Solar Inverter
Fronius Primo 6.0-1 6kw – High-quality String Inverter
Pure Sine Wave Inverter – Top Hybrid Inverter
Samlex Solar Pst-300-12 Pst – Best Off-grid Solar Inverter
10 Top Rated Solar Power Inverters
1. Solaredge Hd-wave Inverter – Editor's Choice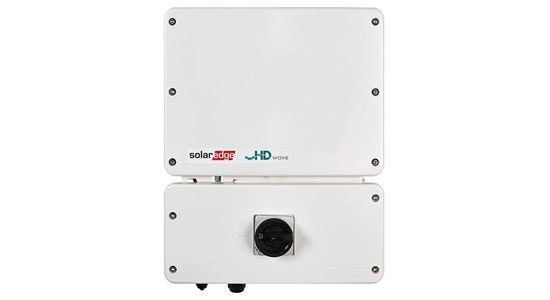 Highlights
Small size and weight
New HD wave technology
Unique modern design
DC optimizers
Super efficient and reliable
Our top pick is this SolarEdge inverter that is based on a new HD Wave technology because it has some great features and great characteristics. This model is extremely popular in the USA and Australia thanks to its unique modern design and DC optimizers that allow you to monitor each solar panel separately. But you should know that these inverters can work only with these particular optimizers that are tuned on fixed voltage (380 VDC).
The SolarEdge inverters are half the size and weight of those previous generation products. They have much better cooling, magnetic, and electronic components that increase their reliability, and they are available in different sizes, from 2.5 to 10kW.
As we previously mentioned, their most significant advantage is the fact they have panel-level monitoring and control, as well as power optimization through DC optimizers. These small electronic modules are attached to the rare side of solar panels, and they increase their safety, detect any eventual problems, and reduce the effects of shading.
Solar Edge inverters have optional wifi that, alongside one of the best smartphone apps, allows you to keep in track everything that's going on on top of your roof. These devices come with the industry-leading 12-year warranty.
2. Mophorn 1200w – Best Micro Solar Inverter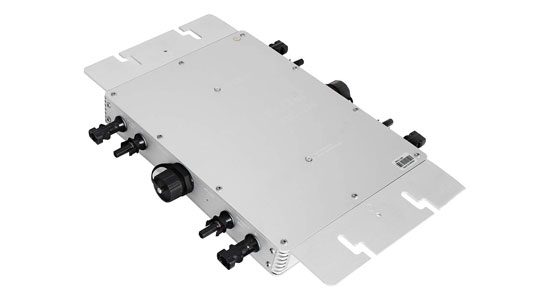 Highlights
Waterproof
Intelligent monitoring system
Easy installation and maintenance
All mounting parts included
25-year warranty
Here is a Mophorn microinverter that has a maximum power point tracking algorithm and high-quality performance. Experts claim that it can capture and collect sunlight very effectively. Thanks to that, this inverter can track all the changes in the solar luminosity, and it can control power output in every moment.
This device has a simple and waterproof design, so the rainwater won't create surface erosion. It needs only 22-50V DC start voltage, it adopts reverse efficient power transmission technology, and it is built in a way that allows extra electricity to be transmitted to the grid.
The great thing about its intelligent monitoring system is that the inverter can gather real-time data, it can control when the system starts or shutdown, and it can affect power regulation. You can mount this inverter on brackets or directly on components, and you will be happy to know that its installation and maintenance is effortless.
It comes with all the necessary parts. The package will contain an inverter, tee connector, 1.5m power cable, one set of mounting accessories, and a product manual. Also, all other parts of the solar system, like the collector or PC can communicate with it using WIFI wireless communication or RS232 serial port.
3. Fronius Primo 6.0-1 6kw – High-quality String Inverter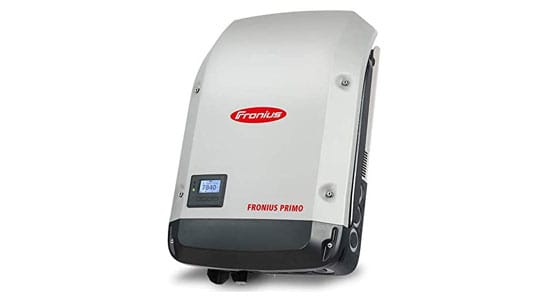 Highlights
Lightweight
Easy to install
Free smartphone monitoring app
10-year warranty
Modern cooling system
Fronius inverter features a simple, flexible design, and it has a standard mounting system that makes the service and installation process very easy. These devices are created in a way that supports the technical requirements of a smart grid, which means they are ready to meet the next generation of solar equipment.
Fronius Primo has an excellent reputation all around the world, primarily because of its modern built-in cooling system. This particular part is the reason this device has excellent durability and reliability. The fan that is inside of the device is reducing thermal stress and therefore enabling it to work properly, with full capacity.
The monitoring can be done through the Fronius Smart Meter, remotely, or by a smartphone app that's free and provided by the manufacturer. Another great thing is that you will get a five-year warranty immediately. But if you register online, you will get another five more years, which is entirely unexpected.
This is a great inverter for home applications with a 208/240 grid connection, and there are a couple of features that made it super practical – a wide input voltage range, SunSpec Modbus interface, PowerPoint trackers, etc. The mounting process is straightforward, and it will take only 15 minutes.
4. Pure Sine Wave Inverter – Top Hybrid Inverter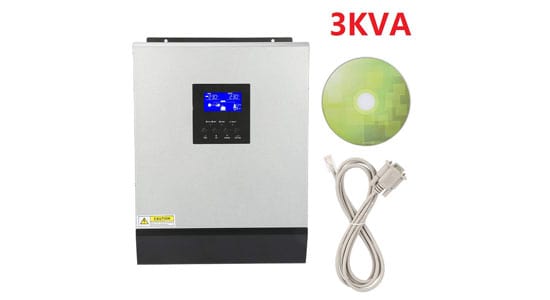 Highlights
Modern design
LCD display
For home or industrial appliances
Portable and small-sized
Easy installation
Pure Sine inverter has a quite modern design, with high-density aluminum alloy shell, sandblasted surface, and resistance to corrosion. In the front part, you can find an LCD display with various parameters, so you can keep track of it's working status at any time.
Its internal components are using high-quality circuit boards that guarantee the inverter's long lifespan and great efficiency. Thanks to output stable AC power, it can be used for home or industrial appliances.
We are talking about a multi-function device that's combining functions of inverter, battery charger, and solar charger in order to offer great power support for your solar system. It is portable and small-sized, so the mounting and installation won't be a problem.
The LCD display will give you an option to control and change battery charging current, AC/solar charger priority, and level of the input voltage. It will be able to provide power for light, and multiple devices like fan, refrigerator, air conditioner, etc.
5. Samlex Solar Pst-300-12 Pst – Best Off-grid Solar Inverter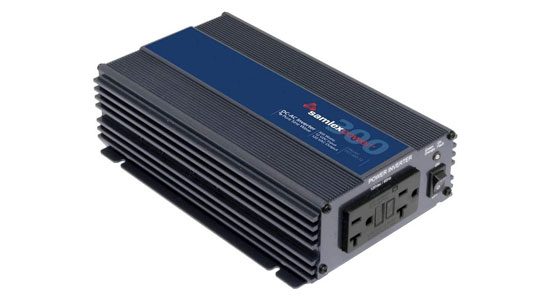 Highlights
High efficiency
Perfect for off-grid devices
Cooling fan temperature regulation
Low idle power draw
2-year warranty
Samlex solar inverter is one of the best off-grid devices. With its commercial design, it's suitable for emergency situations, operations that will be going on for an extended period of time, and heavy-duty loads.
Customers say that they are very durable and efficient and that one of their best qualities is the fact that they have a cooling fan for temperature regulation. Thanks to that, it will reduce energy consumption and power draw.
This inverter can be used for many different applications. It can withstand DC voltages of up to 16.5V, which means it is suitable for solar panel systems, computers, and related devices such as optical drives, laser copiers, printers, etc. Some of its main features include low battery alarm and shut down alarm, overload protection, and low idle power draw if it is less than 0.5 A.
It has LED indicators for protections, and it comes in a package with detachable cable with a 12V plug adapter and detachable cable with battery clamps. Samlex inverter is safety certified by UL standards, and it has a two-year warranty.
6. 1200w Power Inverter Dc12 By Giandel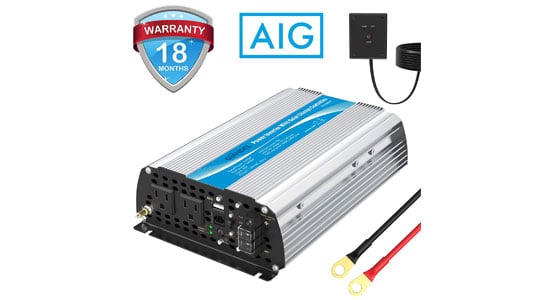 Highlights
Affordable device
Great for small off-grid applications
18-month warranty
Resistant aluminum housing
Great efficiency
It turns out that this inverter is excellent for all those who are looking for this type of off-grid device and have a limited budget. It can be connected to other system parts thanks to the USB port and two current outlets, and it's very easy to install.
Given that the Giandel inverter is wrapped with the aluminum shell, it can withstand different weather, and you will be pleased to hear that it has the ability to minimize overheating with the help of a built-in fan. That feature will provide it with great efficiency, and you will be in a position to use it for indoor or outdoor needs.
In front of you is a high-quality product from one of the most popular Australian brands. It will provide you with full continuous output power, and it comes with a remote controller, necessary cable, and battery voltage indicator so you can see the battery status.
It is ideal for camping needs for your RV, boat, car, or some emergency situations. You will be able to power your laptop, TV, lights, or game player when you are off-grid. But this won't be the best solution if you are looking for a device that will support some powerful machines. The inverter has an 18 months warranty.
7. TP-Solar Off-grid System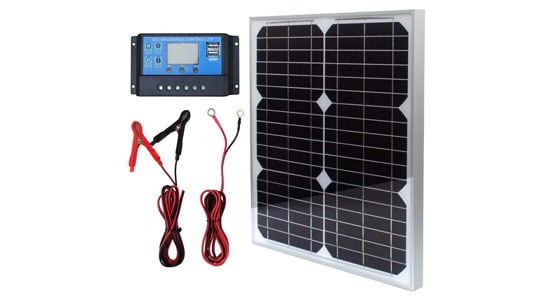 Highlights
Set includes solar panel and controller
Easy to install
For off-grid purposes
LCD display
Battery protection feature
In the end, we want to present you with one solar kit that includes a solar panel of 20W, a solar charge regulator controller (12V/24V), and two cables with o-ring terminal and alligator clips. It is an off-grid set perfect for RV, car, boar, caravan, shed, cabin, etc.
Every part is very easy to install since it has pre-drilled holes, and the inverter is built in a way that guarantees it is dustproof and waterproof. The device is suitable only for lead-acid batteries – so it cannot work with nickel hydride, Lions, lithium, or another type of batteries.
It has two USB outputs, which can be very practical, short circuit protection, PWM charging mode, easy operation interface, and LCD screen display. This inverter is adequate only for a small home solar system, and it's straightforward to operate. It also has a battery protection feature – if the voltage drops below 9V, this controller will turn off automatically.
The solar panel is monocrystalline, it is built out of high-quality glasses, it's minimal and effortless to use. With this set, you will be able to provide power for a small housing light system, to light up your backyard, to use solar gate opener, water pump, and all small electrical devices.
Types Of Solar Inverters
Hybrid Inverters
Hybrid inverters are new generation devices that are based on a combination of battery and solar inverter systems. Given that they have advanced technology, they are becoming more and more popular. They work quite similar to standard off-grid inverters, but only a few of them are suitable to actually support off-grid installations.
Unlike a traditional inverter, the hybrid one will store energy in the battery only when it's necessary when there is some extra production. French Electric Network predicts that these inverters will be the future of photovoltaic solar panel systems based on energy self-use.
String Solar Inverters
These are the most popular inverters in Europe, Asia, and Australia, but they are becoming appreciated in the USA too. They are most suitable for those solar roof constructions where there is no shade at any time during the day. We are talking about reliable technology, but it has its flaws.
It will produce as much electricity as its least productive panel generates, so if there is some shade, or your panels are placed in different directions, this may not be the best solution for you.
These inverters are the most affordable ones, and they are very easy to install. People often call them centralized inverters since there is a strong interconnection between every solar panel, and they all feed into this one inverter.
Off-grid Inverters
Off-grid, inverters are also called stand-alone devices. They are very strong, with great capacity, and they have built-in chargers that need to be set up as either DC or AC coupled systems. They are actually multi-mode devices that control and manage batteries, solar panels, and back-up power sources like a generator.
An inverter is a central unit of an off-grid system, and it is created in a way that can support high consumption appliances like large pumps, air conditioners, water systems, electric because they need continuous power. You should know that they are quite expensive, but it was expected given the power output they can offer.
Micro Inverters
Microinverters are tiny devices that are directly attached to each solar panel. If you live in a house that is surrounded by other objects that creates shade, or you have a complex roof layout, this is an excellent option for you because each inverter and solar panel is operating independently.
They are a bit pricier than standard inverters, but they are very popular in North America thanks to these substantial advantages. These inverters are also called distributed, and they are very efficient, given that they will produce enough energy even if some panels underperform. They tend to have a long lifespan.
Finding The Best Solar Inverters – Buying Guide
When choosing the perfect inverter for yourself, the main thing is to determine what do you need it for – for on-grid or off-grid purposes, for some small home appliances or for powerful machines, and then to establish the position of your solar system and whether there is shade or not.
Things to Consider When Choosing the Best Product
Calculate Your Power Requirements
Before you decide what solar inverter you want to purchase, you have to predict what your average power requirements are. There are different inverters in the market, some have great capacity, and some pretty small, but don't forget that they are not generators, they cannot run your entire homes.
If, for example, the calculation shows you need more than 4000VA, know that ordinary inverters won't do the work. So make sure you do this math and be certain you choose the one that can answer all your demands.
Solar Inverter Or Solar Ups?
Given that both solar inverters and solar UPS do the same job – converting the direct to alternating current, it is reasonable to ask this question. Solar UPS will provide you with an uninterrupted power supply to your devices, as its name suggests.
Switching on average UPS will take from three to five milliseconds, while a standard inverter needs around 500 milliseconds, which is a lot and unacceptable if we are talking about PC, routers, modems, printers, etc. Because of that, you need to know what you need for this device.
Solar Battery
They say that a solar battery is the main piece of a solar inverter because it's lifespan and execution depends on it. Solar inverters are usually working on high power lead-acid batteries, and their capacity is based on Ampere Hour, which presents the rate of current it can supply for a specific time.
Their lifespan can be from two to five years, they demand different maintenance, and their price and efficiency level are clearly various.
Ip Rating
Your inverter will be exposed to different conditions and situations, so you need to make sure you choose a high-quality device, the one that can face all that and continue to do its work. IP or Ingress Protection rating will show you the inverter's immunity and ability to deal with things like dust, water, high temperatures, and, lastly, fluctuating voltages.
But bear in mind that every IP has two digits and that you need to take into consideration both of them. One shows the level of protection against the ingress of solids and the second one protection against the ingress of liquids.
Other Features
You should also pay attention if your inverter has LCD status indicators that can be quite helpful, since they show the status of the battery, input/output voltages, load, battery life, etc. Another thing to consider is if there is an Earth leakage protector. It's a device that keeps you safe and secure from electric shock and your appliances from damage. Most of the modern inverters have this as a built-in part.
Important Features To Look For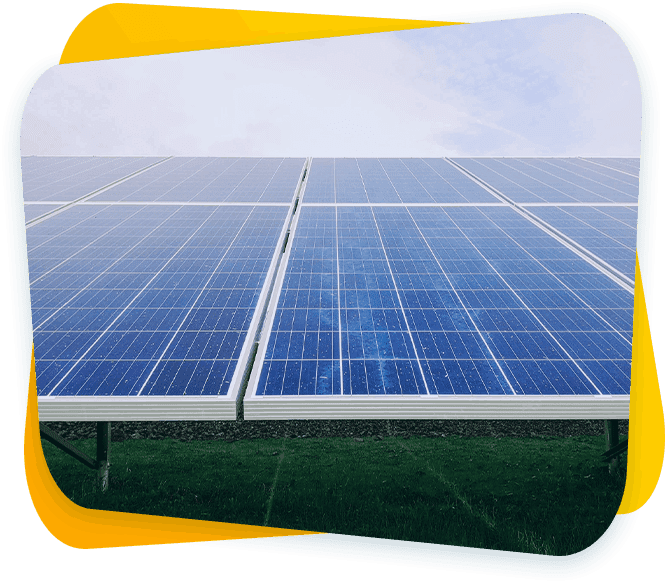 How To Set Up Your Solar Inverters?
You should know that installing an inverter is not so easy. You cannot make a mistake because of the safety, efficiency level, for the sake of inspection, and in the end, esthetics. First of all, you need to choose a good spot for your inverter – it should be some clean and cool place, in constant shade, because electronics should not be exposed to the sun. Then, make sure you are safe, always follow safety procedures.
It is time to do wiring, which needs to be clean and well-organized, and mounting, which should not be a problem. If the wiring part is a bit complicated, as it may happen, please contact someone who is a professional in this field and ask for help.
Given that inverters use different communications platforms, this next step may be a bit challenging. We are talking about commissioning and connecting data, but if you know how to install and use a smartphone app for this, you should be good.
Conclusion
They say that inverters are the heart and soul of the solar system, and they are probably right. No matter how good and high in quality solar panels are, it's all about how the energy they absorbed is converted into usable power.
A good inverter should have a great IP rating, pure sine wave output, and excellent efficiency. But don't forget to keep in mind your requirements and to choose an inverter based on that only. The most important thing is to do the research, to do the math, decide on priorities, and then make a choice. We hope we made it easier for you.