Don't you think that it would be lovely having a little pond or a fountain in your backyard? You most certainly do, or you already have it, so you know what we are talking about. But there are certain things you probably didn't think about when you first decided you want to install a water oasis in your garden, like the fact you need to have an adequate water pump in order to avoid living near stagnant water.
If there is no circulation in the water, there is a great chance that mosquitoes and other bugs will find their way to it, and there's also the matter of the smell. Backwater can have a really bad odor.
Comparison Table:
So we suggest you think about investing in a solar-powered water pump that proved to be a terrific solution in this matter. Not only that it will resolve these issues, but it's also an eco-friendly product that will allow you to save up a lot of money on electricity.
Top Picks Solar Water Pumps
1. Solariver Solar Water Pump Kit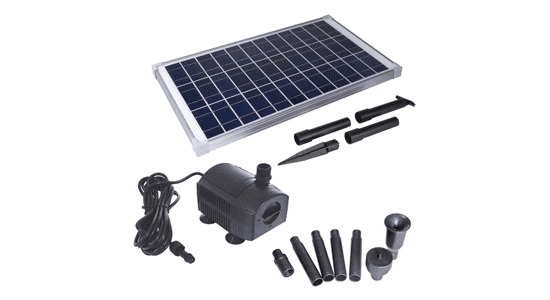 Highlights:
Durable
Efficient
Dry-run protection
Adjustable flow control
1-year warranty
With this pump you will be able to move large volumes of water, so you can use it for large fountains, ponds, natural pools, aquaponics, hydroponics streams, rainwater collection, etc. Since you won't have to connect to a grid, you will save a lot of money for sure.
The first on our list is a solar kit that includes a water pump, solar panel, and all the necessary parts you will need in order to set up and install this system. It's not the most affordable solution, but according to reviews of many customers, it is very reliable and worth the investment.
This submersible brushless magnetic pump is very durable and efficient. It comes with dry-run protection and adjustable flow control, but also, it's safe and non-toxic to all aquatic life. The solar panel has an aluminum frame, 20-watt capacity, a stake, and 16 inches long cord that will allow you to place it far away from the water.
The manufacturer is offering a one-year warranty for this kit. There's no battery in the system, so it is essential to place a solar panel under direct sunlight during the day, so it can provide the right amount of energy for the pump to work all the time.
2. Lewisia Solar Bird Bath Fountain Pump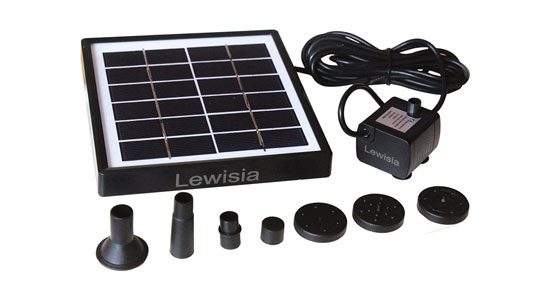 Highlights:
Affordable
Efficient
Durable
10 feet long cable
Multiple spray heads
It is very easy to set up, and you won't even need any tool. The package includes a pump, solar panel, and multiple spray heads that will offer you different water patterns that are fountain-like. Thanks to the fact there is a 10 feet long cord from the panel to the water pump, you will be able to place the solar panel under the direct sun, even if the pond is in the shade.
If you are looking for a great solar water pump, the one that can be suitable for small pond garden decoration, here is a suggestion for you. This item is among the cheapest but most effective solar pumps in the market right now, and it gets the job done quite well.
Given that this pump is small, it is convenient to move. It is suitable for all sorts of small ponds, birdbaths, and fountains. The solar panel has a power of 1.5W, and when it comes to pumping, the maximum water flowing is 175 l per hour.
For only 25 dollars, you will be in a position to install a water circulation pump in your backyard, to have a significant decorative effect, and to prevent all sorts of bugs and mosquitoes from gathering around. Make sure not to let the pump work without water because it can shorten its lifespan, and make sure the solar panel is always away from the water, dry and clean.
3. Powerez Solar Water Pump Kit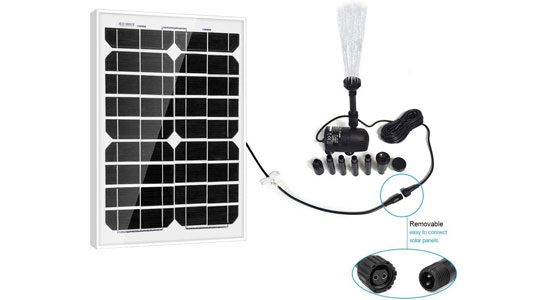 Highlights:
Two fountain spray heads
Built-in brushless motor
Long lifespan
Easy to set up
High-quality made
It comes as a kit, and it includes a very durable water pump – it has a lifespan of 20.000 hours at least, 20 W solar panel that's portable and weighs only four pounds, and all other smaller parts you will need in order to install the whole system.
Solar power water fountain pumps are so practical, that you are going to wish to implement them anywhere you can. This model, in particular, is great for fish tanks, birdbath, small ponds, and other garden decorations that include water.
You will also get two fountain spray heads so you can customize your water decoration the way you want. The set is very easy to maintain, and the pump itself has a built-in brushless motor that features low power energy consumption and longer service life.
The cord is long enough for you to be able to place the solar panel under direct sunlight. The pump is submersible, and it needs to go totally under the water. Make sure these two parts are not close to each other in order for the solar panel to remain undamaged. The product comes with a one-year warranty.
4. Lewisia 5w Solar Fountain Pump for Pool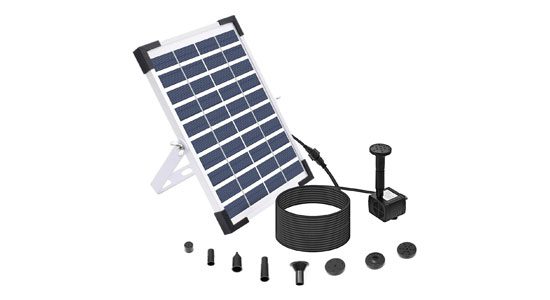 Highlights:
Durable
Several spray heads
Filter bag included
Easy to set up
High-quality made solar panel
The solar panel has an aluminum frame and metal bracket, so there are two ways you can use it and install it. One implies placing it on the ground, under direct sunlight, and the other attaching it to a wall where it can gather the sun's power and transform it into energy.
The screws for that are included.The brand Lewisia is offering you another solar water pump kit you can use in your garden in a fountain, pond, birdbath, and other water installations. It comes with a 5W solar panel that's a great collector, so you don't have to worry about the pump working all the time.
Two parts are connected with a 10 feet long cable, which means you will be able to separate them and move the solar panel wherever you want while the pump is working. The panel is made from polycrystalline silicon, and it's very durable.
The kit is easy to set up, and hassle-free, one filter bag is included, which is great since it has the capacity to prevent the pump from getting blocked with dirt. Also, you will get several head sprays so you will be able to choose the decorating style for your water installations.
5. Bacoeng Ranch Solar Water Submersible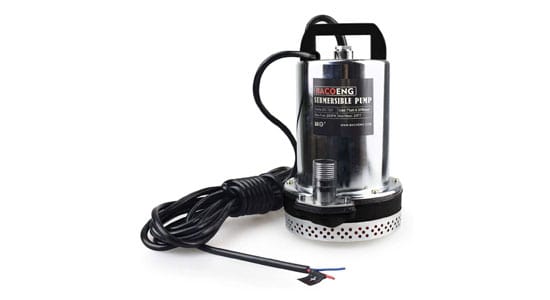 Highlights:
Simple to maintain
Large flow
Multi-practical
Durable
High-quality made

The Bacoeng pump has a large flow, so you can install it in a large pond or huge fountain, being sure it will do its job correctly. This pump can be used with a solar panel or a 12V battery system. It is a multi-practical pump that can be placed in ponds, wells, and the one that can be used in agriculture for irrigation.
This here is a highly recommended water pump that does not come together with a solar panel, but it has great power of 120W and excellent performance. It is built with a simple structure, and very few components, so it's easy to maintain and repair if needed.
The filter screen at the bottom will make sure the pump is not suffocated with algae around the impeller, and the flow it can provide can serve for watering the small farm or garden. When it comes to wells, this item is adequate only for those that are less than six meters deep.
It's not recommended to use it in dirty water, even though its 3mm filter port will manage to filter large particle impurities. It's true, this pump costs more than some complete kits with solar panels included, but it has excellent power, and reliable structure, and it can move a great volume of water.
6. Homasy 400gph Ultra Quiet Submersible Pump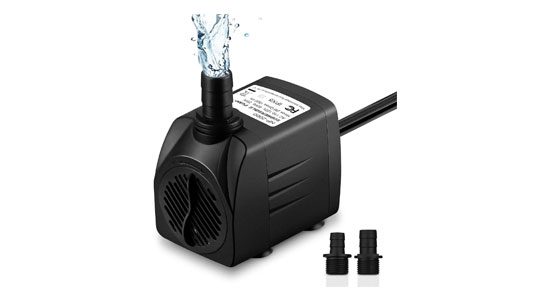 Highlights:
Strong
Durable
High-quality made
Multi-functional
Easy to maintain
We are talking about an upgraded fountain pump that has an adjustable knob, so you will be able to control the water flow rate as well as water pressure. The pump comes with four strong suction cups that will provide you with a quiet environment.
There are many different solar-powered water pumps, but this one, in particular, is one of the best. Homasy water pump has a very powerful motor that can produce a higher water lift. It features a 25W pure copper motor that can deliver a lift height of 6.9ft while remaining efficient and in alliance with energy-saving.
It is a very durable and efficient product that has a long lifespan, so investing in it won't be a mistake. It is very easily disassembled and cleaned without the need for any sort of tool, and it is a multi-function submersible type of pump.
The pump is designed for aerating and circulating the water in your aquarium, pond, fountain, and hydroponic systems so that the water environment can be suitable for fish, turtles, and another underwater world. It can be placed horizontally or vertically and connected to a solar panel with a 5.9 feet long cable.
7. Cosscci Solar Fountain Pump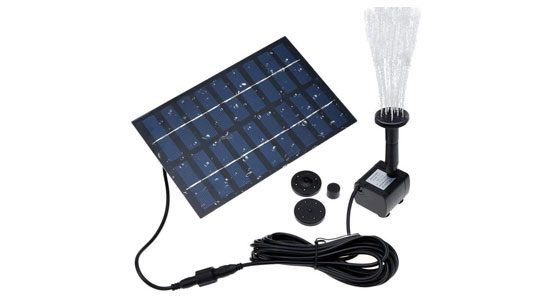 Highlights:
Eco-friendly
Long lifespan
Durable
Four spray heads
Brushless motor
The pump itself is compact and very powerful, and it can create a maximum water height of 70 cm. But it is important to know that the height of the water very much depends on the power supplied by the sunlight. The pump is connected to the solar panel with a cord that's almost 10 feet long.
If you are looking for a solar-powered water pump, here is an eco-friendly one that works automatically, solely on the power of the sun's energy. The manufacturer claims that it will work tremendously, but only if the solar panel is totally exposed to the sun, because otherwise, it may not be in its full capacity.
It is designed to start working immediately after being placed under the water if the panel is exposed to a sufficient amount of sunlight. It comes with four different spray heads that will provide a specific water flow, as well as water heights.
The whole set is high-quality made, and the pump has more than 20.000 hours of lifespan. Also, it has a brushless motor that's built-in, so the energy consumption will be as low as it can be. The Cosscci kit is an adequate solution for fountains, ponds, birdbaths, fish tanks, and other garden decorations.
8. Solatec Solar Fountain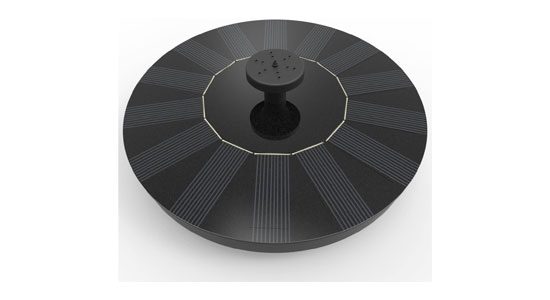 Highlights:
Efficient
Affordable
Four nozzle heads
Floating item
Durable
The entire surface of the pump's base is covered with solar cells that collect the sunlight and transform it into electricity the pump needs in order to work, so you need to place it in a spot that's constantly under direct sunlight.
Now, here is something a bit different. It is a water pump and solar panel, all in one. It's a very efficient item that's fully controlled by solar energy. It has a round shape, with a sprinkle in the middle, so it will look good in a fountain, pond, birdbath, or any other water installation.
You will get four different nozzle heads that can be attached to the pump, and they will provide you with different and specific water patterns, as well as different water heights. The water can go from 30 to around 50 cm high.
This is a floating product, so it will move on the water surface when you place it on it, and its efficiency depends on the number of sunrays it is exposed to. You just need to make sure the pump is completely under the water. The item is covered with a one-year warranty.
9. Aisitin 3.5w Solar Fountain Pump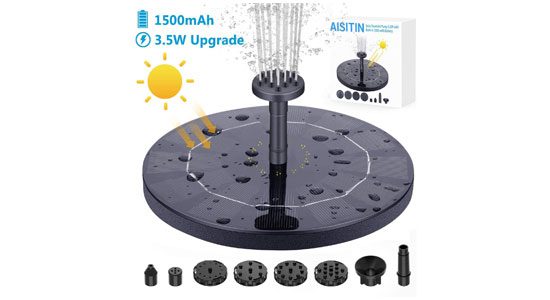 Highlights:
2-in-1 product
Durable
Built-in battery
Six spray heads
Power-off protection
It is a floating pump that has a 3.5W solar panel, it's very high-quality made, so even when the sunlight is weak, the pump will work, only with lower capacity. The main difference between this one and all other pumps we previously mentioned lies in the fact this one has a built-in battery that will store the energy.
Again, here is a round shape fountain pump that has integrated solar cells on its surface, so one item is responsible for two actions – gathering sun rays and transforming them to electricity, and pumping the water inside of any water installation.
It comes with six different water sprays you can change, depending on which water height or which pattern you would like to get. The process of changing head sprays is pretty simple, and you won't need the usage of any tool.
This pump has reliable power-off protection, so if it happens, there is no water left, it will stop working immediately. It's durable and long-lasting, and it's suitable for ponds, birdbaths, pool, fish tanks, water circulation for oxygen, etc.
10. Lewisia Battery Backup Solar Fountain Pump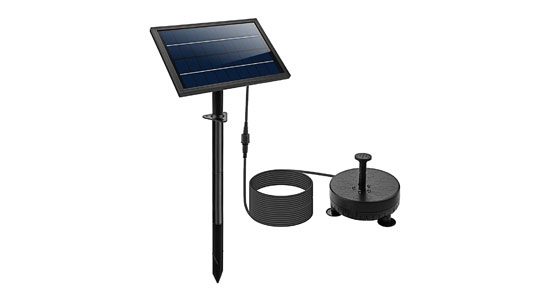 Highlights:
Built-in battery
Five LED lights
Five sprayer combinations
Auto-off sensor
Durable
When you first place everything in its position, it may take 24 hours for the solar panel to fully charge, but after that, it will work automatically. The foam cotton base will allow the pump to float, while the filter box will protect it from damaging debris.
The last product on our list is a kit that includes both the solar panel and water pump, but also all other necessary parts for you to install the system. The pump has a built-in battery where it can store all the energy supplied by the sun. Thanks to that, it can work on cloudy or rainy days.
The pump comes with five distinctive sprayer combinations, so you can choose the water pattern and the water height you would like the pump to create. There are also five LED lights, so the fountain will shine during the night.
There is a built-in sensor that will automatically shut the pump off if there is no water left. That way, it will prolong its lifespan. The solar panel is attached to the pump with a long cord, so you can place it anywhere under the direct sun, and with the help of an ABS ground stake mount, you can attach it to the ground.
Finding the Best Solar Powered Water Pump – Buying Guide
Even though most people would think solar-powered water pumps are super expensive, they are really quite the opposite. And since this aspect is out of the way, you just need to think about what you need a water pump for, and to consider several things before purchasing one and installing it in your backyard.
Things to Consider When Choosing the Best Product
1. Usage
When you start thinking about buying a solar-powered water pump, the first thing you need to determine is what will be its purpose, and where would you like to install it. It's not the same if you are planning to use it for a pond, a pool, a fish tank, bird's bats, or a fountain, and also, the size of these constructions is also an issue.
Some of these pumps come with a separate solar panel that's connected to it with a cord, and it can be a struggle sometimes to find the right place for it, under the direct sunlight. Others are floating types, and they have solar cells built into the pump, so they don't have these problems.
But the power of the pump and the solar panel is another essential thing in this matter because the amount and depth of water they can work with are not the same in all cases.
2. Placement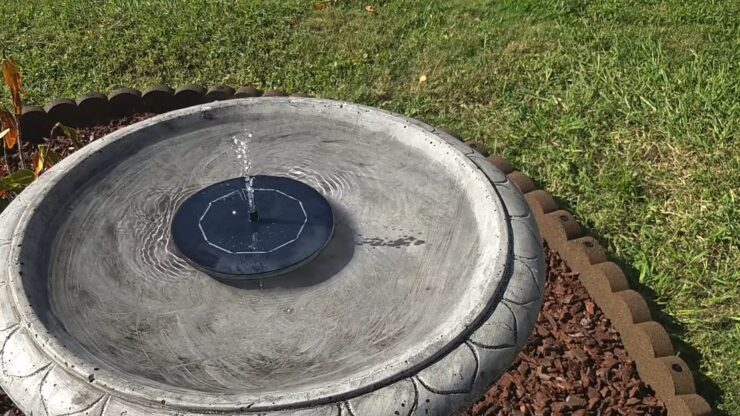 Most water pumps are submersible, so they go entirely under the water. But there are others that can work while being just partially submerged, like those floating ones. Depending on the depth of the water in which you want to place your pump, and the effect you want to achieve, you can choose one or another.
Now, it is important to know that some submersible pumps have a sensor or auto shut-off system that will prevent them from working when there is no water, but that's pretty rare. In case you don't have a pump with this option and a scenario like this one happens, your pump will probably die, or at least, it will have a shorter lifespan.
3. Types of Solar Pumps
There are two types of solar-powered water pumps. The first one is a surface pump that cannot and should not be submerged. It should be placed above the water level, and they are usually used in lakes, ponds, pools, and rivers.
They are mostly very lightweight and portable, so you can move them where you need them anytime. The other type, which is more popular, is a submersible water pump that needs to be submerged fully into the water.
It cannot work otherwise, and it is extremely important to make sure the water level is always on its minimum. They can also be used for pools, and ponds, but also for fountains, fish tanks, bird's bath, etc. These pumps will push the water out, so depending on the spray head, you can have a great effect of water popping out continuously.
Important Features to Look for
1. Size and Weight
The size of the pump is a thing you need to consider, given that it's not the same whether you are going to place it inside the pool or birdbath. This is especially important when it comes to smaller water installations because you cannot risk not having enough water for it to work properly.
Also, water pumps should be lightweight and portable, so you can move them from one place to another easily. That's why you need to pay attention to its weight as well.
2. Power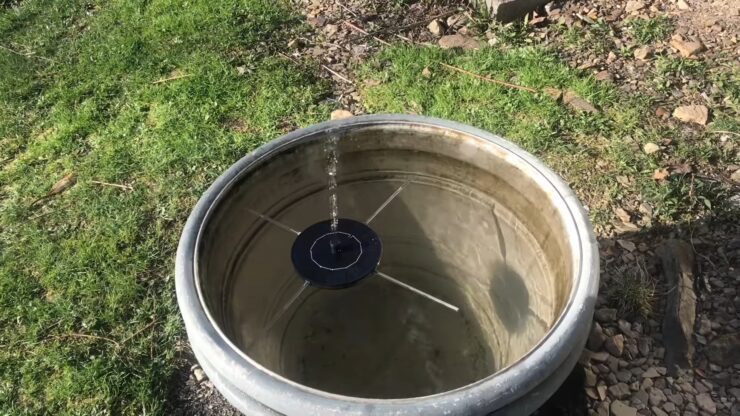 The pump has one job only, to pump the water, so the power that stands behind that process is one of the most crucial things you need to look for. Water pumps can have more or less power, and they are built to work in smaller or bigger pools, ponds, fountains, etc.
The power of the pump is defined by its efficiency and flow rate. The higher they are, the better. But don't forget that the height of the water jet also depends on this factor. If you want the fountain to be super height, you need to purchase a water pump with a great amount of power.
3. Durability
Durability and the long lifespan of a product are always imperative. People like knowing they invested their money in something that will last for years, at least. When it comes to solar-powered water pumps, things are no different. This feature is defined by the materials the pump is made of, and the way it is being used.
So make sure to follow all the instructions that came from the manufacturer regarding the installation process and the maintenance of the pump later. Also, high-quality made pumps will probably cost more, but you should look at that as an investment because they will probably last longer and perform as it should till the very end.
4. Pump Working Hours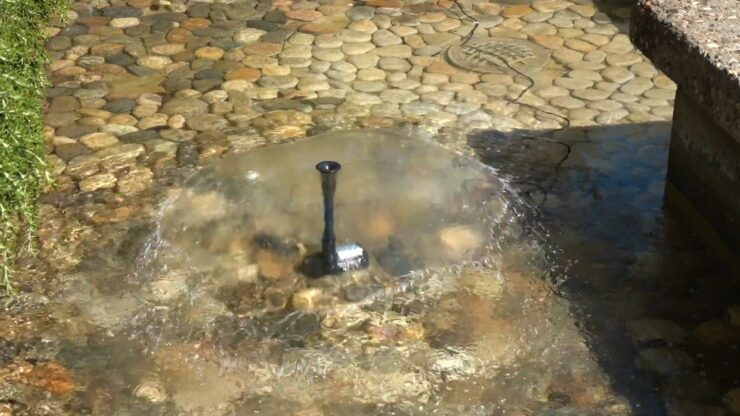 Most water pumps are designed to provide you with at least 20.000 working hours. It's their minimum, not maximum, so if they are working for 12 hours on average, that means they should be at your disposal for the next four to five years.
Given that they are pretty affordable nowadays, it's really not a bad deal at all. Certainly, many factors can affect their efficiency and their lifespan, but this is the number of hours manufacturers are quite often ready to guarantee.
5. Warranty
As always, it would be good to purchase a product that has the longest possible warranty, just so you can calm it in case something happens and your pump stops working properly. In most cases, solar-powered water pumps come with a one-year warranty.
That means the manufacturer will be ready to replace the device or fix it in case it suffers a certain problem that's manageable. Pretty often, you are going to get a 30-day money-back guarantee, so without the need to explain your reasons, you will be able to return the item and get a full refund.
FAQ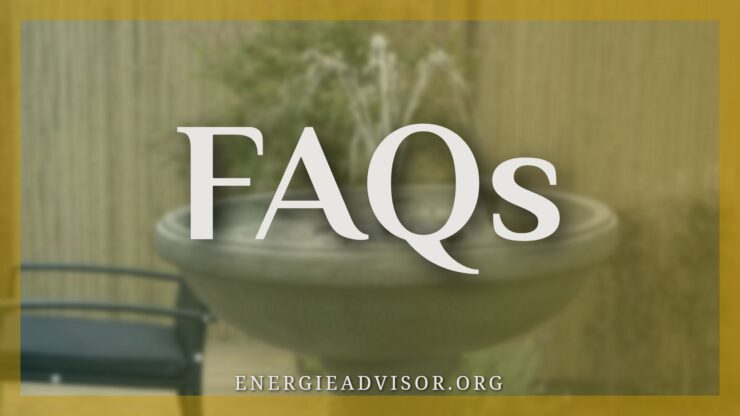 Q1: Do Solar-powered Water Pumps Work at Night?
Usually, they don't. Most solar-powered water pumps don't have a battery where the additional energy produced by solar panels can be stored, so they will work only in those hours when the sun is up in the sky. But in case you have one with the battery, then you can expect it to do its job even during the night.
Q2: How Far Can I Install the Solar Panel From the Water Pump?
If you have a water pump that works on a solar panel that comes as a separate piece, the length of the cable they are connected with will determine how far you can place them apart. It's mostly somewhere between five to fifteen feet. But if you have a water pump that has integrated solar cells on its surface, then you won't have to think about this issue.
Q3: Can I Relocate the Water Pump After I Set It Up in One Place?
Yes, the great advantage of solar-powered water pumps lies in the fact they are portable and lightweight, so if you need to use them in one place today and in another tomorrow, that won't be a problem. You will just have to disconnect the pump from the solar panel, take it out of the water, place it in another spot, and reconnect the two parts.
Q4: Can Extreme Weather Conditions Affect the Solar Panel That Powers Up the Pump?
Solar panels, in general, are built to withstand the different weather conditions, so if it's only raining outside, that should not be a problem. But, if the storm comes, it may happen that some piece of your garden's accessory breaks the panel or damages it.
That's why you should remove it from the outside in those cases. When it comes to the performance of your solar panel, it works only when there's sunlight, so in case of bad weather, it probably won't generate enough power to put the pump into work.
Q5: What Kind of Maintenance do Solar-Powered Water Pumps Require?
These solar pumps are very easy to both install and maintain. You will get a manual from the manufacturer where you can find all the instructions in this matter, but it is important not to forget to regularly clean the solar panel too.
Q6: Can I Improve the Flow Rate by Adding an Additional Solar Panel?
In theory, yes, you can bring the flow rate to the next level by installing one more solar panel, but you need to make sure and check if the voltage of the pump can support it. The voltage limit cannot be surpassed.
Also, bear in mind that you will not be able to increase the maximum a flow rate, but by adding one more solar panel you will provide an additional force that will make sure the pump works all the time effortlessly, even on cloudy days or early morning when the sun's power is still low.
Conclusion
Water pumps that work on solar energy are a great thing to have. They have many benefits. They are very efficient, eco-friendly, and easy to install and use. All you need to do is place a solar panel under the direct sunlight, and let the pump do its work on its own. The maintenance is also quite simple, so there won't be much work for you there.
If you own a fountain, a pond in your garden, or you would like to build a bird's bath, this is an item you need because you don't want to have stagnant water that attracts mosquitoes and other bugs. Just go through our list and pick the product that you believe is the most suitable one for your needs.