The solar industry is one of the fastest-growing and the most prospective ones, so it's not surprising many people are thinking about finding their new calling in this field. Given that solar installers and technicians are highly sought after, it's not a surprise there is an increased interest in how to become a solar system expert and make a living out of it.
Many of those who are in this business claim that becoming a solar installer is the best way to enter this field and learn how to make progress in it. It's the best possible path for those who really want to master the knowledge of the solar system. So if you have decided renewable solar energy is your future, we will give you a full and detailed guide on how to become a solar energy technician and how to get solar certification the proper way.
Installing Process
The professional solar installer has two main tasks – 1. to set up the solar systems and 2. to maintain those that are already in place. When it comes to this first assignment, it's necessary for this person to properly access the location of the client's home and to design the whole system based on specific site characteristics. After that, they need to explain to their customers how to get all the needed permits, or to do it for them, if that's the agreement.
The next step is assembling the firm and reliable structural frame that will hold the solar system in place, attaching the solar panels on the house roof or ground mounts, and connecting and wiring all pieces together, including the inverter. A good solar technician will check the equipment and the materials first in order to make sure everything is aligned with safety compliances.
But let us get back to the first and the most important thing. People don't know much about solar panel specifications, they don't know what exactly they need regarding the solar panel type or the way the system needs to be positioned in order to be most effective. That's where your job as a solar installer starts.

You have to know how much sunlight there is during the day, at the specific location, and what solar system would be the best one to install. Also, it's up to you to determine the precise angle and position of the panels so they can get the most exposure. Sometimes, the solar system is not the right choice for a household, and you should be the one accessing that.
Maintenance Tasks
As we already said, besides installing the new solar systems, the solar technician's job description is also its maintenance. So when the house owner who has solar panels calls them to do the regular check-up, they need to go to the field and provide this service. If we are talking about a small project, they will go and do it by themselves, but if it's a huge installment, then they will need the help of several colleagues.
Both installing and maintaining a solar system is a dangerous job because these people usually need to climb up to the house's or building's roof where solar panels are. They have to take all the safety measures in order to make sure they will not fall or hurt themselves any other way. There is a possibility something isn't right with the electrical wiring, so they have to be very skilled and avoid electrical shocks or burns from hot equipment. So paying attention to the details and great knowledge of this field is a must.
Solar installers work on residential, commercial, and industrial sites. When it comes to maintenance they usually start by checking up the structure that holds solar panels, then they evaluate the state of every panel, if they work as they should, or if there is something that keeps them from being full efficient, after which they need to control the connections that bring generated power to the building systems or the electrical grid.
Duties of Solar Installer
So let's sum up all the duties, and tasks certified solar technicians have. He needs to 1. talk to the customers and see what exactly they want to accomplish by installing the solar system. Then, based on that, his knowledge, and the assessment of the location, he has to create a solar configuration that will be aligned with all the demands and possibilities. 2. The second part includes measuring the roof and cutting and creating the support structure that will hold the solar system.
This part needs to be impeccable in order for you, as an installer, can guarantee safety. At the same time, you have to make sure all of that – the base structure, solar modules, and solar panels are in accordance with standards and building codes. The next step includes 3. placing solar panels at the right spot, securing them, and connecting them to the electrical grid.
Then there is a 4. verifying process of their performance, activation of the system, as well as testing part. The solar installer has an obligation to make sure everything is working flawlessly before going off the site. After that, from time to time, his job is to come back and 5. provide professional maintenance. Now, to do all this, solar installers will need some tools.
They usually use basic hand and power items that can help them install solar panels. We are talking about drills, saws, wrenches, screwdrivers, etc. Beginners will mostly be in charge only of some simple tasks like placing the support structure in the right spot, or attaching solar panels, while the more experienced professionals will do the hard parts like connecting the electrical components with the equipment.
Depending on the state law, what it allows or does not allows, the solar installer will sometimes connect the solar system to the grid, but mostly it will be the job of an electrician.
Education
If you want to become a solar installer, you will need a high school diploma, at least. You can rely on the practice and learn how to do this job over the years by simply repeating the actions numerous times, or, you can get your solar panel installation certification by finishing some courses or programs specialized in this field.
No matter where they choose to gain their knowledge, future solar installers will certainly get to learn the basics of electricity, as well as advanced cognition about solar energy and solar systems in general.
There are many schools – trade schools and community colleges mostly that offer certificate programs that can provide you with all the necessary skills you will need to have to become a solar technician. These courses can last from a couple of days to one year, depending on what they encompass, and there you can learn all, from basic things and safety to designing a solar system.
There is also the possibility of taking an online training course, which can be a great idea for those people who already have some knowledge and experience in this field. But if you are an electrician or construction worker, you are in a much better position than anyone else, given that these professionals are often considered to be qualified enough to start with this job immediately after some elementary introductions and some time spent on training.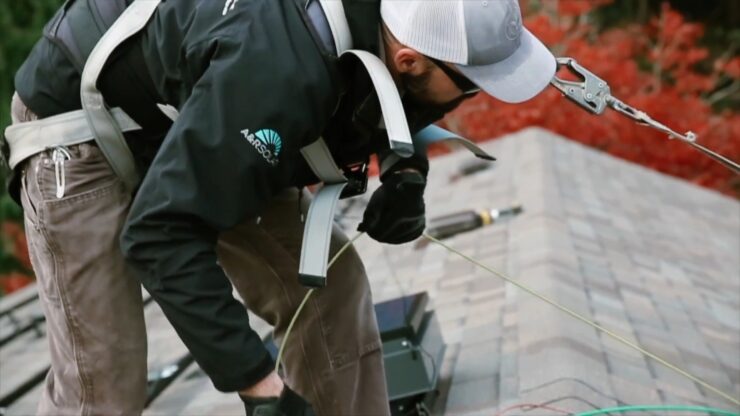 Certification
When it comes to solar licensing requirements by states, you should know that some of them demand solar installers have specialized licenses, but in most cases, these certifications are not necessary. Since we are talking about a relatively new industry branch, there are mostly no binding rules about programs and certifications you need to attend or have in order to be able to do this job.
In general, all those people and firms that have electrical or plumbing licenses can start working with solar panels and installing solar systems. But, even though you don't have to possess any kind of certification, it would be good to consider getting one, because it will most certainly give you a significant advantage in business.
It turns out that people tend to have much more confidence in those who possess a certification that proves they have the required knowledge in a specific field, like this one. So that piece of paper is proof for customers that the professional they hired definitely knows what he's doing, but also, it is a great advantage for those who are looking for a job as solar installers.
So in a word, certification is beneficial for everyone. It will make those workers who have it stand out from the crowd and get the job opportunity more easily, and the companies that have certified staff more reliable and trustworthy. If you have decided this is a path for you, and you really want to become a solar technician, you should first check what the requirements in your country are.
In some states, you will be able to make your dream come true only by participating in a solar apprenticeship program, while in others, it will be enough for you to simply work with an experienced and established solar energy installer.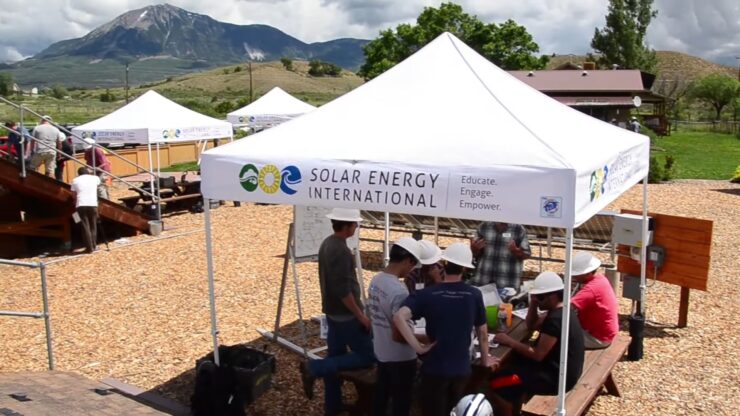 Requirements for Solar Installer Certification
In case you are interested in getting a solar installer certification, you should know that you have to be at least 18 years old, and probably a high school diploma. Those are two elemental things that are required if you want to be a certified professional.
There are two ways you can get to that point – by getting an entry-level position and learning through the work for a year or two, or by attending a community college or vocational school course in this field. At the end of the course, students will have a NABCEP entry-level exam, which will, if they pass, provide them with the written proof they have obtained the fundamentals of PV systems. It is not a certificate, but it is a good start.
After that, they will have to prove they have led three to five PV installation projects on their own. This way, you will get to know everything you need to about assess the houses and buildings, their locations primarily, preparing the structure that will hold the entire system, installing solar panels, and connecting them to the grid.
Recognized Certification Programs
There are three reliable and recognized programs you can attend in order to get a certification that has some value. First on our list is The North American Board of Certified Energy Practitioners, shortly NABCEP, which is a popular national voluntary program designed in a way to provide great guidelines for photovoltaic and solar system installers.
This certificate is recognized in the solar industry, and it will give you a status of professionalism. But first, you must have a certain amount of work experience, or more precisely, 58 hours of advanced photovoltaic training you can get through a school or organization, as well as 10 hours of construction safety provided by OSHA – Occupational Safety & Health Administration.
After you pass the exam, you will be obliged to take some educational courses and recertify every three years. The Electronics Technicians Association International or ETA is another licensed program that can provide you with numerous installer certifications. If you decide you would like to have one of those, you will need to go through educational and training programs in schools approved by this organization. The ETA program includes the certification for renewable energy integrators, in three levels.
And at the last place is Certified Solar Roofing Professional – CSRP, another program with the national standard provided by Roof Integrated Solar Energy Incorporated. If you want to be a part of this program as a candidate, you need to have a minimum of 40 hours of training or education in this field, as well as three years of experience in roofing or PV domain.
Apprenticeship
It would be great if you could start your solar technician career by getting appropriate education at a community college or trade school, but also by gaining some valuable work experience through some kind of apprenticeship.
That means that you will be able to see in practice what a solar installer job includes, and you will be in a position to learn all the basic steps of creating an installing solar system. The whole process needs to be supervised by someone with a significant amount of experience, and candidates have to be hired as an apprentice. Usually, apprenticeship lasts from two to four years, after which candidates can become qualified to work without supervision.
Training
In order to become a great solar installer, you will need some training. There are a lot of solar panel installation training centers where you can get general training in this field, but the exact practice, what it includes, will depend on the state and its requirements. The first thing a newly solar technician will learn covers safety matters, tool use, and all the installation techniques they will need to do the job properly.
The whole program may last from one month to a year, and it is a valuable experience someone who didn't do this previously can get. Sometimes it can even include training on specific equipment and products if the program was organized by a certain manufacturer. If the state you live in doesn't demand to license solar installers, then companies take over and create training centers for their specific needs.
You will have to check what is the situation in your country, and then apply for training in the right place. In most states, electricians are considered to be adequate professionals for this job, given that they will know how to connect a solar system to the electric grid, but if you are not one of them, training will provide you with the education you need.
Online Training
In this modern world of ours, it's quite often people are embracing the online education system, so there is no difference here. If you are not in a position to go to someplace and attend classes or training in a traditional way, you have an alternative that's based on online education. Taking courses online is sometimes the only option for those who already have a job or other responsibilities that disables them to do things the old-fashioned way.
It's the only chance for them to get this specific knowledge and make a shift in their career. The greatest benefit of online training, besides the fact you don't have to go to some specific place, and you can study from home is the fact they are less expensive than the traditional ones. They have a more flexible schedule, so you can continue with your regular obligations and still manage to qualify for this new future job of yours, and save some money along the way.
If you are interested in something like this, you should know that there are a couple of installer courses that start from the beginning available online. They will give you a chance to learn how to be a good solar technician even if you previously didn't know anything and had no skills in this matter.
However, it is essential to apply to those online courses that have both theoretical and practical fields covered, because it will provide you with some valuable lessons and help you pass the NABCEP exam. And be careful, some of these programs demand from candidates to have certain experience or knowledge in roofing, engineering, or construction.
Essential Qualities for Solar Installers
Given that solar technician's everyday work with modern and sophisticated equipment, and that they need to use versatile mechanical tools to create and install solar systems, they need to have excellent mechanical skills. Besides the fact installers have to build a support structure for solar panel construction, they need to know how to connect it to the grid.
Solar installers will be in contact with many people while doing their job. They are the ones that need to understand what the customer wants and explain to them what is that they can expect or what their options are.
Because of that, they need to have great customer service skills that include politeness, tolerance, professionalism, and the ability to navigate customers' desires and expectations. Also, they will have to communicate with other workers too, so this skill is definitely a must.
The process of creating and installing the solar panel system is very delicate and super sensitive since these materials are very modern and based on the latest technology.
It is crucial that a solar installer knows what he is doing, and follows the instructions very carefully and precisely because otherwise, the system will not work. In the worst-case scenario, they can even hurt themselves by experiencing electrical shock, for example.
It is very important solar technicians are in great shape physically because they will have to carry solar panels and other heavy equipment up to the roof quite often.
That, and the fact that they will be in a situation to climb up and down the leather many times during the day, mostly transferring some tools or pieces of equipment, shows how essential their physical strength actually is.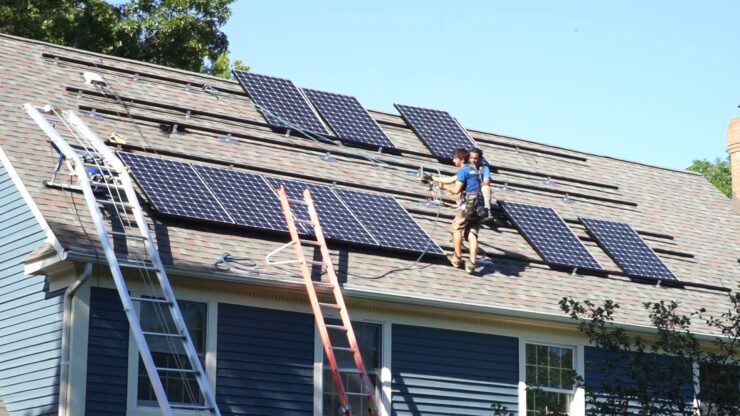 Conclusion
As you can see, the process of becoming a proper solar installer is not that easy, but it's also not impossible. If we are honest, it's actually commendable there is such a long list of demands and tasks you need to finish in order to become one because it's not an easy and banal job. It is quite the opposite, a very responsible and delicate position that implies having a lot of skills and great knowledge of the matter.
If you are the one who wishes to become a solar technician, please consider gaining experience and education the proper way. It may take a while, but after that, you will be certain you will know how to do it right, and your safety won't be questionable.
There are always shortcuts, like in every other aspect of life, but that road may lead you to many problems, and possibly in a situation where your life can be in danger. Even though the solar industry is still quite new, and most installer companies don't require a specific diploma, license, or certificate, it is a belief that in the near future, this will be a must.