Solar energy production is not only reserved for land-dwellers. If you're a sailor, you know one of the essential parts of your boat is the solar energy system you have installed. With the best marine solar panels setup, you might be able to have hot water and power all your appliances on board. And the best part – it isn't harmful to the environment or marine life in any way.
However, it can be quite challenging to choose the right set of solar panels for your watercraft, simply because there are so many variables involved in making that decision.
Comparison Table:
So how do you choose the most appropriate unit for you? Are you going to be able to take care of it properly? What even is a marine-specific solar panel, and why do you need one? These are all questions we are going to try to answer in this buying guide, so stick around!
Top Rated Mare Solar Panels
1. Eco-worthy Backup Alligator Adapter – Editor's Pick
The 10W in the name should have tipped you off to that if you have a bit of knowledge about power and electricity. On the other hand, its small size makes it very easy to install and carry around. Another important consideration is that you should make sure to fasten it securely to your boat since it could be carried away by a strong wind.
We start the list off with our Editor's Pick, as always. This time it comes from ECO-WORTHY, in the form of their 12V 10W Portable Solar Panel with Alligator Clip. Behind the somewhat uninspired name hides one of the best solar panels we've had the pleasure of reviewing, and we're going to outline some of the reasons why we feel that way. Firstly, you should be aware that this is not a product which is made for large boats.
But what the ECO-WORTHY panel lacks in size and heft, it makes up for with its efficiency. Its module conversion is unprecedented, and its performance in environments with low light is ensured by its bypass diodes, which control and minimize any power drops caused by a momentary lack of sunlight.
Since this panel is dust and rust-resistant, as well as shockproof, you can use it in all conditions without having to be extra careful, which gives it an air of versatility, which is often lacking in these types of products. It is energy-saving and highly portable.
Highlights:
Easy to take care of
Easy to set up
Very light
Very versatile
Shockproof
2. Renogy 400 Watt Solar Kit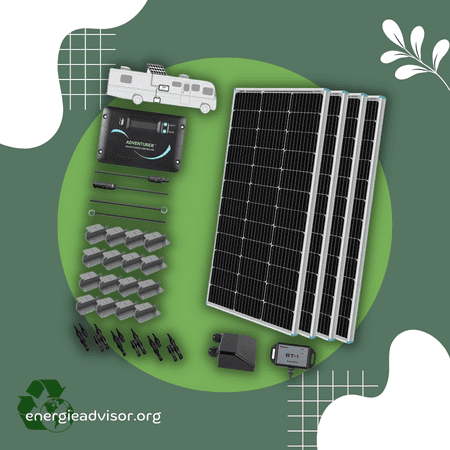 The kit also includes a charge controller in the form of Renogy's own negative-ground 30A PWM Wanderer, as well as four sets of Z Bracket mount panels, uniquely designed by Renogy to make the panels sit on your boat securely. An added tray cable ensures the connection between the battery and the charge controller.
This new solar kit from Renogy is an excellent product giving you up to 400W of power. The kit includes four 100W monocrystalline Renogy solar panels, which can be connected by three pairs of branch connectors in parallel. What makes this system perfect for remote control is the pair of MC4 connectors with 20 feet in length, extending the cables.
This is an excellent monocrystalline solar kit, which can charge a 400ah battery in as little as 4 hours in the right conditions and will also provide a reasonable charge when there are lots of clouds. Even if you're looking to use the kit at home in the off-season and save a bit on your electric bill, running your fridge, lights, and TV, it is an excellent purchase.
If you live in an area with lots of storms, this will work wonders when there's a power-cut, since you'll still have the electricity necessary to run your appliances. Of course, these are all excellent perks and bonuses, but we're here to talk primarily about its usability on a boat, and we're happy to report that it performs excellently in those conditions as well.
Highlights:
Perfect starter kit
Quiet power production
Provides grid independence in the off-season
Extendable
Includes everything you need to get started
3. Bougerv 170 Watts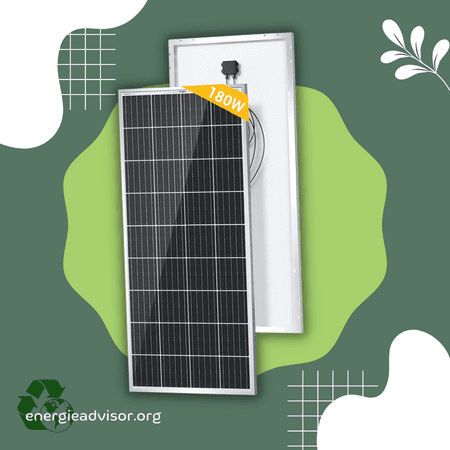 With its sleek design, this solar panel is fantastic for a boat, since it delivers plenty of power in a relatively small package. In terms of efficiency, compared to similar products in its price range, the BougeRV is leagues ahead. The panel includes pre-installed diodes in a junction box, featuring a pair of 3ft MC4 cables, which also come pre-attached. The panels have the capability of withstanding strong gusts of wind and large snow loads, plus they offer a terrific performance in low light conditions.
Another solar panel that will give you an excellent head-start in producing solar energy on your watercraft comes in the form of the BougeRV 170W. It works wonders on boats, as well as cabins, sheds, trailers, and RVs, and it is perfect for off-grid applications, providing a variety of benefits such as grid independence and quiet delivery of power. If you're looking for something that will allow you to extend your travels without having to break the bank, this is it.
They are an excellent fit for any off-grid applications like boats and RVs, and they are quick and straightforward to set up and easy to use. There's a promise of lifetime service as well as an 18-month warranty attached to the purchase of this product.
The customer reviews state that most buyers are more than happy with this panel, saying that they have gotten a higher performance out of this than other similarly-priced best solar panels for sailboats on the market.
Highlights:
Grid independence
Sleek
Efficient
High conversion efficiency
18-month warranty
4. Newpowa 200W Mono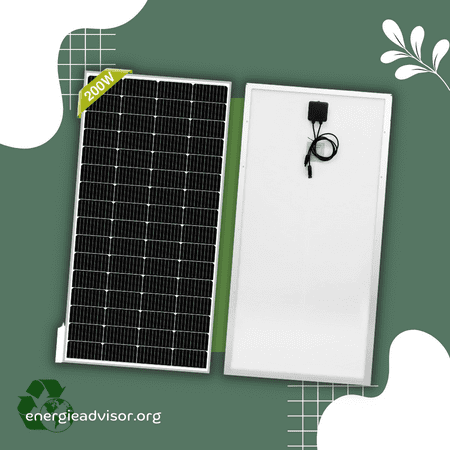 This top panel from Newpowa measures 65*27*1.4 inches, and features high-performance monocrystalline cells encapsulated in ethylene-vinyl-acetate, or EVA for short, and placed between a durable Tedlar-polyester-Tedlar back sheet and a highly transparent tempered glass with low iron.
Anodized heavy-duty aluminum is used to frame the panels, which provides extraordinary rigidity and strength. The quality of this panel impressed us much, as well as the service that this manufacturer provides.
They offer a competitive price on an exceptional product and do a great job with their customer service. The panel itself features high light-conversion rates and high efficiency compared to other similarly-priced products. It has a maximum power of 200W and pre-installed diodes in the junction box, as well as a pre-attached pair of 3ft MC4 cables.
The warranty on this product is unprecedented as well, with a 25-year power output guarantee from the manufacturer. This panel has pre-drilled holes in its frame, which gives a sense of sturdiness and high rigidity. You can use these holes to secure the panel to your boat, and you can apply some zip-ties if you want to be extra safe, but you won't need them.
The connectors will fit perfectly in any standard MC4 jacks, and the wires and cables are thick and durable. Newpowa promises that this panel can easily withstand severe conditions like high winds, and we believe this to be true. It works well in partial shade and should still give a decent output on a cloudy day.
Highlights:
High cell efficiency
25-year warranty
Pre-installed diodes
Pre-attached cables
Withstands extreme conditions
5. Acopower 35 Watts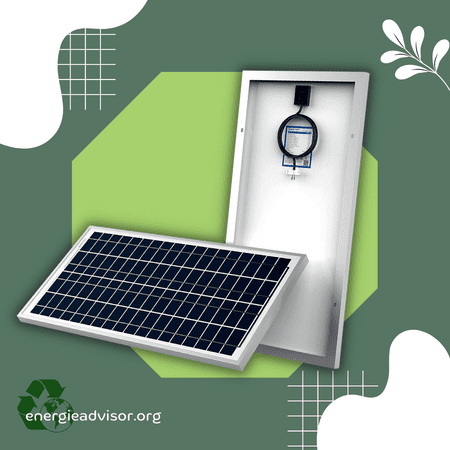 These panels are effortless to set up and quite compact and light. Whether you're planning to use them on your boat, or want to go camping on the beach or in the mountains, this will be an excellent start for your off-grid living. The applications of this product extend from RVs to dry camping and marine uses.
ACOPOWER is a company well-known for producing cost-effective solutions as well as professional engineering services completely free. This panel comes with an excellent 5-year workshop warranty as well as 20 years of output guaranteed by the manufacturer.
It can withstand snow loads and high winds with its anodized lightweight aluminum frame and anti-reflection, reinforced safety coated glass with a thickness of 3.2mm. Its IP-65 rated waterproof junction box allows this panel to last a lifetime. The panel can be used in any off-grid solar system, whether it be 12V, 24V, 36V, or 48V, and works well on greenhouses, boats, large cars, RVs, and caravans.
A long 90cm cable comes with each panel, and holes are pre-drilled for easy installation. The great people at ACOPOWER will help you if you have any issues, just call them up using the number provided with your package. This solar panel can supply 35W of power in ideal conditions, thanks to its high conversion efficiency.
Highlights:
Pre-drilled holes
Prewired
MC4 connectors
Performs well in cloudy conditions
Compact
6. Nature Power Solar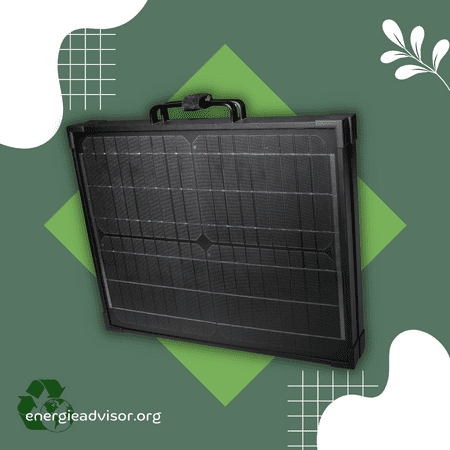 This is a 120W monocrystalline solar briefcase that can put out 6.7A in direct sunlight. If you live in or plan to sail in an area with around eight hours of direct sunlight, you can pull in around 50Ah of juice into your battery, so that is quite great. For a boat, RV, and off-grid applications, that is a tremendous amount of power to have available.
The suitcase comes out of the box with a plastic cover and Styrofoam bumpers on all sides for safe transport. Once you remove all of that and unfold the case, you'll see that you've got yourself a really neat, and nice-looking solar panel, that is very simple and easy to set up.
All you need to do is take it out of the box, open up the panel, put down the landing legs, and take the wires coming from the charge controller to the solar port. Next, you're going to hook up the alligator clips that come with the unit directly to the positive-negative terminal of your battery, and that's it! You're charging your battery with the power of the sun!
The kit includes the manual, an adapter plug for those of you that use a different configuration of plugs, and a length of wire for direct connection so you can hook this to your batteries. You can leave the wire in the battery bank, and pull out and plugin as needed, which makes things that much quicker.
Highlights:
Includes a charge controller
Highly efficient
Compact
Easy to carry
Versatile
7. Windynation 100 Watt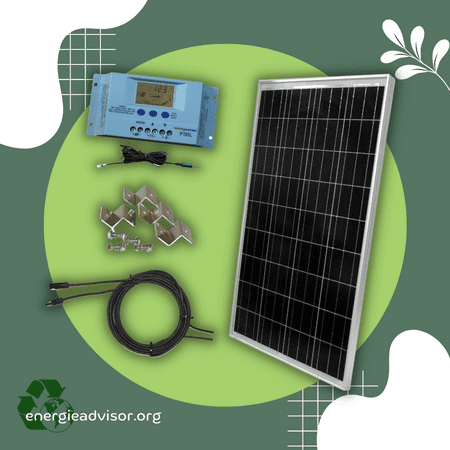 In this full kit, you will receive not only the panel but connectors, cables, battery temperature sensor, controller, and last but not least – a manual that will show you how to install and maintain this solar setup. From the 100W system, you can expect around 33Ah per day in ideal conditions. It works perfectly on boats, but can also be used for remote power use, as well as back-up, homes, cabins, and RVs.
The controller's LCD will show you all the essential information such as voltage, amperage, temperature, etc. The panel measures 40x26x1.4 inches, so you're going to need a bit of space for it, meaning it will not be suitable for a tiny vessel. The weight of this unit is close to 11 pounds.
So, what exactly does this kit include? There's the panel itself, of course, which is a 100W WindyNation 30A; there's the P30L charge controller with an LCD and battery temperature sensor; there are 40 feet of 12 AWG UL-listed solar cable, all the necessary MC4 connectors, as well as mounting hardware and the manual mentioned above.
This kit allows you to add more panels in the future if you get a bigger boat or your energy needs to happen to grow for any other reason. The controller included in the kit can handle up to four 100W panels on a 12V system, or up to eight panels on a 24V system. This is without a doubt one of our favorite marine solar panel kits on the market today.
Highlights:
All-inclusive kit
Upgradable
LCD charge controller
Battery temperature sensor
Installation and maintenance manual
Finding the Best Solar Panels for Boats – Buying Guide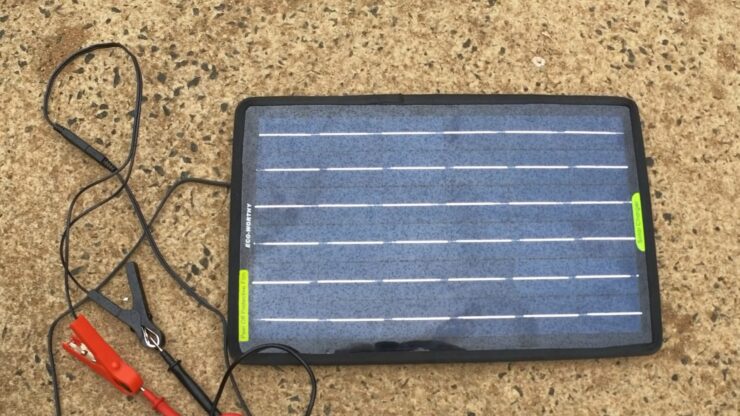 Above, we've listed some of the best products in this category you are going to find on the market today. Each one of them has a list of advantages attached to it, but you should be aware that not all of these panels are perfect for everyone. You should think about what you need your solar panel for, and what type of performance you are expecting.
To help you make the final decision, consider the factors below, and keep in mind that these are not in order of importance since we find that every person has a different set of priorities.
Things to Consider When Choosing the Best Product
1. Usage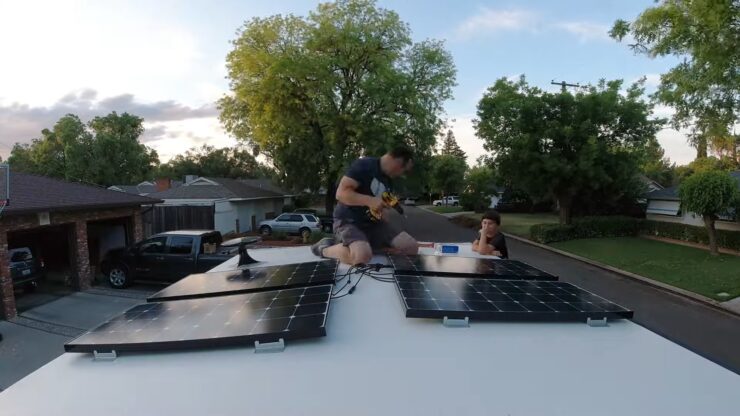 Having improved in affordability and efficiency over the past few years, marine solar panels are becoming an increasingly popular option to keep appliances and lights running on boats.
The naval vessel's battery system is replenished through the DC provided by solar panels, and one or two panels can provide a trickle charge, enough to maintain power in your batteries while you're offshore. If you have a couple more, you'll be able to power your appliances by producing extra power.
Marine solar power kits are excellent solutions for sailboats that stay at sea for long since they can eliminate your need for a propulsion engine powering the batteries. With the right solar setup, you could be able to run your GPS, bilge pump, navigation lights, cabin lights, stereo, cell phone charger, laptop, and TV, while still having enough power left in the batteries to start your engine.
2. Versatility
Another perk associated with solar panels reflects itself in the fact that you can charge your batteries and generate electricity even while you're swimming, sunbathing, or otherwise relaxing, even when you're away from your boat. With a generator, this wouldn't be possible, since those require monitoring and manual operation to work correctly.
Solar panels allow you to produce enough electricity during the day, and if you have a large enough battery, you can use that stored energy during nighttime boating adventures. The time and money you will be saving this way are one of the most appealing benefits of marine solar panels.
There's a small investment upfront, which will let you generate free power for your boat for as long as your solar setup lasts. Marine generators, on the other hand, would require regularly buying fuel, which is a massive ongoing cost.
3. Technology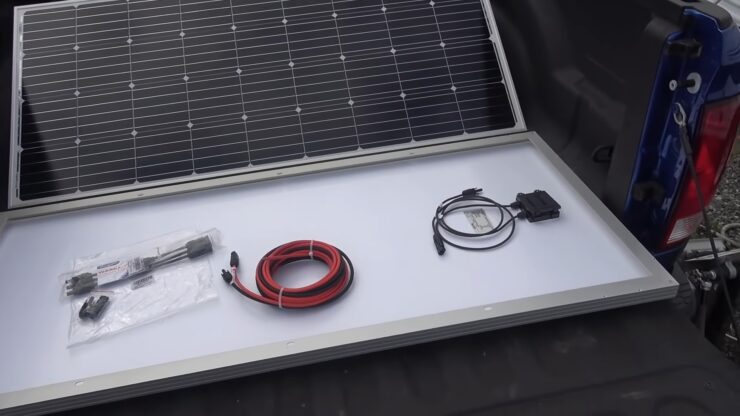 A marine solar installation can operate in two ways. One way the system can perform is to simply charge your batteries, while the other requires providing AC power to run your appliances.
In the former, the electrical current supplied by the solar panels gets delivered to your batteries via a charge controller. This is a device that acts as a layer of protection to the batteries, similar to a voltage regulator, and prevents the cells from being hit with more current than necessary, which could cause malfunctions.
In the other type of system, the DC power is converted by an inverter into AC household power, allowing you to power any appliances you need. Regardless of which system you plan to use, you're going to need a charge controller. It will maintain the life of your battery in the former case and prevent current overflow to your appliances.
4. Efficiency
Start by figuring out the power requirements of your boat. We suggest using a simple calculator and adding up the devices on your boat in terms of the energy they use. Use either amps or watts, and match the total to the quoted output of your solar panel(s).
Once you've done that, you'll be able to figure out what kind of system you need. Make sure to overestimate your boat's requirements by at least 10% to be sure that your solar panel will be able to supply everything comfortably.
Also, keep in mind that the panels are rated in ideal testing conditions, meaning that you will often not be able to get the full quoted wattage out of your solar kits. If a panel says it can produce 100W, it can usually only do so in perfect conditions, which will only be available on certain days for a limited amount of time.
Important Features to Look for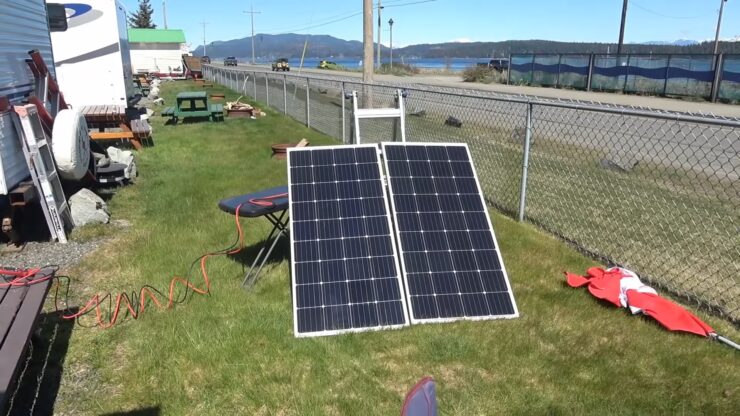 1. Installation Options
There are a few options when it comes to the installation of your solar panels onto your boat. You can install some of the lighter panels directly into the canvas roof, by stitching them through or attaching them with Velcro. Or, you can connect your panel onto the deck in a few different ways, using fasteners, stick adhesive, or double-sided tape.
Some panels come with back-side wiring, so there are no visible wires. The most common option and the one we recommend for most panels from our list is rail installation. Whatever you choose to do, make sure your panels are secured and well supported.
2. Types of Panels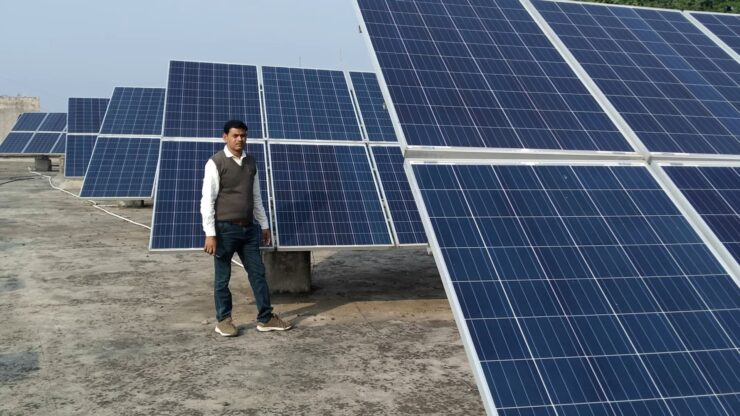 The main types of solar panels are mono and polycrystalline, as well as thin-film silicon. The panels we've mentioned on this list are all either mono- or polycrystalline since these are the most efficient, and most robust.
These sturdy panels are your best option for powering onboard electrics like navigation, radio, lights, or even the fridge. However, the weather will affect performance, so if you live in an area with lots of cloudy days, you should expect weaker results from your panels.
3. Benefits
There are plenty of benefits attached to using solar power on your boat, and it is something you should consider if you like spending time out at sea. First of all, if you have the panels attached to your boat's electrical system, you will be saving lots of fuel, since your IC engine will not have to work extra hard to provide electricity to your batteries.
This is economical, as well as environmentally friendly. It is a small investment upfront, which will give you a world of benefits over time. Also, solar panels are easy to maintain and always work to recharge your batteries, as long as the sun is up, you don't have to monitor or operate them in any way.
4. Required Energy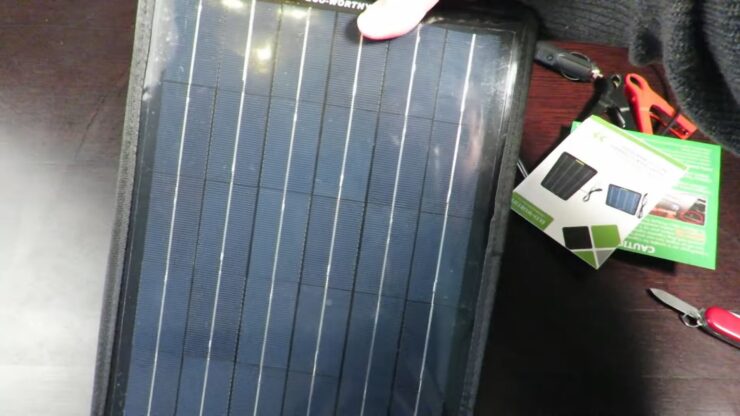 Many boats have multiple solar panels on board. This creates more versatility since you won't have to move the panels around to keep the sunlight on them as the boat shifts. It also allows you to have smaller panels, which will not get in your way as much.
To figure out how many of them you need, first, calculate your power output, and divide it by the wattage of each panel, but be sure to factor in an extra 10-20%. The amount of space you have on your deck also plays a role, as well as the amount of time you plan to spend onboard.