Solar panels made by this company are some of the best-selling products in this category at a variety of internet marketplaces, and there are a few good reasons for that. Mainly, their panels are among the most efficient on the market, and their warranty options are second to none.
In this review, we take a look at the technical specs of some of SunPower's leading products. We compared them to other manufacturers and tried to answer the question of whether SunPower produces the best solar panels on the market in a variety of categories, and whether their products are worth the higher price tag.
Top Picks Sunpower Solar Panels
1. Sunpower 100 Watt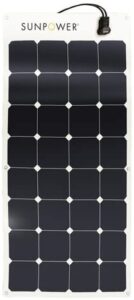 The Flexible SunPower 100W Monocrystalline Panel is probably the best flexible panel on the market today. It is perfect for camping, as well as fitting onto your RV or boat. The panel itself is incredibly lightweight, weighing in at a measly 4.4 pounds, which is about a quarter of the weight of a standard 100-Watt solar panel. It is 45.9 inches long, 22.4 inches wide, and 0.8 inches thick.
The panel is capable of resisting corrosion and shattering since it is made from a different material compared to other flexible panels. This makes it a longevity and efficiency champion in its category.
If you have a bendy surface that you'd like to stick this panel to, such as a boat or RV roof, you'll be happy to know that this product can flex up to 30 degrees safely. Because they are made with the most potent Gen II back contact cells from SunPower, these flexible panels have the most robust charging capacity and highest power output in their class.
This is the most efficient 100W panel out there and can provide more than enough power to meet most of your day-to-day requirements while camping or boating.
Highlights:
Bends up to 30 degrees
Most efficient flexible panel
Corrosion resistance
2. Sunpower 50 Watt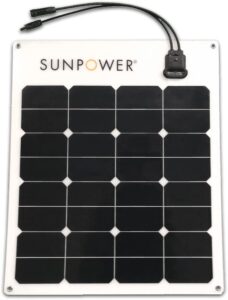 Another panel that we want to focus on today is the SunPower 50W. This is a flexible, lightweight, extremely durable, and easy-to-install solar panel. We really like these innovative panels with extremely efficient cell technology.
What they've done that's unique about this product is that they've incorporated a crystalline cell structure into a thin film format, which is something that you don't see very often. These are ideally suited for RVs, campers, boats, and other mobile applications that already have 12V platforms built into them.
You could hook this panel up to a really simple charge controller and plug it right into your battery bank. We can attest to their high efficiency and excellent overall performance since we got a chance to test one of these panels ourselves, and were impressed by the results. If you're looking for maximum power performance from your PV system, look no further than this.
The panels are made using Maxeon silicon and use some of the most efficient cells in the industry. Their power temperature coefficient is also above average, ranging from -0.30% to -0.35% per degree Celsius. This means that these will perform better than other panels in hot conditions.
Highlights:
Highly efficient monocrystalline cells
Good temperature coefficient
Made in the US
Good warranty
3. Sunpower Portable 110W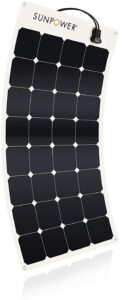 The next panel on our list is another excellent flexible solar panel from SunPower. Just like many other products by this manufacturer, this panel uses world-class Maxeon solar cells that deliver up to 24% efficiency. This makes these cells the highest-efficiency solar cells available on the market right now.
This panel is also very durable, so you can count on it to last through many years of regular use. It is rated among the very best with regards to how it handles harsh weather conditions and comes with six stainless-steel grommets that allow for secure attachment. These grommets are bendable up to thirty degrees over smooth surfaces making installation very easy. You won't need professional solar installers.
You will quickly discover that this solar panel is perfect for charging boats, RVs, campers, trucks, golf carts, and so much more. It can also be incredibly useful if you enjoy camping in the great outdoors. The performance of this panel does not fluctuate like so many other inferior models that other companies offer.
This means that you will get the best possible performance with each use. You can use MC4 connectors with this solar panel, so compatibility is never an issue either.
Highlights:
Easy to install
Rugged construction
Perfect for all vehicles
4. Sunpower 170-Watt Flexible High Efficiency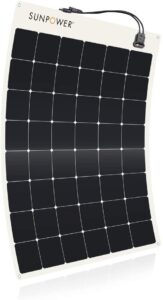 The latest product in the E-flex Series from SunPower comes in the form of this 170W flexible panel using the highly efficient Maxeon Gen III cells. This is the largest flexible panel on the market using these cells, and SunPower restricts all other manufacturers to making flex panels no larger than 150W if they choose to use their Maxeon cells.
So, if you want the most extensive flexible panel using the most efficient cells on the market, this is it. When it comes to SunPower flexible panels, there are no other products that deliver more power output and a higher charging capacity than these in their class so this is great news for homeowners who want clean energy.
Maxeon cells allow SunPower to put more power in a smaller space, and the panels are made with lightweight, top-grade polymer, which allows for easy installation, safe transport, and up to 30 degrees of panel flexing.
Keep in mind that this panel is subject to a solar panel tariff on imported panels, even though other SunPower panels have been granted an exclusion from the said tariff. The reason for this is that this panel falls into the 120W – 320W size bracket, which is exempt from the exclusion. The retail price already includes the tariff.
Highlights:
Most extensive flexible panel with Maxeon cells
Lightweight
Up to 30-degree flex
Why Choose Sunpower?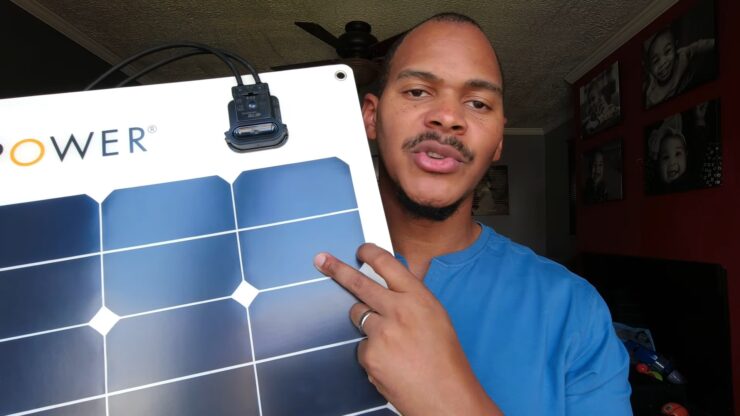 SunPower Corporation was founded in 1985 by a couple of Richards – Swanson, and Crane, and has been a renowned solar energy company ever since, producing silicon photovoltaic cells and solar panels for the last three and a half decades.
SunPower is a company with a long history in solar manufacturing, considered by many to be the technology leader of the solar industry. This is a massive claim, but it is a fair one since this manufacturer currently produces some of the most efficient residential solar panels.
They often have the best performance warranty attached to their products, and the lowest levels of degradation over time compared to products made by other companies. However, all of that reliability does come at a cost, and SunPower is considered a premium manufacturer in terms of their quality as well as their prices.
Things to Consider When Buying Sunpower Solar Panels
SunPower solar panels are the most efficient panels available on the market, but there are more factors than just efficiency when you're considering which solar panel to buy. So, let's take a look at SunPower's products and break them down into a few other categories that we consider essential.
1. Warranty

As we mentioned earlier, SunPower has probably the best warranties in the entire industry, beating out other manufacturers like Renogy, JinkoSolar, and Panasonic. The warranties provided by SunPower are long-lasting and prove the company's belief that its solar panels are the most robust and durable on the market. Warranties typically come in two forms: production guarantees and product warranties.
The former is a unique type of warranty, dedicated to solar panels. This is meant to protect the customer against efficiency loss over the long term. They almost always last 25 years, regardless of the manufacturer, but they vary in terms of what kind of guarantee they offer. The best manufacturers are willing to guarantee that their panels will produce more than 87% of their listed capacity after 25 years. This is where SunPower stands out because they offer a 25-year production guarantee of 92%, which is the highest in the industry.
Product warranties, on the other hand, are your typical warranty. If something stops working or breaks, the company pledges to replace or fix it. Most 'standard' panels offer a 12-year product warranty, although there's a range depending on the price of the product, anywhere from 10 years to 25 years on the premium models. SunPower again justifies its title as the warranty champion in the industry with a 25-year product warranty on its panels.
2. Company Health

The flip side of the warranty coin comes in the form of company health. Since your SunPower solar panel is expected to sit on your roof for over 25 years, you'll want to be sure that the company itself will stay afloat for at least that much time, so that you could claim your warranty if necessary.
While the solar industry has become more stable in recent years, compared to the Wild West that we saw about a decade ago, it is still a roller coaster. The chances are that many companies that are operating now will be going under within the next 25 years. This is where company health comes into play, and giving a truly accurate assessment of it is beyond the scope of this review.
It is a good rule of thumb, however, to look at a company's profit margin to determine their chances of success in the long run. Again, this is highly speculative, but it's the best we can do with the information we have available. And immediately, things don't look that great for SunPower. Their income after subtracting taxes and expenses puts them in a tight spot with a net profit margin of roughly -47%.
This means that the company is losing almost 47% on each sale or that on each dollar that they make, they are losing 47 cents. SunPower considers this a calculated risk and hopes to start making a profit in the future as the solar industry expands, but it's something to keep in mind if you're making a long-term investment in one of their products.
Conclusion
Considering everything that we wrote above, it is clear that SunPower makes some of the best solar panels out there. Their products are efficient and reliable, and on top of that, they offer the best warranties on the market. The monocrystalline solar cells produced by this company are the most efficient in the world and are often used by other panel manufacturers as well.
All of this, however, comes at the expense of an increased price, as well as the uncertainty of the company staying afloat for a very long period due to their current operating figures.