If you have decided to renovate your home, or you just wish to experiment a bit with solar energy, indoor solar lights are the thing you are looking for. They have so many benefits that you will start wondering why you waited for so long to at least try them on.
They can be installed very easily, so you won't have to hire professionals, and they don't need batteries, fuel, or any other kind of power except the solar one. You can choose between permanent and temporary set up solar lights, depending on what you need.
Comparison Table:
Most homeowners are using them to light up places that stayed in the dark because when creating an installation system, they didn't predict the need for electricity at some spots. Also, they are a lifesaver when it comes to sheds or some other yard objects since you won't need to run wires all the way there. It will be enough just to mount the solar panel outside and hang the light at the desirable place.
Top-Rated Indoor Solar Lights
1. Color Changing Mosaic Crystal Glass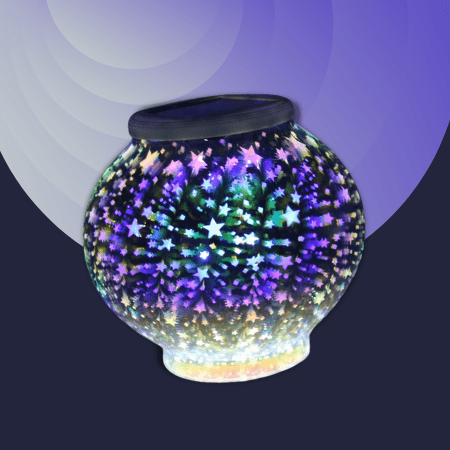 This diamond glass jar light that works on solar energy will be the perfect atmosphere detail in your room or garden spot. It's a beautiful, round-shaped piece with a star effect and a built-in Ni-MH rechargeable battery.
Thanks to that, it will light up some corner for straight eight hours if it's previously fully charged. The mechanism is set up in a way that will allow the lamp to light up on its own when it starts to get dark outside and to shut off every morning with the first rays of the sun.
The object is quite small – it measures only 6.7 x 6 inches, so it will fit in any place, and it's covered with a colorful mosaic structure that will create a romantic ambiance. There are two light modes – one is RGB, a color-changing mode perfect for parties, Christmas time of the year, or kids' room, and another is a simple white mode, which is ideal for garden patio, poolside, or lawn decoration. The lamp is waterproof, so there won't be a problem if you leave it outside while it's raining.
It's very easy to install since it doesn't need any kind of wiring, but you cannot forget to put it under direct sunlight during the day so that the solar panel can absorb the needed energy. It would be best if you could leave it like that until it's fully charged. And make sure to take off the protective sheets from the panel before the first usage, because otherwise, the light won't work properly.
Highlights
Built-in rechargeable battery
Eight work hours
Colorful mosaic structure cover
Two light modes
Easy to install
2. Solar Light Bulb Portable 140LM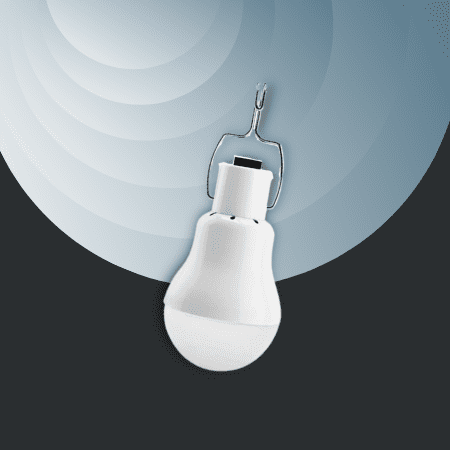 Here is something quite practical – a portable light bulb you can use in many places – at your home, on camping, at the shed, boat, etc. The set includes one white bulb that has an output power of 1.5 W, a solar panel with a 3.7V 1600mAh lithium-ion battery that is rechargeable, and 3.5 meters long connecting wire.
You need to decide where you want to put it and then attach the photovoltaic panel on the roof or at some other place that has a sufficient amount of sunlight during the entire day.
Bring the wire into the room and then attach it to the light bulb in the port for charging. And that's all, you will have a modern design light that will work through the entire night. Also, the bulb can be charged by 5-8V chargers if needed, which is a good option during the day when there is not enough sunlight due to the bad weather.
The LightMe is LED-based light that's environmentally friendly and energy-saving, with a servicing time of 50.000 H. Since the light has a hook, it's great for mobile needs. You can place it on the wall, a fence, inside the tent, or anywhere else where you need it. Also, there is a benefit that is of huge significance nowadays – you can use a USB port to charge mobile devices when you are on a trip, for instance. It has low power consumption, and the maximum brightness of a bulb is 140LM.
Highlights
Portable light bulb
Rechargeable battery included
Long connecting wire
Environmentally friendly and energy-saving
Maximum brightness of 140LM
3. Solar Led Barn Light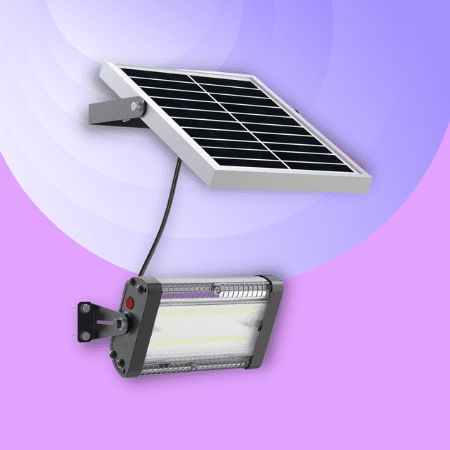 If you are looking for a spotlight for your indoors or outdoors, here is a great one based on solar power. It has a Li-ion polymer battery, which is quite advanced, rechargeable, and long-lasting, with 30 to 50 percent more power than regular ones. They say you will be able to use it for years to come, as long as it gets enough sunlight.
It has a bit of raw and industrial design, so most people place them outside, but they are created for home use as well. You should know that this light doesn't have a motion sensor, but it does possess a multi-stage light intensity adjustment and a remote controller with an on/off switch, timer, three outdoor modes, and four indoor settings.
The item is using 1000 Lumen bright light and has the ability to light up a huge room, backyard, parking area, or a barn thanks to the 10 Watts power.
It is made of exquisite material and based on aluminum oxidation technology with a waterproof connector and unique linear design. There are no plastic parts, so it can withstand bad weather and rough usage.
The floodlight will be charged very quickly and efficiently, but the manufacturer is warning you not to use it when the temperature is above 45°C or below 0°C, because it can lead to battery degradation, and there so shorten her lifespan. Also, have in mind that there is a cable between the light and solar panel, but it is long enough, so it will allow you to place the lamp wherever you want.
Highlights
Advanced, rechargeable battery
Modern industrial design
Remote controller included
Three modes
High-quality made
4. Kyson Solar Powered LED Shed Light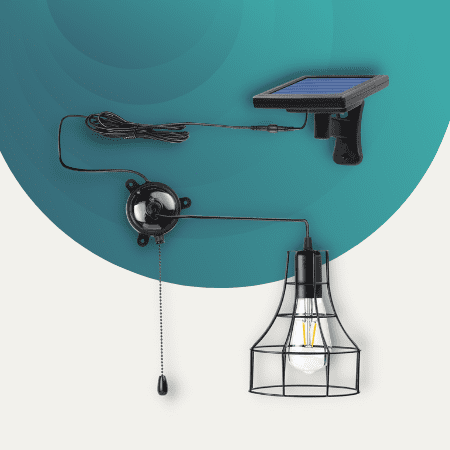 So, you are redecorating your home and looking for some interesting hanging light in an industrial style that's working on solar energy. Great! We are presenting you with exactly that.
This is an elegant and vintage Edison bulb that emits warm white light, perfect for any kind of space – room, cafe shop, industrial place, etc. It has an external solar panel attached with three meters long lead cable, and a lamp base that needs to be mounted on the wall.
The line between the bulb part and the firm station is 40 cm. You will be able to turn it off and on with the help of an old-school detail – a pull cord, but you can also use a remote control that has five meters range. As expected, the solar panel has to have good access to the sun, during the whole day, in order to be able to provide you with light when the evening comes.
It would be best to place it on the roof or some other place where the shade cannot interfere with the charging process. In case the bulb stops working, you can easily change it, like any other, with an E27 socket 3V low-voltage one.
The light construction is made in a way that can be used in the garden, patio, in a garage, or on the side of the wall – weather conditions won't damage it. Besides these essential parts, the package includes a wall mounting kit for the solar panel attachment as well.
Highlights
Vintage Edison bulb
Pull cord
Remote control included
Wall mounting kit included
High-quality made
5. Hanging Wall Lantern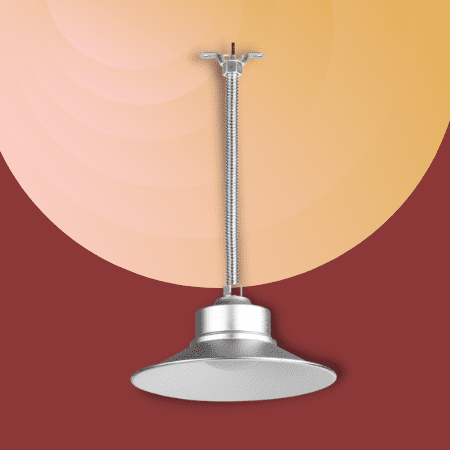 Another great idea for your porch, pool area, or room inside your house is this modern-looking pendant light that works on solar energy. Thanks to its interesting but straightforward design, it can be used in many places. The set comes with the main light station, eight meters long cable, and a solar panel that needs to be placed in the direct sunlight.
With the help of a built-in lithium battery, the power generated during the sunny day will be stored and used at night, very conveniently and based on the energy-saving principle.
But, unlike most indoor solar lights, this one can be controlled with a remote, so if you, by any chance, need light during the day as well, you can just switch the "on" button, and there it goes. In a range of 40 meters, you can also choose the lighting mode.
There's the automatic setting that is programmed to keep the lights on from one to eight hours, as you wish, and to control the brightness mode, which will allow you to increase or decrease its level by pressing the button. And if you would like not to set up the adjustment each time, there is a memory function as well.
The lamp is created from aluminum alloy, which means that it can withstand rain, heavy wind, and rust. You can mount it on the wall, place it in a shed, above your table or in the street.
The solar panel is rotatable, and the lamp has a flexible hose metal neck so you can move the light spot so it suits your position.
Highlights
Built-in lithium battery
Remote control included
Eight work hours
Multiple modes
Memory function-based
6. Roxy-G2 Solar Outdoor/Indoor Lighting Kit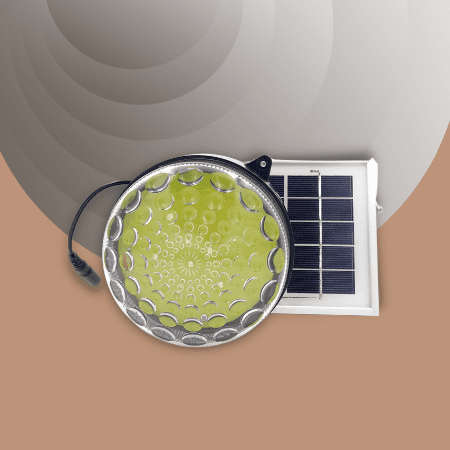 This round-shaped indoor solar light can be used for room lighting but also for the outside purpose if needed. It works on solar energy generated with the help of a polycrystalline 6V 2W solar panel with a firm aluminum frame.
The light base is connected to the panel through 15 feet long cable, which will allow you to place the light wherever you want, and still find a good spot for the panel, the one with excellent exposure to sunlight. The kit is equipped with a 3.7 V lithium battery that has a capacity of 2400mAh, and a high-power 150-lumen LED light.
That's enough to lighten up the entire staircase, patio, kitchen, part of the yard path, etc. It has an option to adjust the brightness, to have minimum glare, or enhance light projection.
The light works on an on/off switch, but you should press the off one when it's charging. It should stay like that for 10 hours straight before first use because it will be delivered with a low power battery – the standard procedure based on safety measures.
The lamp, as well as the solar panel, is waterproof, but when you place it somewhere outside, make sure to put the button switch downward to prevent the accumulation of rainwater. It's super durable, resistant to all kinds of bad weather, and is very lightweight, which is a great benefit given you can use it as a mobile light.
Highlights
Suitable for indoors and outdoors
Firm aluminum frame
150 lumen LED light
Adjustable brightness
Ten work hours
7. Remote Controlled Solar Shed Light

Here is another great, super modern, and a bit vintage piece that has a black bulb house in a shape of a hat, three meters lead external cable, amorphous silicon 1.2 W solar panel, and a lamp base.
The distance between that last part and the bulb is 40 cm, which is quite enough to give you a cool hanging look. It's remote-controlled solar lightning that will extremely efficiently illuminate any kind of indoor or outdoor space.
The package comes with a mounting set, and it's very easy to be installed, so you can do it by yourself without the help of professional workers. The 3.2V 400mAhLi-ion battery is built-in, and it needs to be charged for six to eight hours in order to provide you with light for the next ten to twelve hours.
When you first start using it, let the panel do its work for two days, but previously switch the button to off mode. After that, you can choose to use a remote controller or pull cord whenever you want.
Also, have in mind that the product is mini size, it measures 16×7 cm, and it weighs less than 800 grams. It can be excellent additional security for your backyard or a beautiful accent light that will illuminate your garage, trees, part of the bedroom, etc. It's eco-friendly and very efficient. It has a classic industrial design, which makes it ideal for modern-looking spaces.
Highlights
Remote-controlled solar lightning
Mounting set included
Good for indoors and outdoors
Easy to install
Industrial design
Types of Indoor Solar Powered Lights
1. Solar Lights With Separate Solar Panels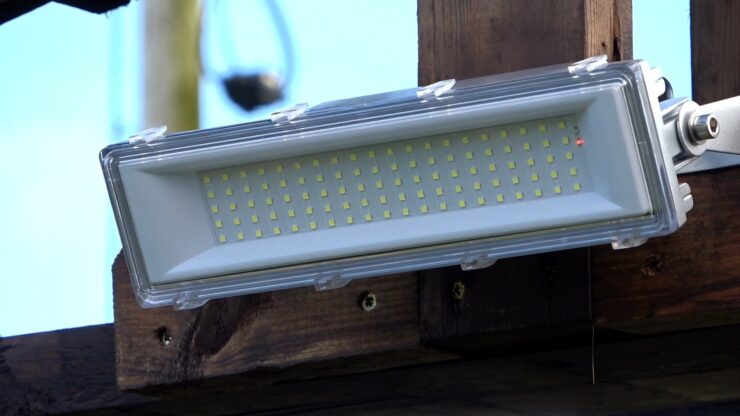 The most common among indoor solar lights is this type, where you have a light per se and a solar panel that is separated from it. Although it may sound complicated, it's actually quite practical because that way, you can place the solar panel at the place that is exposed to the most amount of sunlight, regardless of where the lamp is.
Panels can be mounted on the roof, or on the wall, they can be attached to the window or installed using hooks. There is always a cable that attaches these two, so you have to bear in mind that it will be visible and that you will need to think about where to put it if that's something that might be bothering you.
2. Solar Skylights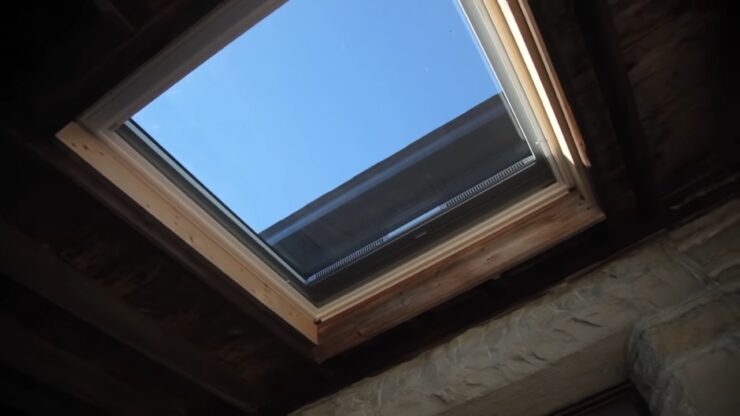 Solar skylights are special kinds of home additions that can add some extra natural lighting and a bit of fresh air. They look like standard roof windows, and they are bringing the direct outdoor lights inside your home. That will create some great and cozy ambiance, plus you will be able to enjoy the view.
Skylights do not need any kind of technical parts or solar panels, but they are the most expensive option among these three.
3. Solar Tube Lights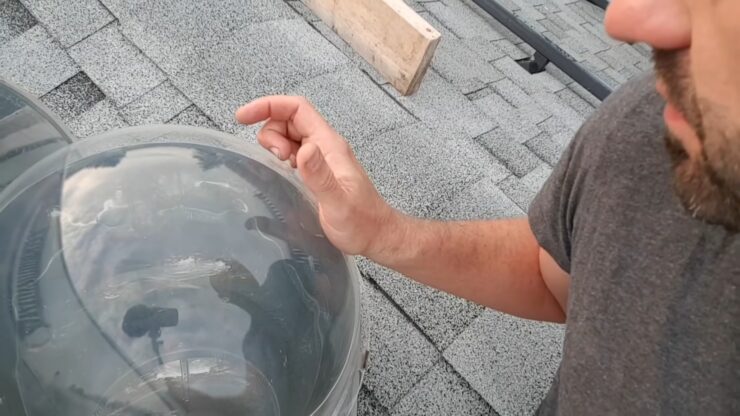 If you are looking for some decorative and accent lighting for your home, and you wish to use the power of the sun, we suggest these solar tube lights that are super-efficient and practical. You need to install a dome on the roof of your house in order to harness the sunlight.
Then the generated power reflects down to a tube structure and lights up the indoors. It's a 10 to 14-inch wide tube with a polished interior, and on the outside, it has a protective weather-proof globe. The design is super modern, and it looks like a classical ceiling light.
Finding the Best Solar Lights for Indoor Use – Buyers Guide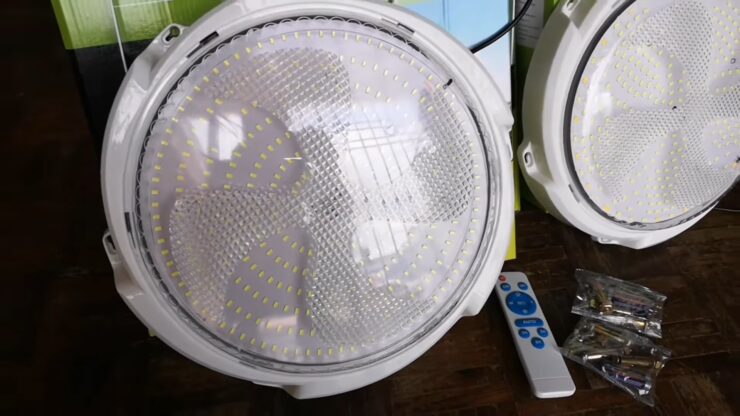 Buying something slightly significant for your home demands certain things – you need to be well informed, to then decide what is that you want precisely, and make a list of priority requirements this particular object needs to meet. For example, in this case, ask yourself what your price limit is, what you need the solar light for, how you want them to work and mount, etc.
Things to Consider When Choosing the Best Product
1. Purpose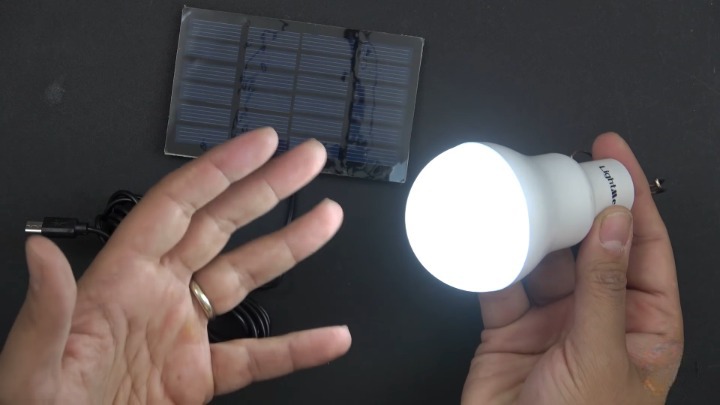 It's very important to be precise about the usage of each solar light you want to purchase. It's not the same if you are looking for some atmosphere lamp, light for your kitchen, shed, staircase, yard walkway, or patio.
First of all, you need to remember that they have a solar panel attached to them, in most cases, so you need to have a source of sunlight close by, and on the other hand, they can be different in terms of illumination, design, size, etc. And don't forget that solar lights will not be able to lighten up your entire house, for that you will need to combine them with standard, electricity-based ones.
2. Price
The fact is, solar lights are becoming more and more popular because they are a cheaper alternative to standard house illumination objects. They don't need electricity, gas, or any other power source, except the sun, to work. So if that's the reason you are considering them, and not because they are environment-friendly, it's okay.
They truly can save you some money since you won't be paying a huge electricity bill in the future. The price range of these products, however, is quite wide. There are solar lamps and lights that are really affordable, and yet there are those that are for sure overrated.
3. Mounting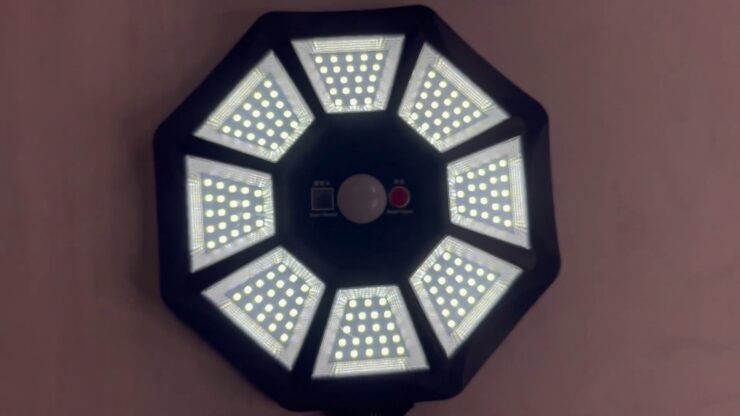 The best thing about solar lights, well one of those things at least, is that you can install them all by yourself, without the help of professionals. But, you need to have some tools and to be patient enough to read the manual. Almost all of them have a separate solar panel that needs to be placed at the spot with a lot of sunlight during the day.
In most cases, panels need to be mounted on the roof or on the side of the wall. And bear in mind that the light itself can be placed on the ceiling, the wall, it can be hung on the hook or put down at the table.
4. Working Modes and Sensors
Most of the indoor solar lights are working on the on/off switch button, unlike those created for the outsides that light up when it's dark and shut down when the sun comes up automatically. But some also have a remote controller with multiple options like brightness adjustment.
Then, there are those with a pull cord, which also can be handy and practical. However, if you are looking for the one with a motion sensor that will light up when detects movement, have in mind that there are not a lot of those when it comes to indoor usage.
Important Features to Look for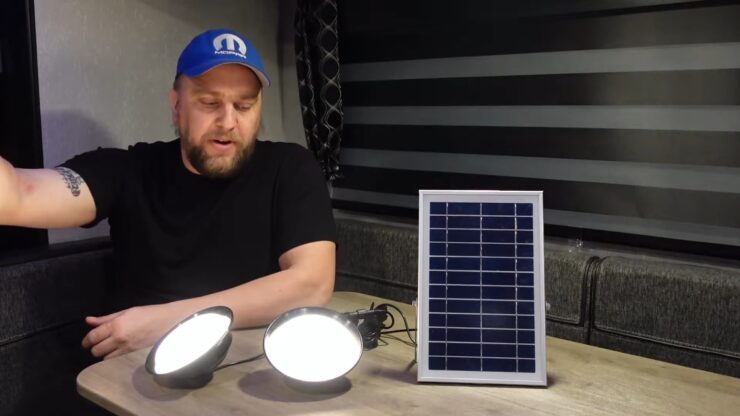 1. Brightness
The Lumens of light are dictating the level of brightness. The higher the lumens are the light will be brighter. Around 50 Lumens are considered to be enough for a driveway, fences, and walkways, the 75 Lumens lamps are great for room lighting, and 100 Lumens will give the necessary light for commercial areas.
2. Battery Capacity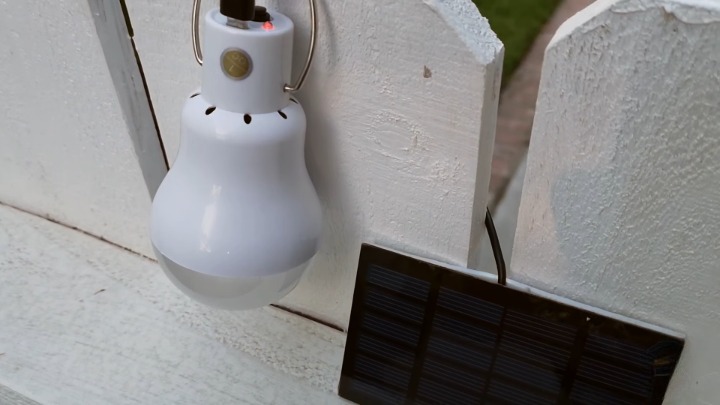 Indoor solar lights have different built-in batteries that are based on different voltages. If you are looking to have a lamp for a shed you will use occasionally, any of these will work, but if you need the one that can last for hours, make sure to check the quality of its battery, how long can it work when fully charged and what is its lifespan.
3. Light Colors
This is a matter of your personal preference. You can choose between indoor solar lights that have cool white light or the ones with warm illumination. Most people pick the first one for the kitchen or auxiliary facilities, while the second choice is much better for atmosphere room lighting. There are also multi-color lamps for decoration purposes.
4. Materials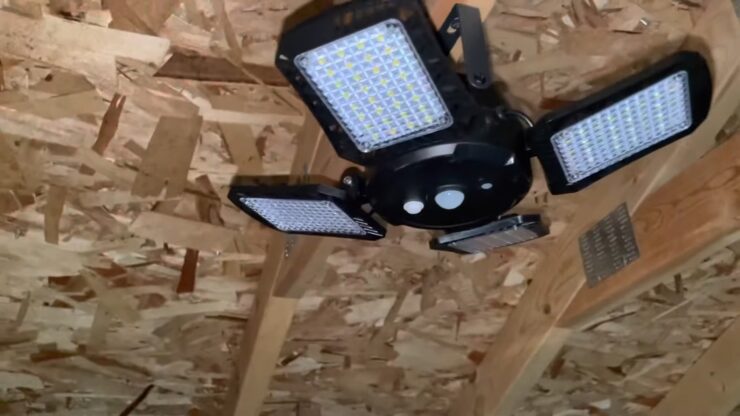 Indoor lights can be made from different types of materials. Since you will be using them mostly for the room illumination, this is just a matter of aesthetics, but if you plan to mount them on your porch, for example, make sure they are waterproof, and they are high-quality made, able to resist rain or the traces of bad weather.
5. Solar Quality
Since the indoor solar lights are based on the power provided by solar panels placed outside, you want to purchase the long-lasting one. Make sure it has good quality coating because otherwise, it will deteriorate the solar panel's performance in a short period of time. The panel needs to be resilient to any kind of weather in order to do the job properly.
How to Set Up Your Indoor Solar Lights?
Solar light users are very pleased with the fact that they don't need any help to set up and install the system. You will get everything you need in the set, except the basic tools, so all you have to do is follow the instructions. First, you need to determine where you want to put the light and then find the best outside place for the solar panel that needs to be attached to it by the cable.
Solar panel demands a lot of sunlight in order to work properly, so you will probably have to mount them on the outside wall or on the roof of your house. After you do that, check how long you have to leave it charging before the first usage. Some solar panels ask to be exposed to the sun for two days in a row, while others will work just fine with a shorter period of charging. When you meet this demand, turn the switch of your light on.
That should be it. Again, follow the guidelines of the manual because each indoor solar light may have different setting procedures. These are just the generalized steps regarding their installation.
Conclusion
You may not know this until now, but the indoor solar system is one of the best and simplest because it doesn't need almost any kind of maintenance, it can be set up by you, even though you are not quite a handyman, and it will provide you with free light since this light doesn't need electricity, just the sun power.
For starters, you can buy one lamp and use it for safety reasons, when the power is off. And then, if you are satisfied, and you will be, believe us, you can pick one for permanent indoor lighting.