If you decided to install the solar panel system at your home, we are applauding you, it's a great decision you won't regret. But bearing in mind the fact that it is such a huge investment, we recommend you to research this topic a bit more before choosing which brand or type of panels you want to purchase.
The idea and the main reason for all these analyzes are to go the next 25 years, which is an average lifetime for solar panels, or even longer, without the need to worry about their performance or the maintenance aspect.
Comparison Table:
There are many criteria and a bunch of categories you should check as satisfying before making a final cut, and it's quite hard to do it on your own. The suspicion that you didn't choose wisely enough, or that lack of experience and familiarity with the matter is going to cost you a lot, can be unbearable. So, because of that, we made a list of top-rated solar panels for homes, based on our thorough investigation.
Top Picks Home Solar Panels
1. Renogy 10 Pieces 300 Watt 24 Volt – Editor's Choice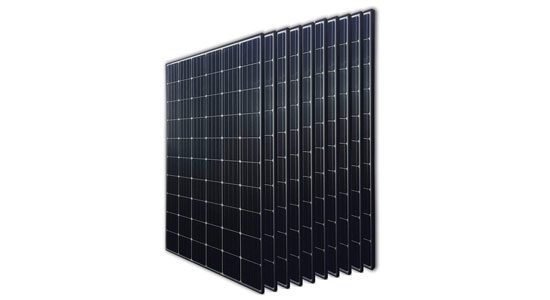 Pretty good offer if you ask us! The experts say that these particular panels are suitable for residential rooftops since they will provide the most efficiency per space, and therefore make you spend less money on the electrical bill. They also recommend them for big utility and commercial objects, whether it's an on-grid or off-grid project. The great advantage of these panels is that they are very resistant to extreme weather conditions such as a storm, snow, or hail.
It's finally time for your home to grow into a great solar stage entity. This monocrystalline panel system, known for its high-efficiency rate, will be an absolute winner. It will provide you with top performance, given the current state of the industry. Renogy comes as a set of ten 300-watt solar panels, with 25 years of warranty on power output, and a decade-long warranty on material and workmanship.
The manufacturer claims it can withstand a significant amount of snow loads (5400Pa), as well as strong wind (2400Pa). Each black-framed panel weighs 430 pounds. The PERC solar cells that are included are very effective, making the panel quite a lightweight item. If you compare it to a standard 72 cell (300-watt) panel, this one is way better, since it is 20-25 percent smaller and lighter.
Highlights:
Great performance
10-piece set
25-year warranty
Most efficiency per space
Resistant to extreme weather
2. Windynation Complete 400 Watt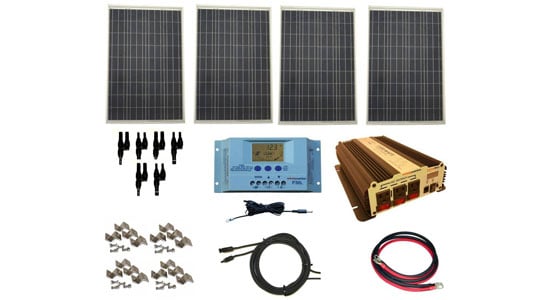 Also, the package contains an adequate inverter, specifically VertaMax 1500 watt 12VDC to 120AC Modified Sine Wave power one, and everything else necessary for installing the solar system up on the roof, and start manufacturing clean and free solar power from the sunlight. This particular panel system is excellent for smaller objects such as a cabin, boat, or RV, and is perfect for remote and backup power use.
Here is another set of solar panels for your home. The Windy Nation Complete comes as a kit that includes four 100-watt polycrystalline panels, then 40 feet long 12 AWG solar cable (UL Listed), P30L LCD display solar charge controller of 30-amp, and all needed connectors.
These four panels will provide 1600 watt-hours on average, or 135 Amp hours of charge per day, which mostly depends on the weather and the position regarding the availability of the sunlight. With 100 pounds weight, these panels are very easy to transport, set, and maintain. But the best thing is that you can be consistent with your lifestyle based on environmental preservation no matter where you go or where you live at the moment.
Also, this offer provides you with an opportunity to get all the needed components to do such a thing, at once, and that way, save yourself some time, energy, and money. Verta Max inverter, the one in the set, is known to create a lot of alternating current power, which will help run your household appliances, and the system itself is ideal for an off-grid 12-volt battery composition.
Highlights:
Package contains inverter
Good for smaller objects
Easy to transport and maintain
Four-piece set
All parts included
3. Eco-worthy 400 Watt Monocrystalline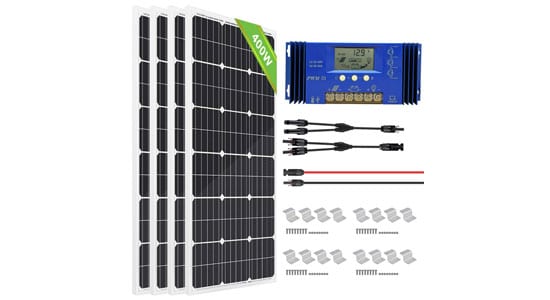 There are also three pairs of connectors (Y branch), four sets of Z brackets necessary for mounting, a 16 feet long solar cable, as well a 60A LCD charger. The great thing is that you can use this LCD display, with multiple battery types (lithium, lead-acid, and gel) to check the charging status, but you should know it also has aluminum alloy housing which will provide its more prolonged usage, and external heat sink, ideal for better heat dissipation.
We present you with another set of excellent solar panels for home use, adequate for off-grid applications, especially if you prefer to install them on a boat, trailer, cabin, RV, or shed. The 400W solar power kit contains four 100W monocrystalline panels, has a daily output of 2KWh, and the ability to charge a 12V 100AH solar battery in only four hours, which mostly depends on the sunlight's presence and availability.
Panels output tolerance is three percent, it can work on a temperature range from -40 to +80 Celsius, and a heavy aluminum frame provides its better quality. Each panel weighs a bit more than 17 pounds and has a waterproof junction box. The manufacturer claims everything is UL Listed and that the system can be easily and simply installed.
Another advantage of this set consists of the fact that this might be something like a DIY project since you can make the kit suitable for your needs completely. It is possible for you to add an off-grid inverter, and therefore use all those 110V alternating current power appliances, but also to expand the system up to a maximum of 1000W(12 Volts) or 2000W(24 Volts).
Highlights:
Good for off-grid objects
Fast charging battery
LCD display included
High-quality and durable
Very lightweight
4. Pluggedsolar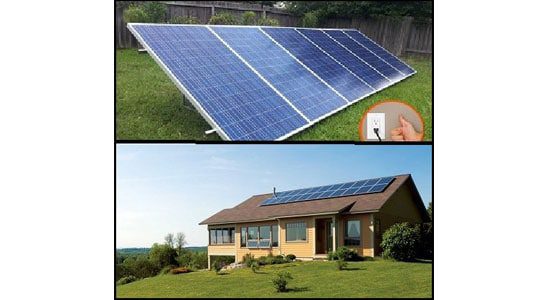 The product comes as a set of six PCS solar panels, each with 240Watt, and a wireless monitor for solar power and energy generation. The numbers show that this 1.5KW solar system can provide 2500 kWh of electricity each year, on average, and at the same time save you up to 30 percent of bills due to the lower rate of electrical usage. They say that Plugged solar can make a sustainable solar system within the reach of a hand for every homeowner out there.
With a desire to make the whole process of transferring to a solar system easier, without the need for professional help, Plugged Solar is offering a technology that will make it possible for anyone to add some panels and plug them into an existing electrical outlet. This system, which is still in a pending patent phase, is made in an effort to avoid all those costs and work regarding solar panel system installation.
They are selling all the components needed for such intervention, while solar panels, mountings, and other stuff are UL approved. Besides that, their offer contains large power solar electric systems, as well as roof mount systems. These 50 pounds weight and 70 inches high on-grid items can get you a 30 percent federal solar tax credit, and there is also a possibility to have some other state tax benefits and local utility rebates.
Highlights:
Six-piece set
Great performance
Appropriate for homeowners
All components are UL approved
Wireless monitor included
5. Trendlysolar: Hybrid Wind and Solar Kit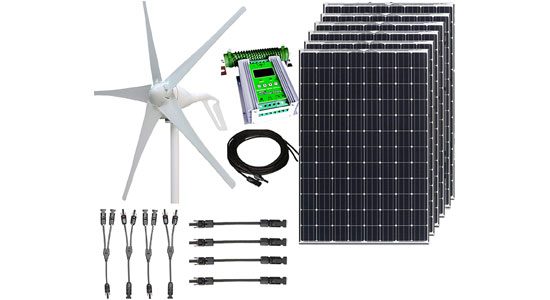 If you are willing to transit to any kind of clean, renewable energy, it's probably best to try to combine two of them. This popular and modern system of power generation is something you should think about. After all, it is on our list of top-rated products. Suitable for any power supplementation or powered project, his solar system is designed for movable and smaller objects, such as RVs, barns, boats, cabins, and other outbuildings.
Thanks to the 24V 400W wind turbine with five blades that are connected to six high-quality monocrystalline panels, it will be possible to maintain power generation for 24/7. Those panels are proven to provide more power per square foot than the polycrystalline type of similar solar panels, in case you were wondering. The Hybrid wind and solar kit include everything needed for you to wire and install the system right away.
It can potentially provide you with 5-7KWH daily, in combination with a 50A solar controller, while 16 feet of connector cables (MC4) will keep those power-hungry appliances running, and 24V battery systems fully charged. The panels are resistant to bad weather and corrosion and come with a 25-year transferable warranty, so it may pass the decades before the necessity of replacing them comes knocking on your door.
However, you should know that a wind generator pole is not included in a package, and that making drilled holes before installation is preferable since that will make the mounting of solar panels more comfortable.
Highlights:
Suitable for movable and smaller objects
Power generation for 24/7
All installation parts included
Panels resistant to bad weather
25-year warranty
6. Eco LLC 1800W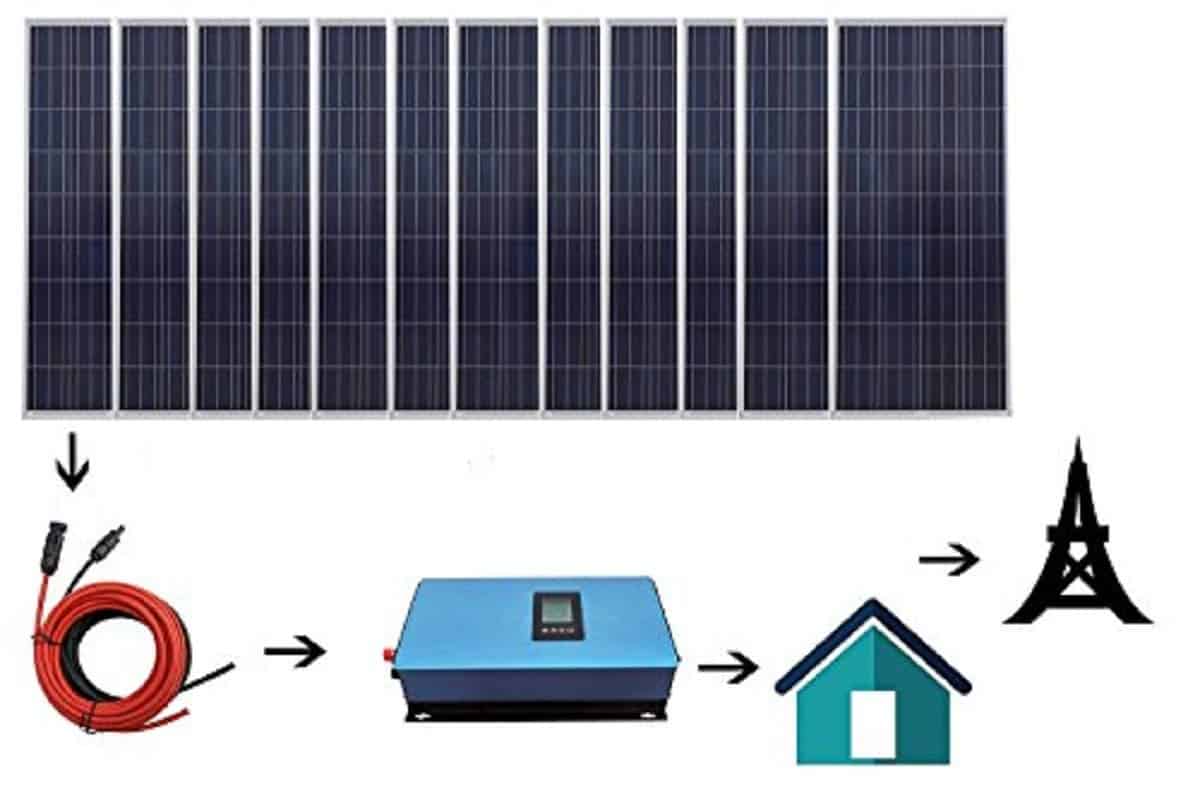 However, that may not be necessary, given that the average 1.8kW solar power generation of this system will be 7kWh of electricity daily. Each panel contains an aluminum frame resistant to corrosion, and lousy weather such as storms or hail, so the installation should be tightened to your roof for decades.It's not a secret that buying solar panels for homes is a way for you to save some money, besides the main reason for protecting the environment, of course.
With this solar kit, you can do precisely that, since you can get a 30 percent general solar tax credit, and save around 35 percent yearly, just on electricity bills. ECO LLC is based on flexibility. In the days when the weather is terrible, and there is not enough sunlight, so the solar power supply is insufficient, you will automatically power from the traditional grid.
As a matter of fact, the manufacturer was pretty precis while claiming they can resist a considerable amount of snow loads (5400PA), and strong high winds (2400PA). The whole package includes 12 150W Poly solar panels, two pairs of MC4 connectors, a 2000W grid-tie power inverter, and a five-meter-long solar cable.
Thanks to this particular inverter, the system can be set up to any type of surface, just as long as it's faced with the sun. It also has a very simple and fast installation process. In the end, you will be happy to hear that the cost of maintenance is acceptable and pretty low.
Highlights:
Very flexible
Extremely lightweight
Advanced solar cell structure
Can be attached to uneven surfaces
Suitable for smaller objects
7. Renogy 160 Watt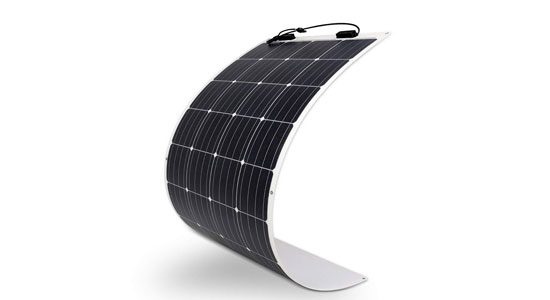 The most significant advantage this panel has over its competitors is precisely that –it's 95% thinner, and has 70 percent less weight than the similar average item. But there is also the fact that it can be attached to uneven surfaces, places where standard panels couldn't do the work, not even in a dream, so it's suitable for a smaller object like a cabin, boat, RV or shed.Now, this solar panel is presented as the state of the art of precision and cutting-edge modern technology.
It's incredibly flexible, very lightweight, with less than three pounds, and has the ability to make an impressive arc of 248-degree. That's possible because of the lamination techniques and advanced solar cell structure.
The transport or installation won't give you a headache as well. These items were rigorously tested in order to show their future owners what are they dealing with. On that base, it's proven that each solar panel can withstand a great number of snow loads (up to 5400Pa) and extreme wind (up to 2400Pa).
Modern bypass diodes of monocrystalline panels minimize shade-caused power drop and ensure perfect performance even in low-light environments. It's good to know that this Renogy 160 Watt system supports off-grid appliances and that its price, given the quality it provides, is quite acceptable to any household that decided to go solar.
Highlights:
Ultra-thin at 1″
Ideal for curved roofs of RVs
100 watts of power
Easy to install – pre-drilled grommets
Resistant to elements
Finding the Best Solar Panels for Your Home – Buying Guide
Make sure to be smart. Solicit offers from many manufacturers and compare them – everything, starting with price, type of solar panels, the technology they are based on, what the offer includes, is the installation work counted or not in a price, etc.
Then, explore what tax incentives you might have, as well as if you are meeting the conditions needed for some state or local incentives. Numerous people managed to save a lot that way, and their system turned out to be a couple of thousands of dollars cheaper than they hoped.
The thing to Consider When Choosing the Best Product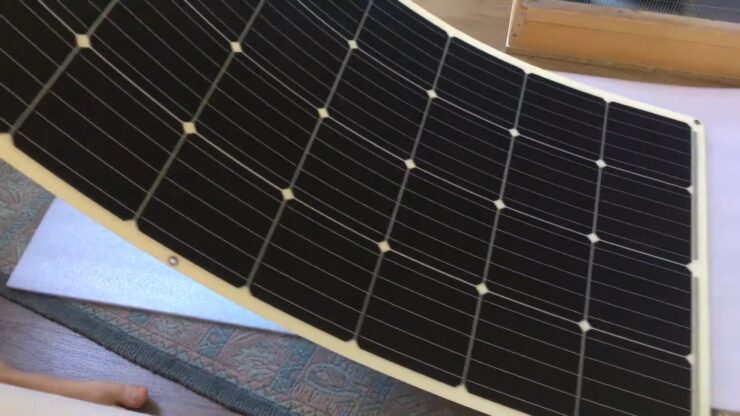 1. Usage
Solar panels generate electricity that can power your home or any kind of commercial object, and reduce the dependency on traditional power sources. They can heat the water, which is a little known fact, and they can be used for battery charging as well. It's essential to determine what are you going to use to narrow down the choice.
Also, panels can be more or less easy to remove and attach to another place, which is another thing to consider. Of course, there is also the matter of money. It's certain that with the solar panel system as an alternative source of energy, your electrical bills will be reduced.
Even better, there is an opportunity to make some money since you can meet government-induced incentives to switch to some kind of renewable energy source and sell energy generated by solar panels.
2. Versatility
One thing is undeniable – solar panels are so versatile, they can do things you didn't even think about. They can be used for low-power purposes such is cooking, making watches and calculators work, providing light for your garden or backyard, to the purpose of heating the swimming pool, creating indoor lighting, etc.
Another thing that is considered as the benefit they bring along is the fact that panel system can be installed on the roof of a house or an industrial object, at the top of the RV, on the boat, on top of the wood cabin, wherever in-ground, regarding the climate or the type of environment.
They can provide energy at any place on Earth without the need to be close to the populated place and connected to the grid. Flexible and lightweight panels are especially suitable for uneven surfaces.
3. Technology
There are three primary technologies the solar panel system is based on. First, there is PV – photovoltaics, which directly transforms sunlight into energy, then CSP – concentrating solar power, a system created to use the heat from the sun and trigger electric turbines and utility-scale.
The third one is SHC – solar heating and cooling systems that collect thermal energy to provide heating, air conditioning, and hot water. There are panels made out of silicon solar cells, mostly used as part of the solar roof construction or massive ground utility system. Then those from thin-film solar cells which are usually flexible and light in weight – adequate for a portable appliance.
The third type is III-V solar cells, which are more expensive than the others, but those panels generate sunlight into electricity more efficiently. And there are next-generation solar cells (NREL) – made out of hybrid organic-inorganic materials that are easier to manufacture, and therefore more affordable.
4. Efficiency
Solar efficiency is showing us how much energy from the sun is generated into the usable electricity by each panel. There are a lot of factors that affect this aspect – reflectance efficiency, thermodynamic efficiency, shade from nearby objects, a considerable amount of dust or dirt, etc.
So it's essential to study those important points and to make sure they won't make your system non-vital. Of course, not everything is about efficiency. You can get what you won't even if the panels are not the most efficient, but you have a huge roof area covered in those solar plates. Also, there is the matter of the position of your home and your roof, the direction they are facing, and their slant.
It's useful to know that the average efficiency of a panel is 15 to 18 percent, while the highest range is 23 percent. That means that a pretty good panel transforms 15 percent of sunshine into electrical power.
Important Features to Look for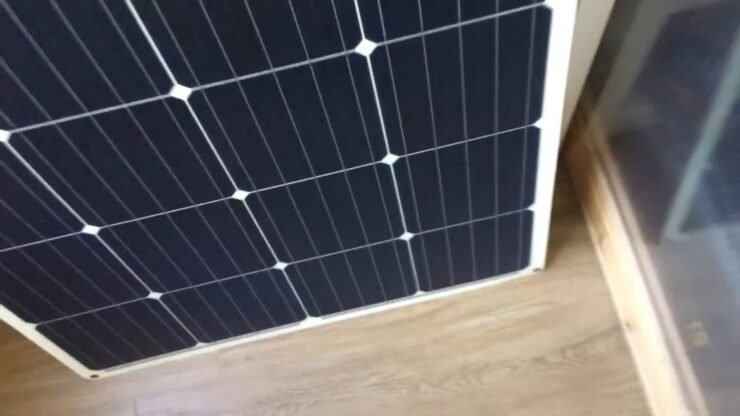 1. Installation Costs
You will undoubtedly save money by using solar energy long term, but there is a question of how much it costs to install the system itself. First of all, you should know that the cost of solar panels has dropped 23 percent over the past five years, so it's much more affordable today than before.
The average cost of one solar panel in 2019 was $2.99/watt, and the price for the whole average system, which is approximately six kilowatts, is around $12,558 after tax credits. The cost mainly depends on how much power you want to generate for your home.
2. Types of Panels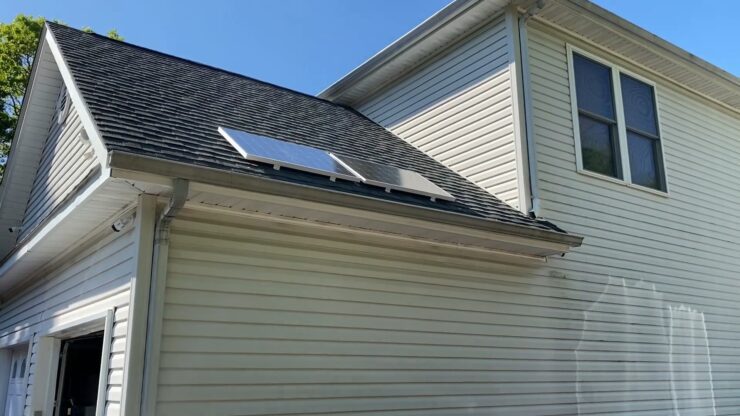 There are many types of solar panels, each with some benefits, but also some advantages. It's up to you to determine which one suits the best your situation and your needs. For example, for those who are living in a tiny space, crystalline-based solar panels are the best choice, but if space is not an issue, thin-film solar cells are the thing you should go for.
However, they are not going to be practical if we are talking about the residential area, so you might also go with the monocrystalline solar panels, which will produce four times more electricity than those thin-film ones in the same amount of space.
3. Benefits
The usage of a solar power system counts many benefits. First of all, they are a renewable source of energy, and you can use it wherever you are in the world. Second of all, it will reduce your electricity bills and save you some money each month.
The system itself is very easy to maintain, you just have to keep it clean, and this is the type of energy you can use for different needs. Above all, there is the fact that solar power technology is progressing and evolving as we speak, so it will be more effective in the future for sure.
4. Calculate the Consumption Rate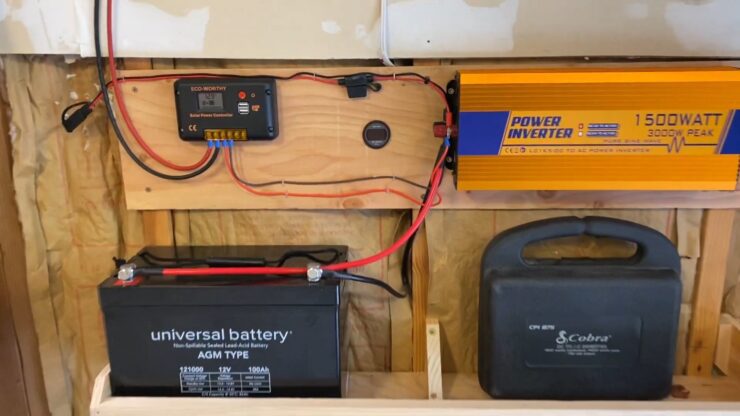 You need to set the numbers regarding your consumption rate before buying or installing your solar panel system because you have to come to a conclusion on how much energy your home demands. You need to think about each appliance and the time you are using them in order to get to this viable data about how much energy your battery can store.
Also, you need to establish how much energy each solar panel can generate over a particular time. Keep in mind that by knowing how many panels you need, you can save up on the price of installation.
5. Investigate your Home's Energy Efficiency
Not only solar efficiency is questionable, but you also need to conclude how efficient your home is before you implement a new solar system. You have to know precisely how much electricity your home needs, and then think about some measures that can improve the numbers.
A home energy audit will show you if and where your home is losing energy, and how can you make it more efficient. You can switch to LED light bulbs, invest in highly efficient products, and weatherize your home to reduce the amount of electricity you need for heating or cooling the space
Home Solar Panels Installation Guide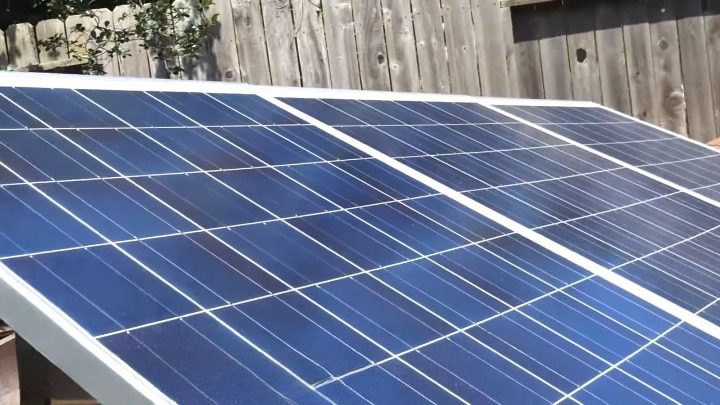 The most commonplace for installing the solar panel system is the rooftop because most likely, that is the place that has direct access to the sunlight. But before you start, make sure to remove all possible obstructions like tree branches and all objects that can make a shadow.
There are three types of mounts you can use for solar power systems – flush mounts, pole mounts, and roof-ground mounts. They allow you to install them on the roof, besides the pool, on the top of an RV, or as a free-standing unit. The first step is to fix the mounts, which will support panels. The construction must be a bit tilted, and the appropriate angle is anywhere between 18 and 36 Degree.
There is a solar tracker many companies use in order to increase the efficiency of conversion. Then you need to create the structure of panels by fixing each one with the mounting pieces, as well as to do the electrical wiring. MC4 connectors are most commonly used because they can be linked with any type of solar panel. The next step includes connecting the system to the solar inverter, and after that, making a bond between the inverter and the solar battery and grid.
If you plan to have an off-grid solar system, you will need a battery to store electricity backup. In the end, when all connections and electrical wiring is done, you should try if everything is working. Start the inverter by switching on the main switch of the house. The digital display will show you statistics regarding the generation and usage of the solar unit.
FAQ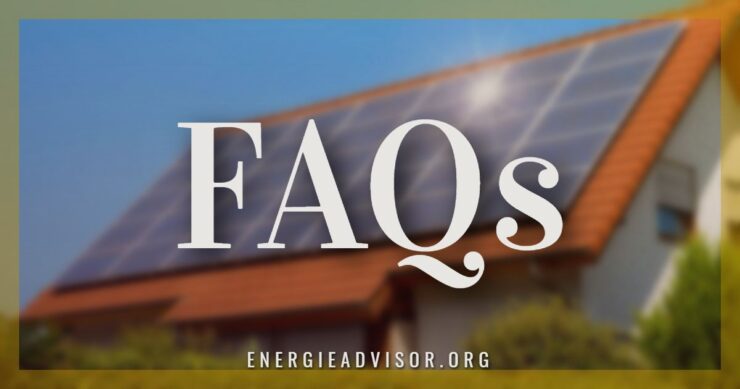 Q1: What Are the Benefits of Using Solar Energy in My Home?
The benefits of installing solar panels on your roof are twofold. Firstly, you're going to start saving money on your electric bills, which means there's a financial benefit. This also means you're protected from fluctuations in the price of electricity and the situation on the market in the future.
Regardless of where you live, solar power is a smart investment. Secondly, solar power has a plethora of health and environmental benefits. If you care about protecting the planet, going solar is an excellent way to contribute to the fight against greenhouse gas emissions.
Q2: What Is Net Metering?
If you've been thinking about installing solar panels in your home, you've probably heard about this term. It refers to a system used by utility companies that entail crediting homeowners for the electricity produced by their solar panels. With net metering, instead of you paying your utility company, they will pay you for the excess electricity you produce.
That is if you end up creating extra power, but if you don't, you'll still only pay what you consume from the grid. Make sure to do your homework on this; however, since net metering policies tend to differ significantly depending on the state, you live in.
Q3: Are There Any Financing Options Available?
When it comes to solar financing options, you have three at your disposal – signing a power purchase agreement/solar lease, taking out a loan to purchase your system or purchasing the system in cash. There are many solar incentives and rebates all across the country, but they vary depending on the state or city that you're in.
However, the federal government does offer an investment tax credit, which allows you to deduct 26% of your solar energy system's cost from your taxes. Additional tax credits are provided by some states and municipalities as well.
Conclusion
There is no doubt you are doing the right thing by making all the arrangements so you can transform your home into a solar power station. It's true, the usage of the solar system is relatively new, and you need to do thorough research, but the benefits of clean energy, especially solar one, are tremendous.
Of course, you don't have to make this huge leap and instantly go off the grid. You can start small, by installing just a couple of panels that will provide the energy for home appliances only, and after some time, when you are ready, they can become your primary electricity source.