Even though camping is an excellent way to take a bit of a break from the hectic business that is everyday life in 2023, sometimes completely disconnecting isn't all that practical. You might want to take a break from social media and check your work email, but usually, you'd still like to have access to your phone in case of an emergency.
In the recent few years, the technology that allows you to recharge your devices while out and about has improved dramatically, but most people will still have trouble deciphering the truckloads of technical jargon on their quest to find the camping solar panel that fits their needs. That's where we come in.
Comparison Table:
Here at Pure Energies, we want to make sure you are always spending your money on the best possible solar gear. We've reviewed some of what we find to be the best solar panels for camping on the market today, and hopefully, this buying guide will help you reach an informed decision.
Top-Rated Camping Solar Panels
1. Acopower 120W Portable – Editor's Choice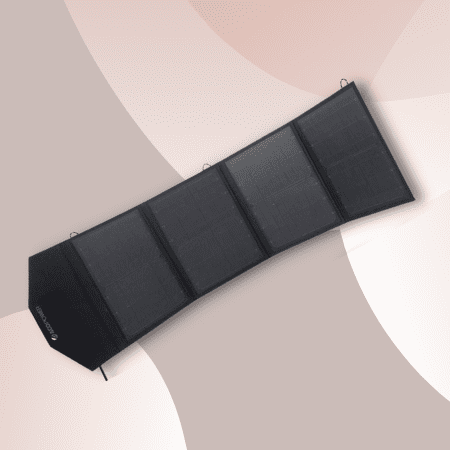 The first panel on our list and our Editor's Choice for this buying guide is this foldable solar panel solution from ACOPOWER. It uses monocrystalline solar cells from the best photovoltaic module manufacturer on the planet – SunPower and has a sunlight-to-electricity conversion efficiency of up to 25% in ideal conditions.
When folded, the ACOPOWER panel measures 17.3 x 22 inches and acts as a suitcase for everything you are going to need to set it up like the charge controller, wires, clamps, and other tools. This not only makes it easier to carry the panel around anywhere you need to, but it also makes your portable solar setup easier to store, as it doesn't require much space at all.
Another great thing about the ACOPOWER 120W is how easy it is to get up and running, which you can do in a couple of minutes once you get the hang of it. The case comes with a kickstand allowing you to tilt the panel at a 45-degree angle when opened, to maximize efficiency. It also has a convenient handle for easy carrying.
An Epever 10A PMW charge controller, a dual USB 2.4A/5V output, is also included, allowing you to charge all kinds of gadgets. MC4 adapters, which you can use to connect the panel with an ACOPOWER solar generator, are included as well, and so are a couple of alligator clamps for charging 12V batteries.
Highlights:
Efficient
All necessary equipment included
Easy to carry
Provides a good output
Simple setup
2. Nekteck 21W Solar Power Charger – Best Budget Friendly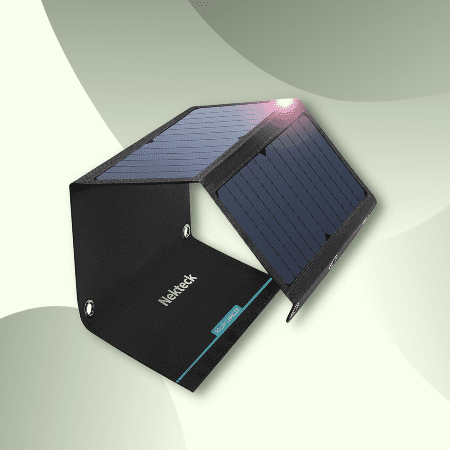 This unit, even in moderate light, begins producing power, and when it's combined with a battery bank, it is capable of charging two devices at once – one at two amps and one at one amp comfortably. We find that the best use for it is 'chain-feeding' off a large battery bank, which allows for the Nekteck to really shine (no pun intended).
There are a lot of solar chargers on the market that are, simply put, a joke. Either they don't charge unless there's full brightness and sun exposure, or the amount of charge they produce when they are operating is so low that it would take you weeks to charge anything. The Nekteck is not like that.
The device itself is well made, with the semi-rigid solar panels well protected within the fabric flaps. We wouldn't recommend trying to fold the panels in a way that was not intended by the manufacturer, or anything like that, but the Nekteck has never shown us any indication that it is anything but extremely durable for what it is.
On the back of the product, there is a sizeable double-zippered pocket in which you can store anything you might need for the charger to operate, as well as any accessories like a battery bank. Inside the pouch, there are two USB ports, as well as an LED indicating when the unit is receiving solar energy.
Highlights:
Extremely portable
Two USB outputs
Powerful
Affordable
Water-resistant
3. Rockpals 100W – Best Water Resistant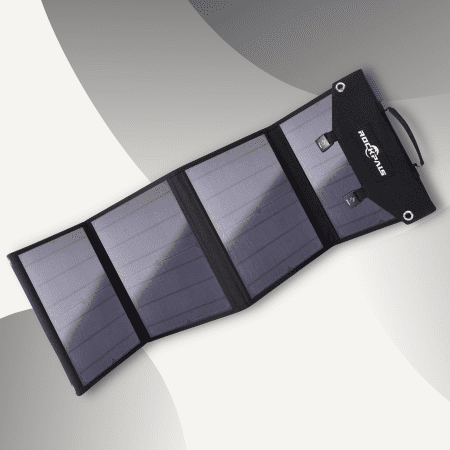 As is the case with most portable solar panels, this one is foldable, and when unfolded, it reveals four independent, large PV cells, which it uses to collect the sun's energy. As stated in the name of the device, it is capable of generating up to 100W of power from the sun.
However, this number is achieved in ideal conditions, and if you've ever used any solar panels before, you know that those conditions are quite hard to achieve, with the amount of direct sunlight available varying due to factors like the sun's position and cloud cover.
That being said, this particular device can produce a steady supply of power on a bright, sunny day, and will be more than enough to recharge your portable power stations and USB battery packs.
To achieve the fast-paced and efficient charging that it does, the Rockpals had to sacrifice a bit of its portability, so this product is a bit heavier and a bit larger than some other items on this list, weighing in at almost 11 pounds and measuring 20.5×14.2×2.6 inches when folded.
This rules out carrying the panel in your backpack, for example, so the ease of transport is somewhat limited. It should be noted, however, that the product includes a built-in handle, so if you are going on a more extended camping off-grid trip, it's probably going to be okay, but we wouldn't recommend getting this solar panel if you need something to carry with you at all times.
Highlights:
Three standard USB ports built-in
One Quick Charge 3.0 port
Great value
Water-resistant
Powerful and fast
4. Ravpower 24W – Best for Charging Multiple Devices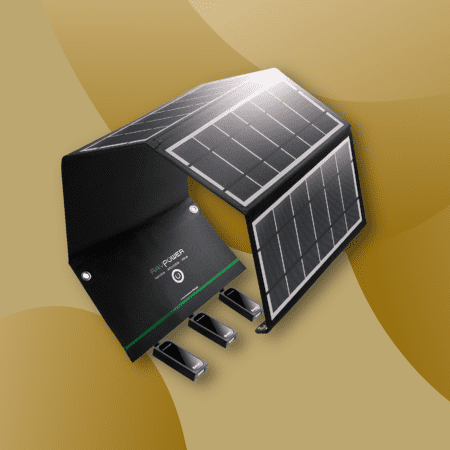 This lightweight and portable solar charging unit are perfect for camping and backpacking since it is easy to fold up and store into your backpack, while the design of the product, as well as its robust materials, will protect it from damage. In terms of charging, which is, of course, the most crucial aspect of any solar panel, it produces high-class results.
The SunPower solar cells used in this device are capable of converting up to 23.5% of the power of the sun into electricity, making them some of the most efficient on the market today. They can deliver up to 2.4 amps of solar energy to your devices so that you can charge your phone, tablet, or solar power bank quickly.
Using an external battery is going to give you the best results in terms of uninterrupted charging regardless of the conditions, even though the product is designed as a plug and charge system. The best thing about this product, as we have stated in the title of this mini-review, is that it has the capability of accommodating multiple devices at once – up to three to be exact, via the USB ports.
This will make most users very happy since you won't have to battle over the solar panel with your family members and friends during your camping trip. Another great thing about this portable power source is that it works even in intermittent sunlight, while other similar products might fail to perform in such conditions.
Highlights:
Premium design
Fast output
Charges multiple devices at once
Fits into a backpack
Plug and charge
5. Renogy 100-Watt 12 Volt Eclipse Solar Suitcase – Easy to Use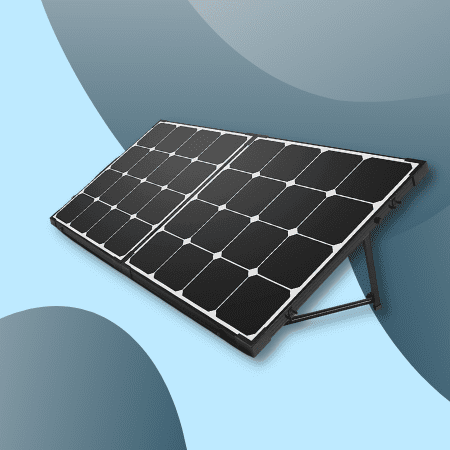 This is a portable, affordable, all-in-one, plug-and-charge solar solution that you can use to charge any batteries during your camping trips using just the power from the sun.
The greatest thing about it is that everything you need comes in a compact suitcase measuring 21x21x3 inches, with a semi-rigid frame, and the handle built into the actual structure of the solar panels, making them easy to carry around even without the case. The Eclipse uses monocrystalline solar cells, which are more efficient than polycrystalline.
If you're ever unsure which type of solar panel you're looking at, an easy way to tell the difference is that polycrystalline cells have a bluish hue, while monocrystalline cells are black. Once you open up the case, you'll see everything you need right inside.
There are two junction boxes as well as lithium and an Adventurer 20A charge controller with an LCD screen showing you all the essential information like the panel array voltage, charge current, generated energy, battery voltage, battery percent, and temperature. A ten-foot-long cord with alligator clips is also included, and the controller will automatically recognize whether you are plugging into a 12V or a 24V system.
The charge controller default setting is for flooded batteries but can be easily changed to sealed or gel-type batteries. The package also includes a remote battery voltage sensor and a remote temperature sensor, but you will not need to plug those in for an everyday operation.
Highlights:
Alligator clips included
Heavy-duty portable aluminum frame
Battery voltage sensor and temperature sensor
Protective casing
Weather-proof
6. Goal Zero Nomad 7 – Top Pick for Lightweight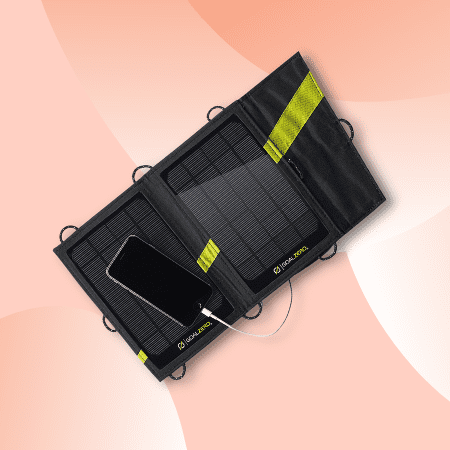 The Nomad 7 from Goal Zero is a smaller panel made mostly for keeping your phone or other similar device charged. This device has plenty of great features that people seem to like. Most importantly, it does what it is supposed to do well. It acts as a reliable and efficient solar charger for your smaller devices.
It might struggle with things like tablets and laptops, but it will do a great job with phones, iPods, and mp3 players. This high-quality panel comes in an attractive and portable design, with some loops on the ends so that you can have the ability to hang it from a tree or your tent or even from your backpack, allowing you to charge on the go, which is quite handy.
The panel folds in on itself, and when it is folded, it can easily be placed in a backpack or even a larger pocket. It's not exactly huge when you unfold it either. If you don't want your phone or iPod to run out of juice while you're out camping, Goal Zero is an excellent solution.
The canvas binding that it comes in does a great job of protecting the device, as well as storing the charging outputs and chords that you'll need. You can use the mesh pocket on the back to store an external battery charger, which we recommend using with this Goal Zero product.
The solar panel will charge your device directly through a USB port, as well as a 12V connector located in the mesh pouch on the back. The best power station generator to use with this solar panel charger is definitely Goal Zero Yeti Power Station which you can find on Amazon.
Highlights:
Direct charging
USB and 12V charging ports
Weather-resistant
Foldable design
Easy to hang from a backpack
7. Sunjack 15W – Most Powerful Charger for Campers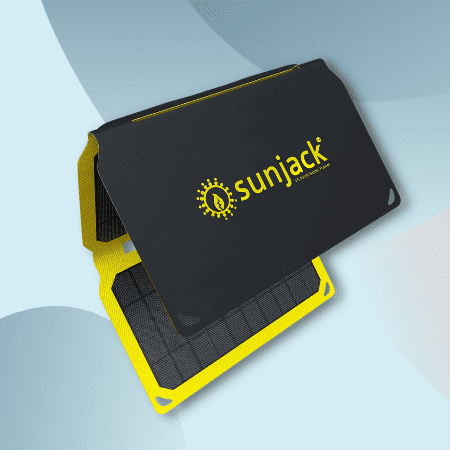 Weighing only 1.8 pounds, and measuring 23×16.5×4.5 cm when folded, the SunJack 15W solar charger is lightweight and small, making it highly portable. Yet it is handy, providing up to 2.8A of power through its USB output.
Thanks to the built-in Smart IC chip, this device can automatically detect the type of device you have connected to it, so the charger will adjust its charging capacity and speed to deliver the optimal level of charge at all times.
You can also set your mind at ease since this device has overcharging protection, so there's no need to worry about your devices getting damaged. The compact charger is weather-resistant, and when it is folded, it is also sturdy, dust-proof, and shock-proof.
If the sun goes behind the clouds for a while, the automatic restore feature will kick in, keeping the batteries of your devices protected. Any device using a USB connection can be charged through this panel, and the indicator light on the charger will let you know if the USB output is providing power.
When folded down, the charger can easily fit into any backpack, since it is no larger than an iPad. The SunJack is designed in California and even has a history of usage by the US military. The American manufacturer offers a 12-month warranty as well, so you can rest assured that this charger will be a safe purchase.
Highlights:
Shock-proof and durable
Compact
LED indicator
Weather-resistant
Smart charging
Finding the Best Solar Panels for Camping – Buying Guide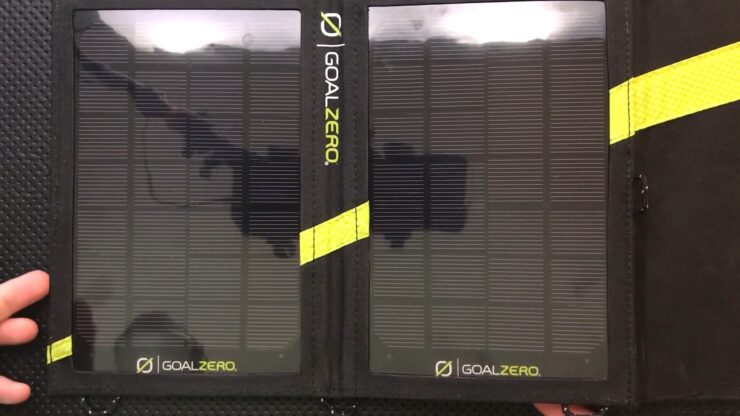 When choosing the best solar panels for hiking and camping, there are a variety of factors to consider, just like with any other device. We usually rate solar panels based on quality, convenience, and performance, but there are other crucial details you should look at before taking your final pick.
Types of Camping Solar Panels
1. Portable Solar Panels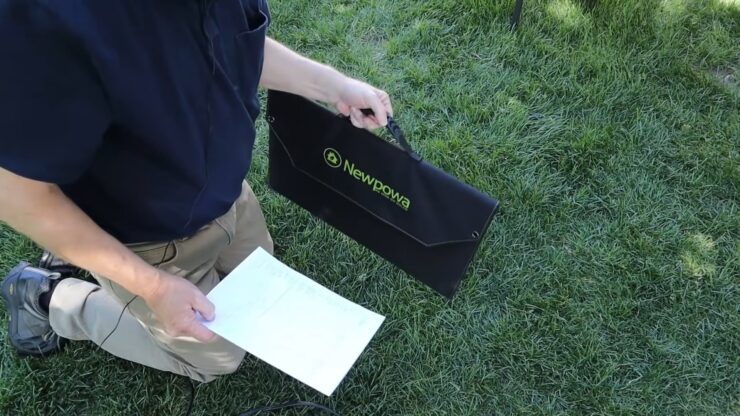 A portable solar panel is usually the most efficient solution for your camping electricity needs since what they lack in power output, they more than makeup for in their portability.
There are a few different types, with and without a charge controller built-in, but the ones we reviewed in this buying guide are mostly foldable solar panels with a charge controller attached.
They usually have USB outlets, which you can use to charge either a portable battery or your devices directly. Larger panels come in the form of suitcases and typically contain everything you need right inside. If you're a nomadic camper, this is the best option.
2. Fixed Mounted Solar Panels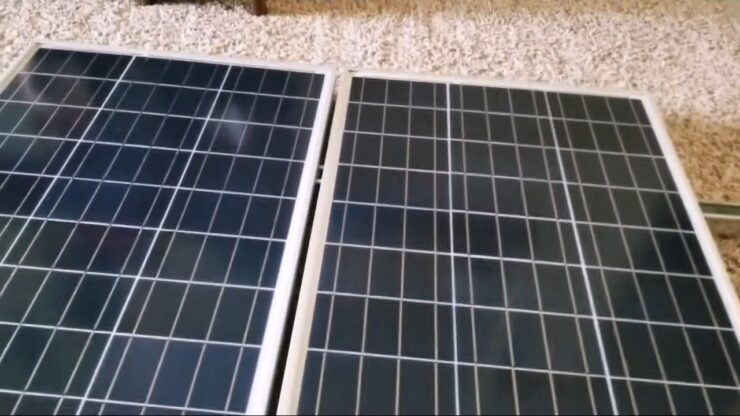 The most significant advantage of fixed mounted panels is that you can set them up on top of your camper RV once, and don't have to worry about them ever again since they will be secured to the roof until you decide to take them down.
This gets rid of the necessity of setting up your power kit each time you go camping. If you prefer camping with a tent, or even sleeping under the stars, this is not a viable solution, but if you have an RV, and plan to be away from civilization for extended periods, there's nothing better than a fixed mounted solar panel.
They will provide plenty of power for all your appliances, and if you find that you need more, usually, there's an option to upgrade your kit with extra panels.
3. Solar Chargers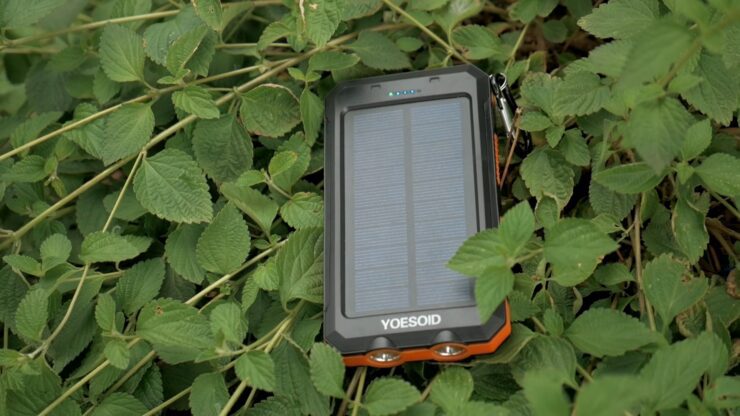 These devices are mostly designed for charging small electronics like iPods and smartphones, as well as laptops and iPads. They are usually tiny, which makes them extremely portable. You can easily fit the most foldable solar chargers into your backpack.
They use either polycrystalline or monocrystalline solar panels in a foldable fabric case, which can often be hung from your tent, a nearby tree, or even your backpack if you'd like to keep your devices charged while hiking. The most attractive aspect of these products is their portability, so if you walk a lot, you'll find plenty of value in one of them.
4. Flexible Solar Panels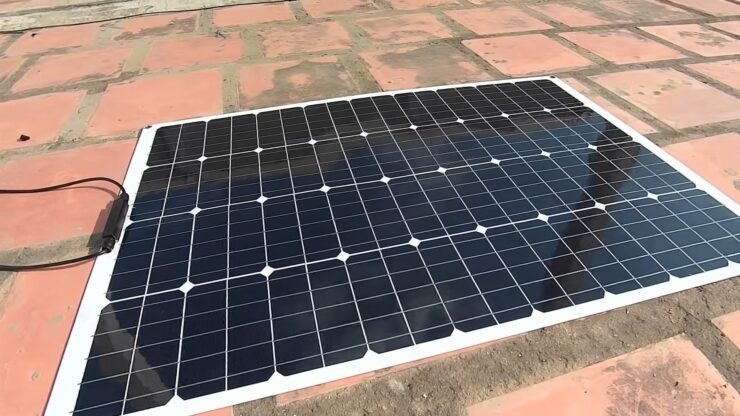 Flexible panels are also intended for those campers who own an RV. They work in pretty much the same way as fixed mounted solar panels; in fact, they usually are just a subtype of those.
The advantage they have over regular mounted panels is that they can be attached to curved surfaces since some of them can bend up to a 30-degree angle, which allows you to put them on a curved roof and get more sunlight exposure for them throughout the day.
Because of their flexibility, these panels usually sacrifice a bit of efficiency, and may even have a higher price, so think hard whether you need a flexible solution for your RV solar.
Things to Consider When Choosing the Best Product
1. Usage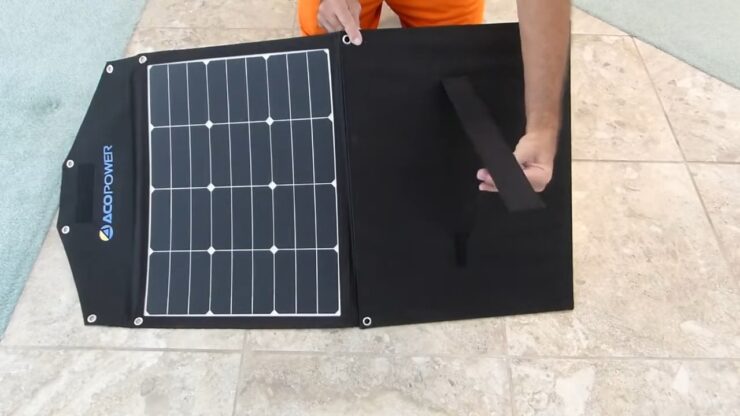 A good question to ask yourself when deciding on a camping solar panel is what gadgets or appliances you plan to use the solar panel for. Are you going to be using it to recharge your phone, power some lights, or charge a camper car battery to be able to power some more demanding devices? If you're looking to use a portable fridge, for example, to keep your drinks and food cold, you're going to need to consider some more powerful, bigger solar panels, which will provide the output necessary for such plans.
Also, you should think about how long you plan on staying on your camping trips, and what kind of wattage is required for the gadgets you will be using. Once you calculate your daily usage, you should have a pretty clear idea of what kind of solar panel you need.
2. Versatility
Sometimes you don't have everything planned out ahead, and that's perfectly fine. If there's a time and a place to relax and let yourself be spontaneous, it's when you're camping. So, you might not be able to calculate your daily usage in advance, or you may not need a bulky, large, powerful panel if you're just planning to go out and have a few days in the woods.
When all you have is a small tent and a backpack, you're going to want a small and versatile panel, giving you options in terms of devices you can charge, and places you can set the panel up. Most manufacturers know that some campers are highly mobile, so they have created lightweight solutions, allowing you to pack them into your backpack easily, or even hang them from your bag to charge your phone while walking to your next camping spot.
3. Technology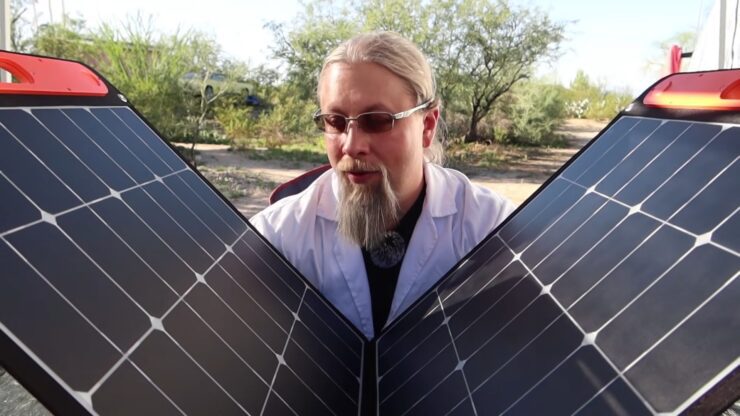 Another critical factor to pay attention to when looking for a camping solar panel is the types of connections and outputs you're going to need your solar panel to have. If you need to recharge your phone and tablet, a panel with USB jacks will be excellent, but if you need to power more hefty appliances, you're going to need something more substantial.
First, think about what you'll be using the panel for, and then consider whether it can handle the type of device you're looking to power.
Think about whether you need your device to have a power converter, and what kind of tasks do you need that converter to perform. Is it enough for it to just switch the power from DC to AC, or do you need one with an LCD screen telling you some other relevant information?
4. Efficiency
Of course, perhaps most importantly, you need to consider the amount of power your intended solar panel can produce compared to your needs as well as the panel's size and portability.
A tiny 7W panel will be enough to keep your phone or iPod charged, and a 15 – 25W solution will be enough to charge a couple of phones at the same time, or power a tablet. If you want to have a laptop, radio or even TV running, you're going to need a more substantial solution.
Something between 100 and 150W should do the trick there. Once you move into the territory of camping gear like portable fridges and cooking stoves, you should be looking at something quite a bit more robust, providing 300+W. All of this is proportionate to the size and portability of the panels, of course, as well as their price, so think carefully.
Important Features to Look for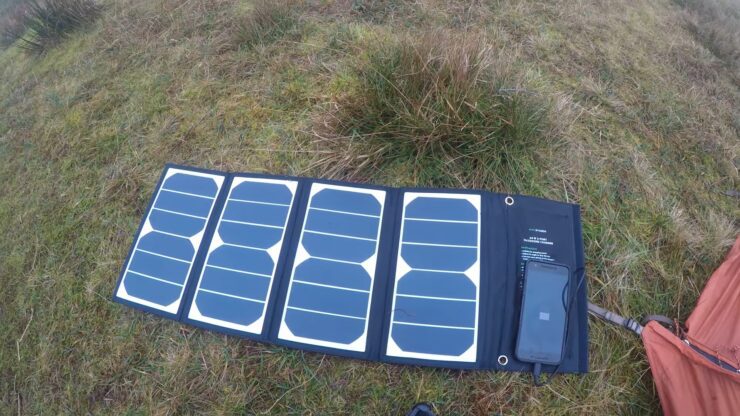 1. Power
Smaller panels, like the ones used to charge tablets and smartphones, usually provide anywhere between 2 and 25W per day, depending on the condition. The power delivery of a panel depends on its size, the type of solar cells used, and the overall quality of the design.
A slightly larger panel might be able to put out between 50 and 100W every day, and if you have larger things you need to be charged, like laptops, you'll need something like that. the more direct sunlight you can get to your panel – the more power you'll get out of it.
2. Size and Weight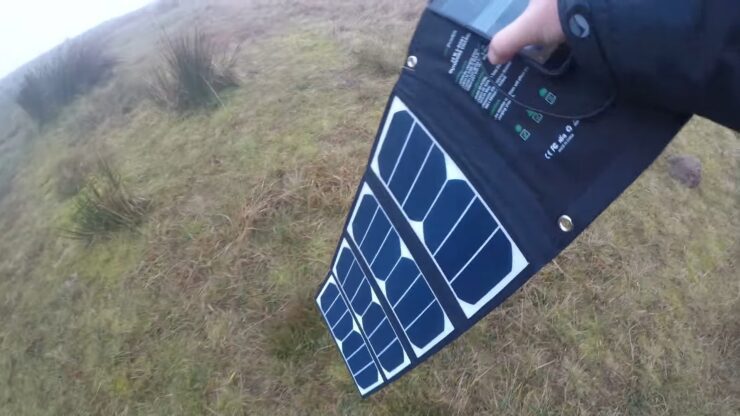 This feature depends on the available space on the roof of your camping trailer. The average trailer is about 2.5 – 3 meters wide and 6 – 9 meters long. This gives you enough space to mount 6 – 8 flexible 100W panels on the roof. The second thing to consider is how much power you need.
Take into account all of the equipment you plan to power with your roof-mounted panels and calculate how many flexible panels you need to cover those needs. The answer to your question lies in the balance between those factors.
3. Flexibility
The main feature customers are looking for in solar panels while camping is its flexibility. Consider looking for products that are bendable and lightweight if you are going on a short camping trip.
If they're bendable, they can be installed on curved surfaces, such as the curved roofs of camp trailers. Although flexibility depends on the type of panels. You can buy thin-film models that are more flexible, and can sometimes even be rolled up.
4. Ease of Use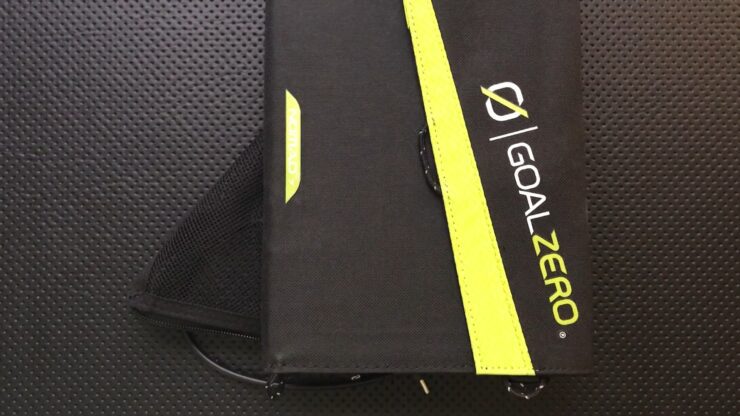 When selecting solar panels for camping you need to choose products that are easy to use and portable. The last thing you need is messing with complicated gadgets, that is why the list we selected in this buying guide is great for all the campers.
Most models have the basic functionality of charging your smartphone, tablet, camera, and other devices. If you usually go camping in an RV we recommend Renogy 100 Watt Eclipse as it is the best choice when it comes to usability.
Camping Solar Panels Installation
You're not going to get much use out of your solar panels if you don't know how to set them up properly. Of course, some types of camping solar panels are more comfortable to set up than others, so you're probably not going to need any instructions for portable solar chargers.
They are pretty intuitive – all you need to do is open them up and put them on the ground where there are a lot of sun, or hang them from your tent or backpack while walking.
Once you've done that, you can use the USB outputs to connect your electronic devices or power banks and charge them. If you need to charge a 12V battery, though, and you have a folding suitcase-style panel, the process is a bit trickier, and you should be more careful with handling this type of equipment.
Even though these panels are still relatively small, they can pack a punch, so to keep things safe, connect the wires to the battery first, before opening the panel and setting it up in the desired location. Always put your batteries in a dry and safe place – most of these solar panel kits have long charging cables, so your battery doesn't have to sit in the sun with the panel.
Use the alligator clips provided with the charge controller to connect the solar kit to your battery, taking polarity into account. Never connect the positive and negative leads as that will cause a short circuit and likely damage your battery or panel.
FAQ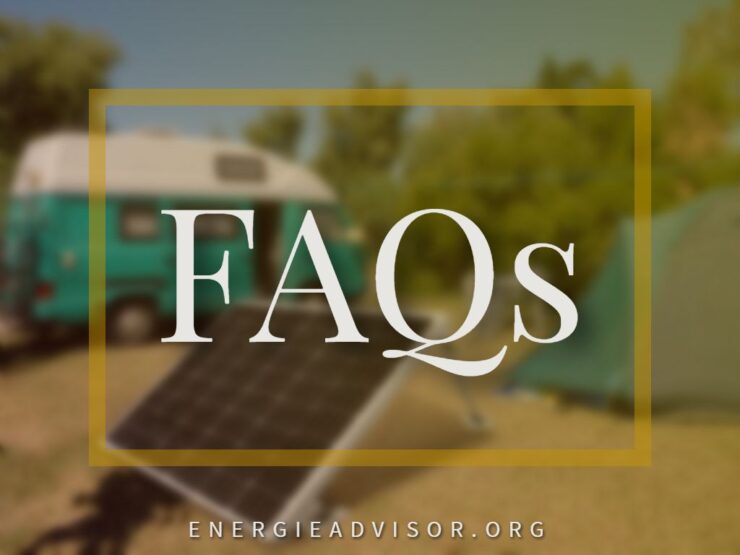 Q1: Will My Camping Solar Panel Work in Cloudy Weather?
Bright and sunny weather is best for all solar panels, camping, and portable ones included. This is a fact that isn't going to change any time soon, so it is always your best bet to look for a sunny patch or simply go camping in sunny weather.
That said, many portable and fixed solar panels will perform on a satisfactory level in cloudy conditions. They will most certainly produce electricity at a slower rate, and how much slower depends on the level of cloud coverage. If the sky is grey, solar panels can produce about 25% of their total charging output on average.
Q2: What Kind of Power Output Do I Need From My Camping Solar Panel?
There's no right answer to this question, as it all depends on the kind of devices you plan to power and how much electricity you're going to require. For a short trip, you may only need enough power to charge your smartphone, cell phone, or tablet a couple of times.
In this case, solar power banks will be an excellent tool, and you're not likely to need anything more significant. If you plan to go on a more extended trip and want to keep your small appliances powered on for days, you're going to need a more robust portable power station.
Q3: What Camping Equipment Can I Power With Solar Panels?
The most common way people use portable solar panels when camping is to power their 12V compressor fridges, air compressors, camping lights, and inverters, which they use to power televisions and laptops.
If you plan to use your solar panels to power lights, you're going to need a battery, as the lights are going to be useless during the day, and the solar panels aren't going to provide power at night. It is also preferable to use LED lights since their power draw is a lot lower compared to halogen or fluorescent lights.
Conclusion
In this buying guide, we've presented you with some of the best camping solar panels available today. The products listed are made by well-known and reliable brands, and they feature the best performance specifications on the market.
If you do a lot of camping and enjoy spending time outdoors but still like to have the convenience of electricity, solar panels are the way to go. Whether you need a small portable charger or a bonafide mobile power station depends on your needs, but one thing is for sure – solar is the most reliable and eco-friendly source of power when you're out and about.