Solar energy is one of the cleanest and most reliable sources of power. Therefore, it is no surprise that it is becoming a more popular option each day. As this type of energy becomes more widespread, installing solar panels is turning into a typical home improvement project.
Many homeowners have been turning to solar panels to save energy and reduce their grid dependency lately. This type of energy is more accessible than ever, with the option of ordering panels through the internet and having them shipped right to your doorstep.
The California-based company Renogy is one of the fastest-growing solar panel manufacturers out there, making some of the most popular DIY solar kits. Many customers choose this company's products as their entry point into the world of solar energy.
Renogy products are generally known for their value, offering reliable performance at an affordable price. In this review, we will focus on their five most popular options, giving you an overview of each one.
Top Picks Renogy Solar Panels
1. Renogy 160 Watt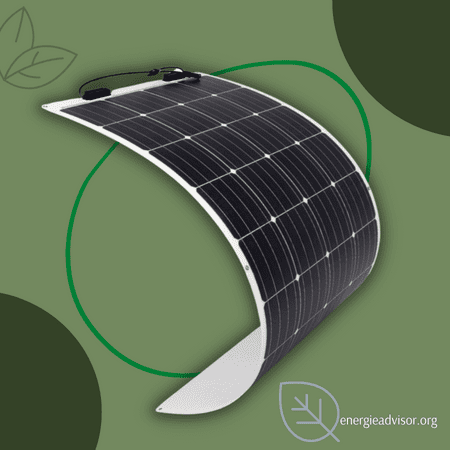 Flexible panels are still a relatively new addition to the scene. Coupled with their higher cost, this makes most customers, as well as manufacturers, steer clear of them and go for more conventional options. However, as we've stated before, we think this is the best flexible solar panel on the market today.
Renogy has undoubtedly made a good case for flexible panels with this one. First off, it has an astounding level of flexibility – up to 248 degrees, and the flexible monocrystalline cells are on another level in terms of efficiency compared to other similar products.
This 12V, 160W flexible panel is perfect if you want to be able to generate power off-grid frequently, without having to handle lots of weight. As we mentioned, this panel sports a 12V rating, making it compatible with devices and batteries operating at this voltage. The MC4 connectors allow the panel to hook up to a variety of inverters or charge controllers.
Needless to say, it works best with Renogy's mini power stations and can recharge them in a matter of hours. In terms of durability, the fact that this is a flexible panel count as a considerable advantage. Contrary to traditional panels, flexible ones don't have a glass front side, thus eliminating the problem of fragility and making them super-durable.
Highlights:
Durability
Compatibility
Ease of use
2. Renogy 100 Watts 12 Volts Monocrystalline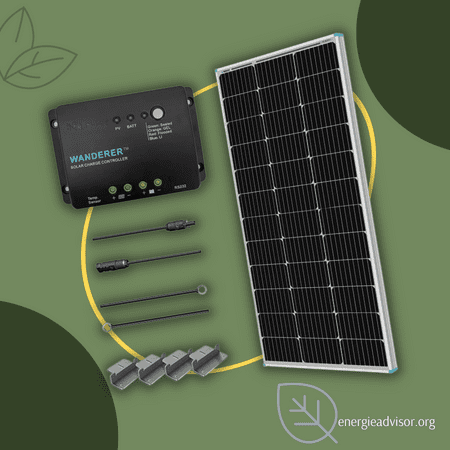 As we mentioned, this looks like your run-of-the-mill solar panel until you take a look at the details and just how much care was put into designing it. First of all, the panel has a lovely habit of putting out more than 100W in the right conditions.
The meticulous attention to detail put into this panel is what grants it a place on yet another one of our lists. We talked about this mid-range panel before, when we named it the best RV solar panel, and we still stand by that statement enthusiastically.
The monocrystalline cells inside this panel are capable of performing on a wide range of radiation levels, and we would call them nothing short of top quality. The panel is highly durable as well, thanks to its tempered glass and stainless aluminum frame. There are MC4 connectors fitted to the wires for ease of use.
There are a total of 36 series-connected cells, providing 100W suitable for any 12V-rated device. Also, the panel is not massive, weighing in at just under 20 pounds, so it's relatively easy to handle. If you're looking for a portable, yet efficient and robust solar panel for your RV or home, this 12V, 100W monocrystalline Renogy is the right choice.
Highlights:
Great build quality
Guaranteed positive tolerance
Portability
3. Renogy 10 Pieces 300-Watt 24 Volt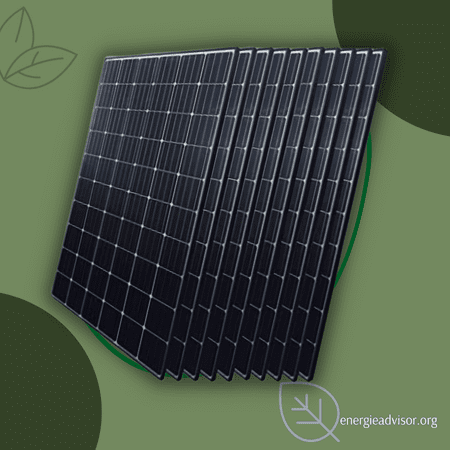 This 300W, 24V panel is an upgraded model, built to replace the 280W panel that Renogy used to make. If you'd like your home to move from grid-dependent to energy-producing, this is the way to go. These panels are made with residential applications in mind, and most are intended to be used in multi-panel arrays for grid-tied applications.
If you're looking for a solar solution for your home, you can't go wrong with a selection of 60-cell 300W Renogy monocrystalline panels. We recommend the 10-piece bundle, as we've previously named it the best way to get solar power into your home.
Previous customers had lots of praise for these panels, sharing their good experiences with the product. They didn't seem to have experienced any issues with mounting and installation, and most pointed out that assembly was easy and straightforward.
When it comes to durability, you can expect great results. Renogy is offering a 10-year craft and material warranty, as well as a guarantee on efficiency divided into three tiers – a 25-year/80% rate, a 10-year/90% rate, and a 5-year/95% efficiency rate which is quite remarkable.
Highlights:
Excellent value for money
Great DIY option
Efficiency rate warranty
Material and workmanship warranty
4. Renogy 400W Monocrystalline Solar RV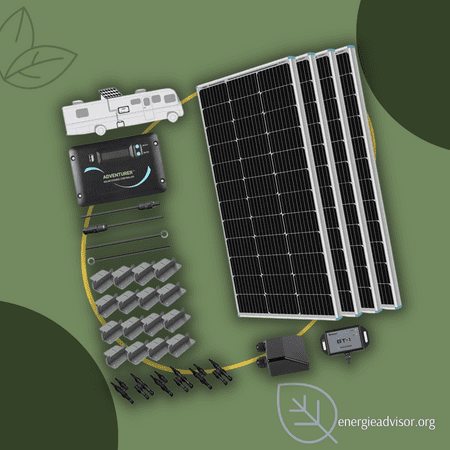 This kit has everything you need to get your RV set up with solar energy. Also, it makes sense that, if you're looking for a solar kit for your RV, you will go with one designed with that specific purpose in mind. It comes equipped with four 100W monocrystalline solar panels, which we have already named our favorite RV solar panel in a previous Buyer's Guide.
You can use most solar panels in a variety of scenarios. Install them in your RV, your boat, your home, etc. and they will perform their purpose of drawing power from the sun. If you are looking for a solar kit explicitly designed with RVs in mind, however, you must take a closer look at this 400W RV kit from Renogy.
Unsurprisingly, this kit also includes a charge controller. More specifically, a 30A PWM Controller, as well as a Renogy Bluetooth module and all the necessary equipment like cables and connectors, to get the system running without hassle.
As a bonus, the kit includes Cable Housing, which works perfectly when you're doing a roof setup. It is designed to protect your cables from water and UV radiation. This is not a cheap kit, but it is the only purchase you'll ever need to make if you decide to go in this direction.
Highlights:
Bluetooth module and PWM charge controller included
Cable Entry Housing
Four Renogy solar panels
All-in-one solar kit
5. Renogy 100-Watt Eclipse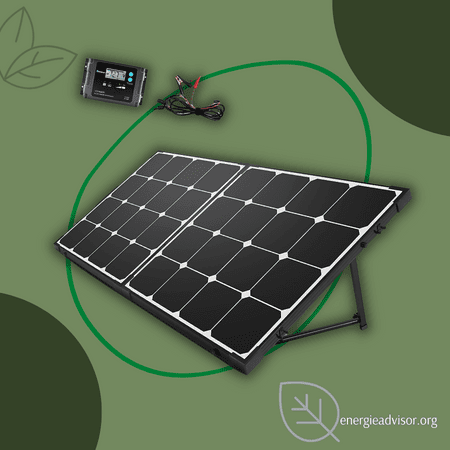 It also includes an Adventurer Charge Controller rated at 30A, with an LCD displaying all the essential information. There's a 10ft tray cable included, along with alligator clips allowing for easy connection to a battery, as well as a protective casing, battery voltage sensor, and a temperature sensor.
This lightweight and portable solar suitcase are one of the best solutions for your camping energy needs. It includes two monocrystalline solar panels with a combined output of 100W, with 50W provided by each panel.
The efficiency and power output of this kit is way higher than you would expect from something so small and lightweight. This is because the Eclipse solar panels use the most efficient cells, thus increasing output and reducing the weight and size of the panels significantly.
The convenience of this kit doesn't end there, however. It is equipped with robust foul-out legs, allowing for a tilt at varying degrees, as well as a carrying handle making the kit extra portable and suitable for camping. All of this, combined with the industry-grade latches on the suitcase, will make this portable kit your best friend out in the wild.
Highlights:
Ease of connection
Highly efficient solar cells
Aluminum fold-out stand
Temperature sensor
Battery voltage sensor
Why Choose Renogy?
Renogy is a Canada-based renewable energy company, which has risen through the ranks of solar panel manufacturers very quickly in recent years. They have made a mark in this industry in a short period since the company's foundation in 2010.
Unlike other companies, Renogy offers a wide range of solar panel kits for various applications. Their panels and packages can be used on RVs, boats, rural settings, or residential homes with equal success.
The most significant advantage Renogy has over its competition is the fact that this company offers kits directly to consumers. This means you can purchase their panels and try to set them up yourself.
Things to Consider When Buying Renogy Solar Panels
Renogy solar panels come in all shapes and sizes, ranging from small 10W panels to massive 320W behemoths. We've compared and reviewed many solar panels on the market today, so what do we think are the key indicators that you should look at when purchasing a Renogy solar panel?
1. Warranty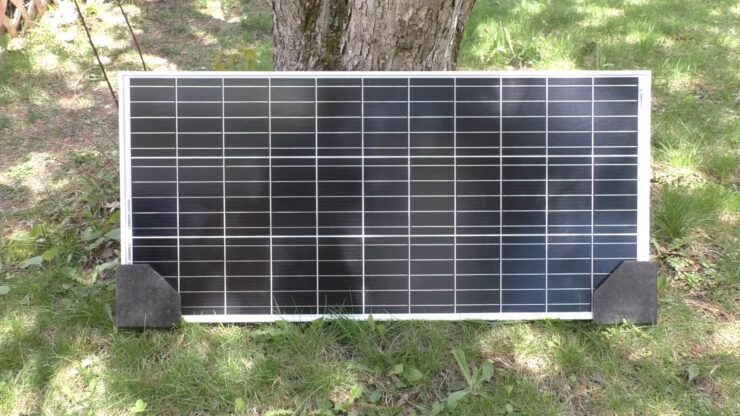 The first thing that makes Renogy panels stand out is their active warranty. Whatever it is you're looking to buy, whether it is a car, TV, or solar panel, it's always encouraging when a manufacturer is prepared to stand by their product and offer a lasting guarantee of its quality.
When it comes to solar panels specifically, manufacturers usually provide what's called an equipment, materials, or workmanship warranty.
This type of warranty states that the manufacturer guarantees that they will replace your product if it fails to perform as a result of environmental issues or manufacturing defects. This is where Renogy stands out from the competition because they also offer what is called an efficiency warranty, which states that your product must perform at a certain level of efficiency.
2. Temperature Coefficient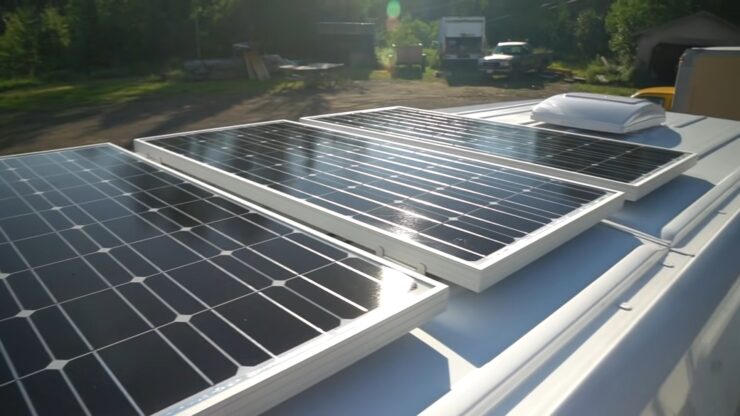 This metric is used to evaluate the performance of a solar panel. It is an indicator of how adaptable your panel is to adverse or less-than-ideal weather conditions. As is the case with any electronic equipment, solar panels perform better when they are cool.
The ideal temperature for most is around room temp, or 77 degrees Fahrenheit. What the temperature coefficient tells us is how much a panel's performance will be affected by a deviation from that temperature.
If a solar panel has a temperature coefficient of -0.5%/C, that means that its electricity output will decrease by 0.5% with every degree Celsius it deviates from its ideal temperature. All Renogy panels do rather well in this regard, considering their price, with a -0.44%/C average temperature coefficient.
3. Efficiency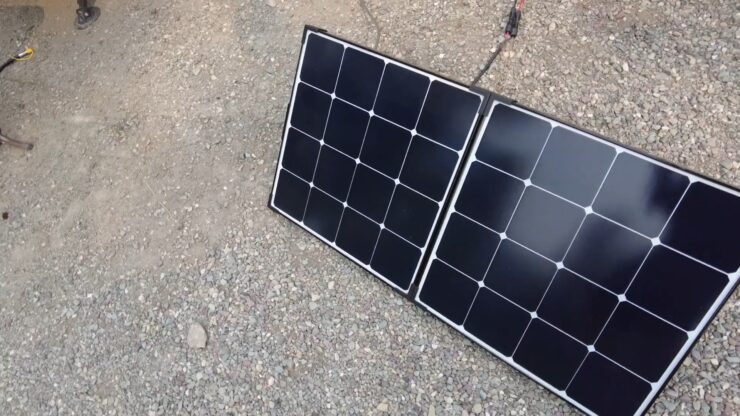 The efficiency of a solar panel refers to the panel's ability to capture sunlight and convert it into electricity you can use. A highly efficient solar panel will produce more power in the same conditions as a lower-efficiency one.
When it comes to Renogyy solar panels, their efficiency is variable depending on the model, ranging from 15.3% to 18.5%. This puts them in the middle of the scale when compared to other manufacturers.
Conclusion
Hopefully, this review has given you some insight into the Renogy solar panel range. This manufacturer occupies an interesting position in the market of solar energy, maintaining low prices while keeping the quality of its products above average.
Whether you're looking to get off the grid completely, reduce your electricity bills, or conquer the open road with your RV, the chances are that there's a Renogy solar panel for you. Take a closer look at each product individually before taking the plunge, and feel free to check out our other lists, solar panel reviews, and buyer's guides.