If you are thinking about installing an affordable but quite effective home security system, you may consider buying solar-powered motion lights. There's no doubt they will do the work tremendously, given that you will be warned every time someone comes close to your house or steps in your front and back yard.
But also, you will get this service every single day for pretty much zero cost, since these lights will work solely on the electricity provided by the solar panels and the sun.
This is the ideal lighting setup for your home since you will get illumination whenever you need it. There's no reason for the lights to work all the time – that way, they spend too much energy, and they will not have that surprising, alarming effect when someone comes to your doorstep.
Comparison Table:
These lights are ideal for dark spots on your property, for patio, driveway, front porch, sheds, garden paths, etc. That's why we presented you with a top ten list of best solar-powered motion security lights you can find in the market at this moment.
Top Picks Solar Motion Sensor Lights
1. Sunforce Solar Motion Security Light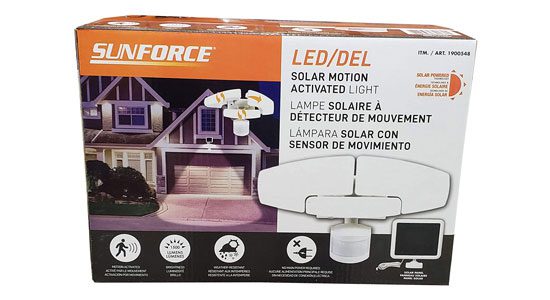 Highlights:
Adjustable heads
1500 Lumens output
Weather-resistant
30 feet motion detection range
Easy to mount
This is a super affordable, elegantly designed, and very efficient solar motion light you can install in your entryways, backyard, garage, shed or any remote area. Thanks to the fact it does not need electricity, only a solar panel that comes in a package, this light is portable and can be useful to you in many situations.
It has a 1500 Lumen output, so the illuminated area will be very bright, and it comes with three adjustable light heads that can move up, down, and horizontally in order to provide better lighting coverage. The sensor will detect motion in a 30 feet and 180 degrees range, so you will be fully covered, and with enough time to prepare for guests that are coming to your doorstep.
This light is designed so it can be attached to any sort of surface, and it's super easy to mount. It is fully weather-resistant, so rain, snow, storm, or any other conditions shouldn't damage it or make it work with lower capacity. The solar panel is amorphous, and it will charge in all daylight conditions, it doesn't have to be exposed to direct sunlight.
The Sunforce solar motion light will turn on when the motion is detected, and it will shine with 150 bright white LEDs. You will be able to adjust two things on it – the detection distance, and light duration.
2. Ameritop Solar Lights for Outdoor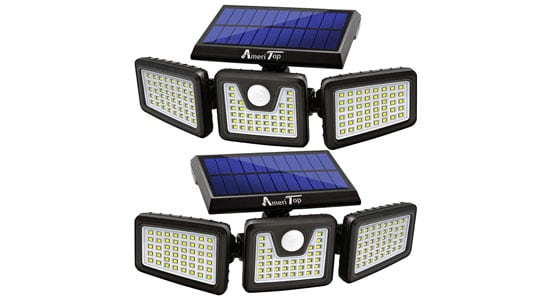 Highlights:
Wide-angle light
Movable light heads
Water-resistant
800 Lumens output
Easy to install
For little less than 40 dollars, you can get two of these outdoor solar motion sensor lights that can make your front and back yard extremely bright. It is designed with three light heads and one solar panel attached above them, and it can provide you with 800 Lumens output, and 120 degrees detection range.
The solar panel itself has a tremendous photocell efficiency, and it can convert sunlight into electricity even during the winter days. This light has a wide-angle motion detector, and it will notice any movement up to 32 feet. It will be constant off during the day, while the panel is charging, and it will work only at night when there's some sort of movement happening close by.
Now, if it's just a stranger passing by, the lights will shut off after 60 seconds, but if it's someone who remains in your driveway or front way path for longer than that, the light will stay on, of course. Given there are three lighting heads, they can all change positions horizontally, up or down, depending on what you need them for and how big of an area you want to illuminate is.
We are talking about a light that's easy to install on any sort of a wall or some other higher surface, and it's weather and water-resistant, so you won't have to worry about rain or snow damaging it. It's made of durable and strong ABS material, and you won't need any sort of wires or adapters in order to make it work. It comes with a rechargeable lithium-ion battery, and it can be used anywhere outside.
3. Litom Outdoor 30 LEDs Lights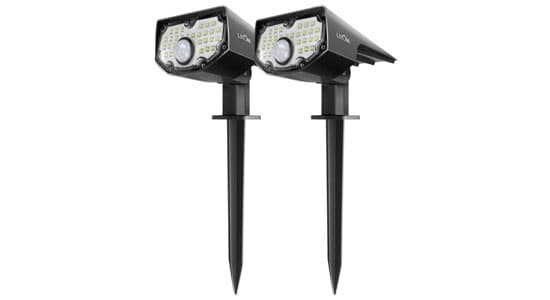 Highlights:
Two mounting options
Three modes of settings
Durable
Water-resistant
800 Lumens output
If you are looking for a sunforce solar motion security light, here is what we got for you. This is a package of two ground-based solar lights that work only on the power provided by the sun, with a design that will allow you to replace them whenever and wherever you want.
They have a lighting head that can be slightly adjusted, and a spike you can push into the ground, so the installation is very quick and easy. They can provide you with 800 Lumens output, and the solar panel is installed at the top part, so you need to place the lights under direct sunlight.
They feature a PIR motion sensor that has high accuracy and wide angle of 120 degrees range. Also, these lights come with innovative waterproof technology. They are made from high-quality ABS material and have great impact resistance. The best thing about them is that they can be mounted on a wall as well, besides being inserted into the ground, so you can cover your entire property with them.
These lights have three different modes, as well as a long-lasting rechargeable lithium-ion battery of 2200 mAh that can provide with more than 150 times sensing uses after a whole day of charging. The light will stay on for 30 seconds when the motion is detected, but it will be prolonged if the person stays in the sensor's range. These motion solar lights are super durable.
4. Leclstar 128 LED Outdoor Solar Lights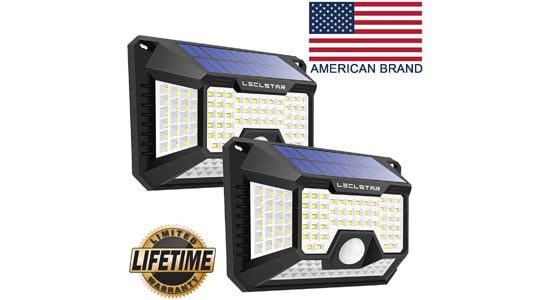 Highlights:
Very durable
Affordable
1200 Lumens output
Waterproof
Lifetime warranty
One of the best solar motion security lights is this one made by Leclstar, and has a pretty good price since you will be able to get two of these for only 25 dollars. This light has a classic spotlight design, and it comes with 128 super bright LED beds.
With the output of 1200 Lumens, you will be in a position to illuminate your entire property, front or back yard and garden, by simply mounting it high on a house wall. The installation process is very simple, you will need to attach just two screws. There are no adapters and wires, just a light with a solar panel on the top.
The light is made to last, from durable ABS plastic. It's waterproof, and it can withstand all sorts of weather conditions, which means it will work perfectly during the winter too when you can expect a lot of snow, sleet, and rain.
This is an ideal security system since it will warn you whenever someone approaches your house. The motion sensor will detect every move up to 16 feet far and in 120 degrees range. The manufacturer will give you a 265-day money-back guarantee and, on top of that, a lifetime warranty.
5. Westinghouse 2000 Lumens Flood Lights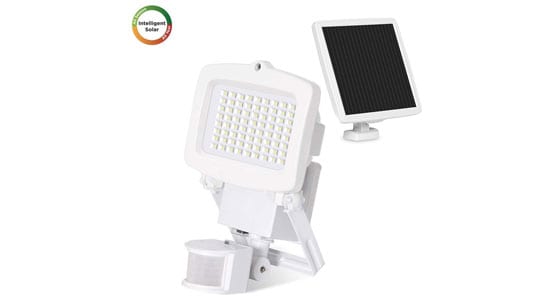 Highlights:
Elegant design
Three settings
Durable
Waterproof
2000 Lumens output
This is a very elegant, white solar-powered security light with a motion sensor installed. It is designed to be used for garden, garage, front door, or back yard illumination. There are two parts – one is the light itself, and the other is a solar panel that needs to be connected to it so that the LEDs can work on the power provided by the sun.
This light will deliver 2000 Lumens output, so the area under it will be all bright and shiny – a perfect security tool. It's portable and light, so you can shift it from one place to another very easily. The installation process is quick and pretty simple too.
Given that the light comes with a 4000 mAh rechargeable lithium-ion battery, the charging time will be quick and running hours long. The light works on a motion sensor, it turns on where there's a certain movement, but you can choose one of three settings – 30, 60 or 90s of working time.
The system is adjusted in a way that the light will charge during the day and work only during night hours when needed – when the motion is detected. It is waterproof and weather-resistant, so you will be able to use it during the entire year.
6. Home Zone Security Solar Motion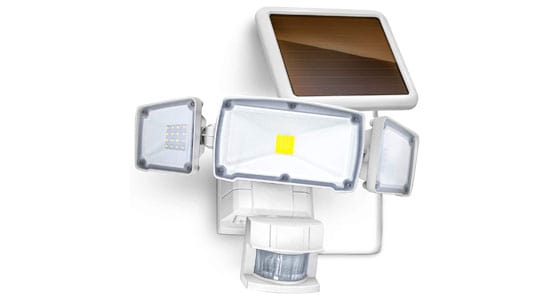 Highlights:
1500 Lumens output
Adjustable
180 degrees range
Durable
High-quality made
Here is another great motion-activated solar light you can use at your home as a lighting and security system, or any other place you believe you need it. We are talking about super-powerful light that will give you a 1500 Lumens output, and high-intensity illumination.
Thanks to the fact there is a motion sensor that will detect everything within a 30 feet and 180 degrees range, you will be warned whenever someone even comes close to your property. The light has three heads that are adjustable, so you can set their angle as you wish.
This light works solely on the power of a solar panel that needs to be attached close to it, and you need to make sure it is exposed to direct sunlight so it can charge properly. Everything is super easy to install, and you will also get a rechargeable battery where the converted energy will be stored.
You will be able to customize this light of yours, more precisely, its motion sensor sensitivity and timer that will keep the light on for 30, 60, or 120 seconds when the motion is detected. It's a very affordable, durable, and extremely efficient product you won't regret purchasing.
7. Jackyled LED Solar Powered Flood Lights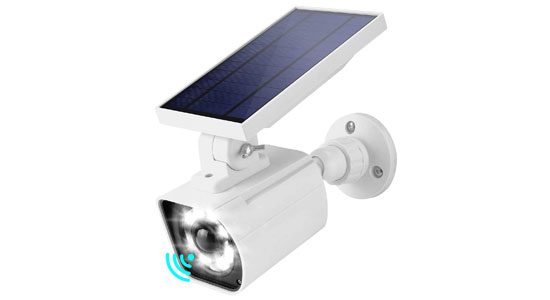 Highlights:
Three working modes
Waterproof and heat resistant
360 degrees rotatable base
Adjustable head
Super sensitive motion sensor
Your pursuit of solar motion lights can now end because we found you another great product that will satisfy all your needs. It is a light that can be mounted on the wall and has a solar panel installed on top of it. And, given that we are talking about light with a motion detector, you will be pleased to hear that there are three modes you can choose to set up.
The light can also be adjusted, its angle to be more precise, so you can cover some specific area in front of your house or the back yard. It is a very important option for the sake of solar panels, too, because you can adjust it the way it has better exposure to the sunlight.
The base of the light will allow you to rotate it 360 degrees, while the solar panel has only 120 degrees adjustable angle. Every piece is waterproof, frost resistant and heat resistant, so you can install the light once and use it all the time without worrying it might stop working.
The 2200 mAh rechargeable battery that comes in a package will provide you with great light performance since the charging time will be shorter than usual. On a bright sunny day, it will take only six hours for the battery to become fully charged. And thanks to the super-sensitive motion sensor, it will detect any movement up to 26 feet.
8. Ring Solar Pathlight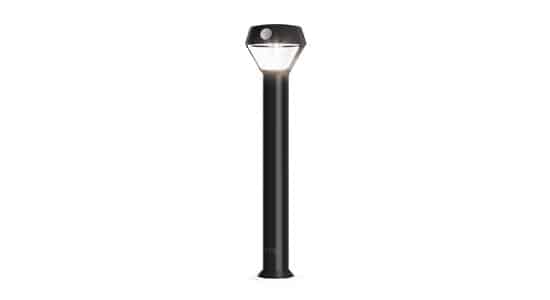 Highlights:
80 Lumens output
Easy to install
Works with Alexa
Ring Bridge controlled
Affordable
Solar motion detector lights can come in many different shapes. This one is in the form of a stick, and it is ideal for pathways and walkways since it will illuminate the area you are walking by. It is not as strong as some of the previously mentioned lights since it has only 80 Lumens output, but it does have a motion detector, and it is pretty affordable.
It works solely on the power of the sun, so it needs to be placed under direct sunlight so that the solar panel positioned at the top can do its job properly. It is very easy to set up and install, and you can even connect it to a Ring Bridge so you can give it all the directives via smartphone.
That way, you will be able to set schedules and timers, get notifications when motion is detected, customize settings, turn the light on or off, etc., all from your phone, from wherever you are.
Purchasing these lights will be a great decision, given that you will be investing in a quite reliable and effective home security system too. You can pair the lights with the Ring cameras and doorbell, and you will be fully covered. This light works with Alexa too.
9. Ring Solar Floodlight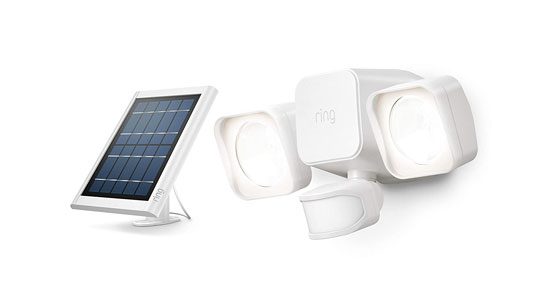 Highlights:
High-quality made
1200 Lumens output
Adjustable light heads
Compatible with Ring Bridge
Works with Alexa
The market is full of solar motion floodlights, but not all of them are high-quality, made, and reliable as this one. We present you with the Ring floodlight that fully operates on the power of the sun, provided by the solar panel that comes in a package.
It will provide you with 1200 Lumens output, so it will illuminate your driveway, or front door area brightly, but only when that's needed, when a motion of any kind is detected. This light is high-quality made, it has a beautiful modern design and adjustable light heads.
It can be even paired with a Ring Bridge application that will provide you with the possibility of controlling the light via mobile phone. You will be in a position to customize all the settings, turn the light on or off from far away, and receive notifications when there is a motion on your property.
The solar panel that comes in a package needs to be placed under direct sunlight so that light can be charged and ready to work each day. This light is very easy to set up and install, it works with Alexa, and it comes with a one-year warranty.
10. Drawgreen Solar Outdoor 1400 Lumens Spotlight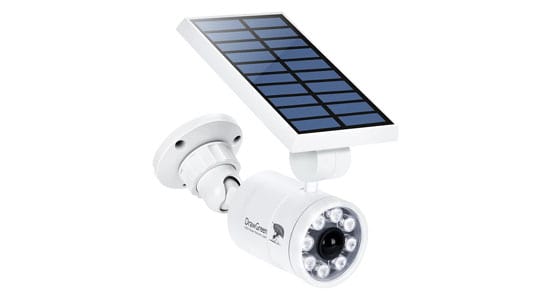 Highlights:
Rotatable base
Adjustable
1400 Lumens output
Two light modes
160 weeks warranty
The last product on our list of solar-powered motion sensor lights is this outstanding DrawGreen outdoor spotlight that can be easily mounted on any wall of your house. We are talking about light with an optics-grade PMMA lens that will give you 1400 Lumens output, which is enough to brightly shine your entire front or back yard.
It is high-quality and made from aluminum alloy, so it's very durable. Also, every piece is waterproof, heatproof, and freeze-proof. Thanks to the photocell sensor that's built in, these lights will save energy since they will work only during nighttime, and only when motion is detected.
PIR motion-detecting sensor is super sensitive. It will trigger the lights sensor whenever there's movement up to 26 feet away, and in a range of 120 degrees. The great thing is that the base of the light is fully rotatable, so you can point it in any direction, and the solar panel is attached to it, so it will follow the light too.
After the motion is detected, the bright light will start shining, but after that, dim lights will take over, which will be a more pleasant experience for the eyes. The manufacturer is offering a 160 weeks warranty period and a 100 percent replacement warranty in case there's some problem with the lights.
Finding the Best Solar Motion Lights – Buying Guide
In order to find and buy the best possible solar motion light, you need to know what you want. Is the idea to place it high above pathways so you can see and detect when someone is approaching your front door, or do you want a ground base lights that will simply turn on and illuminate the area you need to walk by at night. These are the things you should pay attention to as well.
Things to Consider When Choosing a Solar System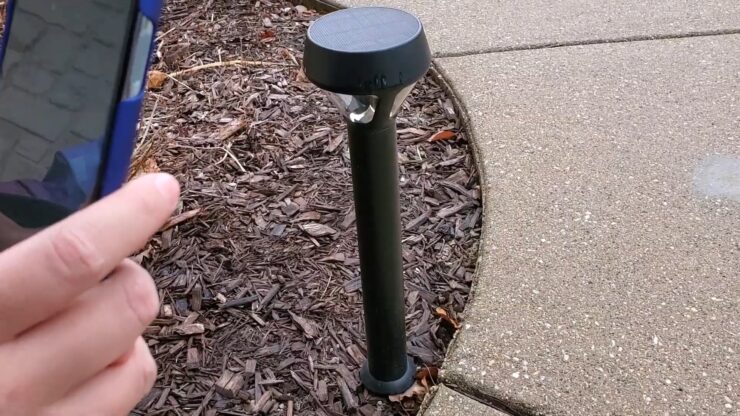 1. Usage
The main idea of having solar-powered outdoor lights that also feature motion detection is to provide yourself with a solid home security system. With this sort of light, you will be warned when someone steps in your property. But other than that, these lights can simply provide you with illumination, and they are great energy savers since they will work only during the night, and only when some motion is detected, not all the time.
So before you start searching for the best option, you should evaluate these reasons and decide which one is driving and motivating you. Solar-powered motion lights can be very practical for use, but if you are living in fear of somebody breaking in, they are not a good solution for you because you will be super tense whenever the lights turn on. And that will probably be just a random passenger on the street.
2. Placement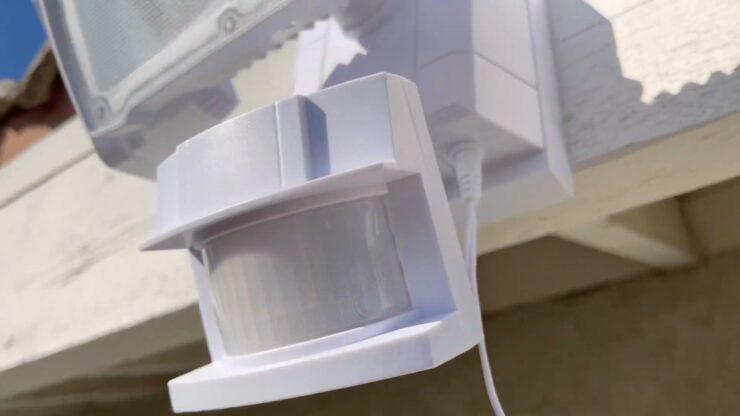 Sunforce solar motion security lights are usually designed to be mounted high above the ground, on a wall or some other firm surface, because that way, they can illuminate a huge area. People mostly place them on their house, so that they can detect the motion and brighten the front door sector, the garden, the entire backyard, the driveway, etc. Other than that, you can find solar powered motion lights that look like classical pathway lights – with sticks that can be pushed into the ground.
They are a good solution, too, especially if you want them to warn you and turn on when someone is approaching your house unmistakably. If you went through our list, you could see that there are also those lights that can be placed and mounted in two different ways. They are especially popular because you never know what you will need them for in the future, and this way, you will always have options.
3. Solar Panel
Solar panels are an essential part of lights of this kind since they are the ones that will provide the power and electricity lights need in order to work. There is no other source of energy they can use, only the sun, and only through solar panels. So before purchasing solar motion sensor light, make sure to check the quality of the solar panel. In most cases, solar panels will come as a separate part of the equipment, as the individual item that needs to be connected to the light with a cord.
The manufacturer will say if you need to place them under the direct sunlight so they can charge properly, or is it okay if they stay in the shade sometimes. But solar panels can be integrated into the light itself, usually on the top of the light, so you will have to think twice before deciding where to place it. You need to make sure the solar cells on the light have good exposure to the sun.
4. Benefits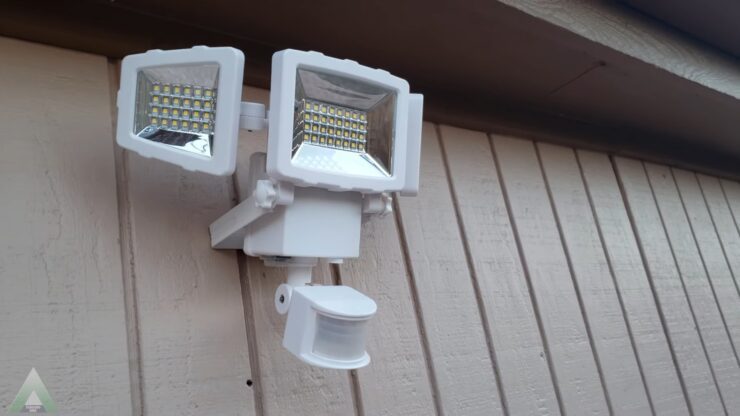 There are so many benefits of using solar-powered motion lights. First of all, you will save a lot of money on electricity because these lights will use only the power of the sun provided through solar panels. Besides that, these lights are great savers since they will not work nonstop during the night, but only when it's needed, when there is some sort of motion detected. The second benefit is the fact you can use these lights as a certain security system.
They will alarm you when somebody is approaching your home. This is the reason most people are buying these sorts of lights – they are a pretty affordable and efficient security tool that will do the job quite well. And of course, the light will provide you with the illumination for your property, which is their main purpose. You will be able to position them wherever you want and replace them later if you wish because they are super easy to set up and install.
Important Features to Look for
1. Motion Sensor Range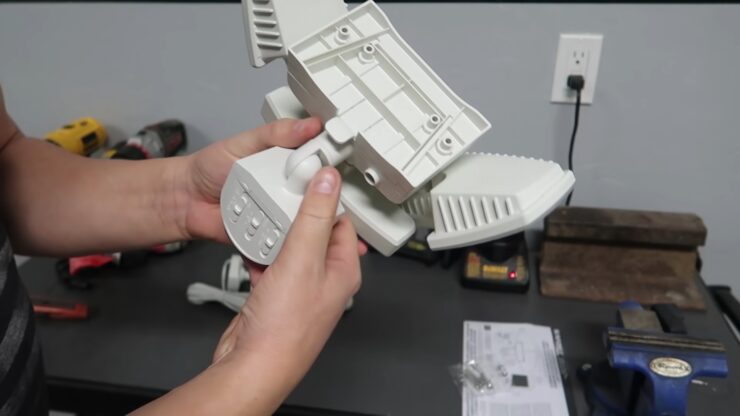 Every light manufacturer will tell you what the motion sensor range is, which means how far it can detect if there is a certain motion is. Usually, their range is up to 25 to 30 feet, and they can register if a person or an animal is walking by.
When the motion is detected, the lights will automatically be turned on and stay that way for some period of time, depending on the light settings (30, 60 or 90 seconds). But it is also important to pay attention to how wide of an angle the light has because it will tell you if it's catching movement in 120, 180 or 360 degrees range.
2. Quality
The quality of the materials the product is made of is always a crucial issue. It needs to be aligned with its price, so you can know what to expect from it. When it comes to these solar-powered motion lights, are mostly made of high-quality ABS plastic that can withstand different weather conditions and a bit of rough usage.
Solar panels also need to be resilient to outdoor conditions since these lights are made to be used outside. Sometimes you can find lights made of aluminum alloy, which is a better material but also more expensive.
3. Weatherproof
Since these lights should illuminate your driveway, your backyard, patio, or pathways, they need to be mounted outside. That means they need to be made from waterproof materials, so that rain or snow cannot affect their work.
Most solar lights with motion sensors are water-resistant or waterproof, and that's a really essential feature to look for. That way, they won't be damaged by the outside conditions. It would be good for them to be heatproof and freeze-proof as well. If you check out the items we enlisted above, you will see that we found several lights with those characteristics.
4. Lumens
Among all other important things the manufacturer will say and explain regarding their solar lights, they will always state what the output of the light, measured in Lumens, is. That number will show you how bright the light can be, and how big of an area it can illuminate properly.
Most lights in our list are somewhere between 800 and 1500 Lumens, which is more than enough for them to perfectly brighten your front or back yard, but there are those with 2000 Lumens as well as those with only 80 Lumens. Depending on what you are looking for, they can be an adequate solution too.
FAQ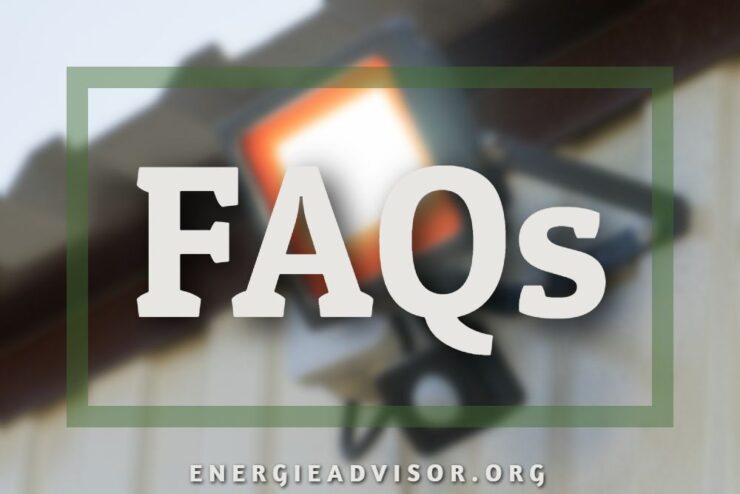 Q1: Is It Difficult to Install Solar-powered Motion Lights?
No, solar motion lights are very easy to install, and the whole process will not take a lot of your time. You will get the manual from the manufacturer where each step is very thoroughly explained, and you will need nothing more than the basic tools to do that.
Depending on what type of light you bought, you will have to place them in the ground or on the wall, and you will not need professional help for that.
Q2: How Much Area Can Solar Motion Detector Lights Cover?
There are two things that will determine how big of an area your lights will cover. The first one is the motion detector range, and it is stated by the manufacturer, and the other thing is the brightness of the lighting bulb.
When it comes to the motion sensor range, it is usually somewhere between 25 and 30 feet, and the power of the bulb can go from 50 to 3000 Lumens, so it's pretty hard to answer this question. We made sure to enlist lights that are suitable for outdoor home use, and their power goes from 8000 to 1500 Lumens, which is more than enough if you ask us.
Q3: How Long Does It Take to Charge a Solar Motion Light?
This depends on the quality and the size of the solar panel that comes as part of the light or as a separate piece in the package.
Usually, in most cases, it will take six to eight hours for the light to become fully charged, but only if the solar panel has been fully exposed to the sun. But if the panel is placed in the shade, it will take much more time to provide the same result.
Q4: How Long Do Solar Motion Lights Last?
The average lifespan of a solar motion light is three to five years, according to some research. But you shouldn't rely on that information because it depends on the materials the light is made of, and the quality of the battery that's built-in.
Usually, the battery in these lights will need to be replaced after three to four years, while the LED lights can last for a decade.
Q5: Do Solar Motion Lights Work During Winter?
Solar motion lights will work during the winter days as long as you place the solar panel the way it can receive as much sunlight during the day as it's possible. Solar panels can generate electricity from the sun, even on a cloudy day.
But this also depends on the quality of the solar panel. Those with good solar cells will probably cost some more, but it is an investment that will pay off looking long term.
Conclusion
We salute your decision to purchase a solar motion light – there is more than one reason we believe it is a good investment, and we mentioned some of the above. Now, the next step is to inform yourself a bit about the subject and find out what features you should be looking for in a product like this.
We believe we answered most of the questions that may pop out during your research, so make sure to read the lines above. You will most definitely enjoy your outdoor lighting based on motion detection because it will illuminate your property when you need it to, and also, it will warn you when someone steps into your yard and starts approaching your home.