Watches have been around for hundreds of years, but we didn't see the first solar watches until much more recently. This relatively new technology was first introduced in the 1970s and provided a way for people to have a reliable timepiece that didn't require battery replacement. It also offered an alternative for momentum-based watches that could be kept running only through the movement of your wrist.
The ability of these solar watches to be powered through sunlight exposure makes them more ecologically conscious as well as more convenient than their battery-powered counterparts. This doesn't mean, however, that each watch is created equal.
That's precisely why we've decided to create this list of the fifteen best solar-powered watches available on the market in 2023, and we're going to go through their advantages in detail below. On top of that, we're going to give you a breakdown of some factors and features to look out for when shopping for a solar-powered watch.
Citizen Men's Eco-drive Promaster Diver Watch – Editor's Choice
Casio Men's Pathfinder PAG240 – Best Multiple Features Watch
Seiko SSC143 Stainless Steel – Best Waterproof
Casio Men's Slim Solar Multi-function – Best Under $100
Seiko Japanese-Quartz Watch – Best Women's Solar Watch
G-Shock Rangeman – Best Outdoors 'survival' Watch
G-Shock GW2310 Atomic Solar – Top Solar Atomic Watch
Timex Men's Expedition Ranger – Great For Everyday Wear
Casio Men's Solar Sport Combination – Best For Sports
Seiko SNE331 Sport Solar – Military Look Watch
Citizen Men's Eco-drive Perpetual Chrono – Great Titanium Solar Watch
Pulsar PZ5061x1 – Great Solar Chronograph
Garmin Fenix 6x Pro Solar – Top GPS Solar Watch
Casio Women's LTP-S100D-7BVCF – Lovely Ladies Watch
Casio Men's WS220-1A – Top Pick For Digital Watch
15 Best Solar Watches Reviews
1. Citizen Men's Eco-drive Promaster Diver Watch – Editor's Choice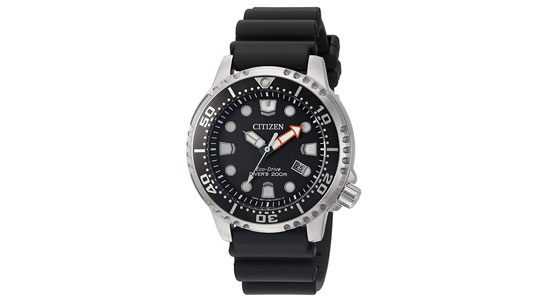 Highlights
Impressive overall design
High-quality finish
Premium look
Certified for a diving depth of 200m
When we first unboxed this watch, the experience of which, by the way, is awe-inspiring at this price point, we were taken aback by the finish-work and overall design of the case. It measures 44 mm in diameter; it is just 11.5 mm thick and has a lug-to-lug distance of 48 mm, which makes it fit most wrists exceptionally comfortably.
The finish is just fantastic too, especially at this price point. The case is entirely brushed and nicely so, except for the inner parts of the grooves in the bezel, the beveled edge of the case back, and the crown. Overall it looks great, and it does feel much more expensive than it is.
The crown is situated at 4 o'clock, featuring a subtle Promaster logo and is, of course, a screw-in crown as this is a diving watch. The crown action is good – nothing to write home about, but it does the job just fine.
Pulling the crown out to the first position gets you to the date-change function, and one step further is, of course, for a time setting, which hacks the second's hand. The watch has got 200 meters of water resistance and is certified to an even higher standard compared to other 200-meter diving watches. The bezel is made of steel with an aluminum inlay, which does mean that it will scratch and fade with time, which is worth keeping in mind.
2. Casio Men's Pathfinder PAG240 – Best Multiple Features Watch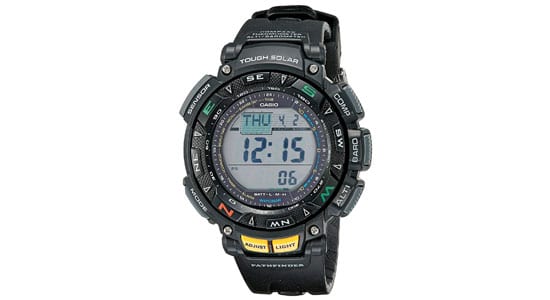 Highlights
Highly accurate compass
Altimeter
Barometric pressure trends
39 different time zones
This is a watch from Casio's ProTrek lineup, and it is a convenient tool if you're somebody that likes to play outside. It features a triple sensor that has an altimeter, it will tell you barometric pressure, and there's also a compass on it. These features, combined with the fact that this watch is solar-powered and you never have to charge it, make for a fantastic product.
The PAG240 has an excellent big display, which is 1 inch in diameter. The screen is effortless to read in any lighting, and it also has a backlight for nighttime viewing. All of the features are viewed by scrolling with the bottom left button. The first thing you'll see is the main screen which has the time, day of the week and date. Next, we have sunrise and sunset data and a recall screen for things like the highest and lowest elevation.
There's a world clock with 39 different time zones, a stopwatch, timer, and an alarm, which will allow you to set up to five daily alerts. The top right button accesses the compass. Once calibrated for magnetic declination, we've found it to be extremely accurate, and it displays measurements in one-degree increments. The watch also has a sliding dial for easy compass navigation.
The bottom right button gives you the temperature, barometric pressure, and a graph that displays trends that are very handy for recognizing drops in pressure, which could indicate an approaching storm.
3. Seiko SSC143 Stainless Steel – Best Waterproof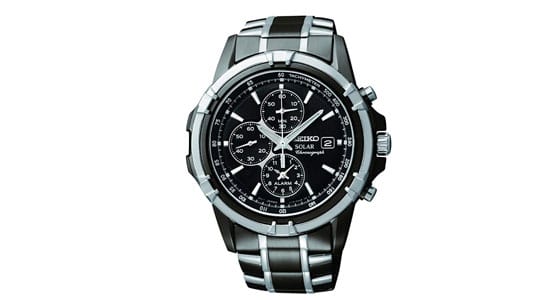 Highlights
Elegant design
Wide range of functions
Waterproof up to 100m
Luminous
The SSC143 from Seiko is sure to get noticed on your wrist, if not for the contrasting two-tone design, then for the sophisticated dial. The cohesive yet macho design which incorporates some technical elements with dressy tones makes this a versatile watch that can look great in just about any circumstance. It is an excellent option for a go-to watch if you don't mind feeling a bit overdressed from time to time.
The exciting design elements begin with the dial, which incorporates three sub-dials at the 6, 9, and 12 o'clock positions. The delicate and shiny silver outline extends against an attractive black dial to create an elegant look.
The date field sitting at the 3 o'clock position may be quite small but it is still more than legible, and the rest of the numerals and lettering on the watch have small yet crisp and legible printing thanks to their white on black coloring scheme. All of this gives the watch a distinct technical feel which we found irresistible.
While the design of the bezel is minimalistic, the outer chapter ring on the dial incorporates a tachymeter for calculating distance or speed. This, in our opinion, creates a more sophisticated look than if this feature were on the bezel. The steep angle of the chapter ring also gives the watch some nice depth, while admittedly making the case thicker than it needs to be.
4. Casio Men's Slim Solar Multi-function – Best Under $100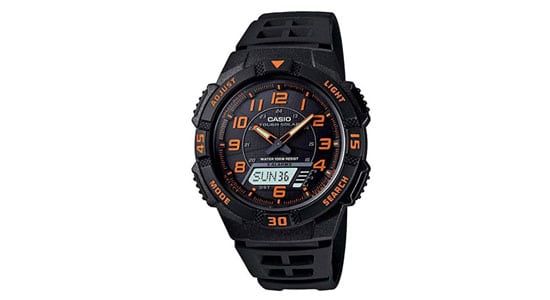 Highlights
Various timezones available
Great for travelers
Five alarms and a timer available
Easy to set the time
The correct product name of this watch is AQS800W-1B2VCF, and it has both an analog and a digital display. Aside from being solar, it also has a rechargeable battery to help it run in the dark. The fact that it is solar, of course, means that you shouldn't have to replace the battery for a long time.
Considering the features that it offers, this watch is excellent value for money. For instance, besides displaying the time, this watch also has a calendar display, two countdown timers, a stopwatch, and even world time, which lets you view the time in other timezones around the world.
This watch is relatively easy to set as well because you set it like a digital watch, and then the analog hands sync up to the digital time, which is pretty convenient in our opinion.
As far as aesthetics and build-quality go, we think this watch looks beautiful, and it also has a metal wristband which means it should last quite a long time.
At the front, the watch has a plastic ring around the face, which looks good as well. As far as other modes, the clock also lets you look at the charge of the battery. As long as you leave it by the window, if you're not using it, the battery should maintain a high charge consistently.
5. Seiko Japanese-Quartz Watch – Best Women's Solar Watch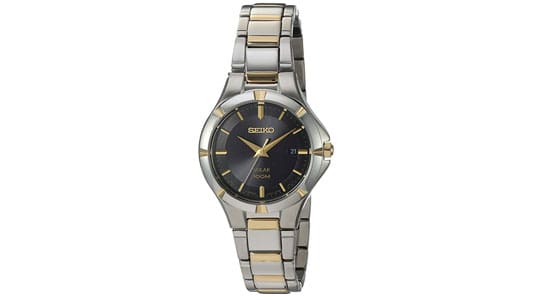 Highlights
Sporty, elegant design
Great go-to watch
Versatile
High manufacturing quality
If you thought Seiko was a brand for men only, now is the time to reassess that assumption. The brand has some fabulous options for women from the sports chic of the aptly-named Sportura to the more classic lines of the Premier. This product sits somewhere in between.
It's sporty in the same way as something like the Tag Heuer Aqua Racer but, like the Tag, straddles day and evening wear. Also, because it is a solar watch, it doesn't need a battery. Seiko launched its first solar watch back in 1977, and this is part of their new and improved solar collection.
One of the biggest challenges for solar-powered watches has always been the dial. The dials had to be semi-transparent in order to allow enough light to power the watch, which never looked very attractive. That, thankfully, isn't the case with this timepiece.
The other benefit of having a solar-powered watch is that you don't have to worry about battery changes, which is both good for the environment and your purse. Aside from solar power, what is impressive about this watch is what you get for your money.
For a reasonable price, you'll get all that solar technology, a wonderfully designed high-quality dial, and a stainless-steel and gold-casing bracelet. Also, don't be fooled by the word 'solar.' This watch can get power from all kinds of light.
6. G-Shock Rangeman – Best Outdoors 'survival' Watch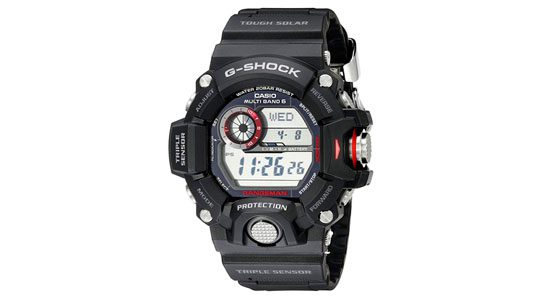 Highlights
Multiband 6
Triple sensor
Tough solar
Altimeter
Stopwatch
The GW 9400 is the first G-Shock to use a triple sensor, multiband 6 (which means it syncs to the atomic clock) and tough solar with a maximum power reserve of up to 23 months in sleep mode.
To use your triple sensor, you're going to want to push the middle right button. One beep will indicate the altimeter mode, and this will display anywhere from -2,300 feet up to as high as 32,800 feet. Two beeps will be for your compass, which will indicate north as well as bearing objective and bearing angle to the objective. Push the button again, and you'll see your barometer as well as a thermometer. Also, keep in mind that you can switch from metric to imperial measurements in any of these modes.
To go back to standard timekeeping mode, you'll push the lower-left button, and if you push it again, you can switch your modes. First is going to be your world time mode. This allows you to easily change time zones just by using the upper and lower right buttons, great for travel, or even if you wish to check a timezone quickly.
Next on the list is the 1/100th of a second stopwatch. You can start and pause it using the lower right button and reset using the upper right button. This can measure as high as a thousand hours.
7. G-Shock GW2310 Atomic Solar – Top Solar Atomic Watch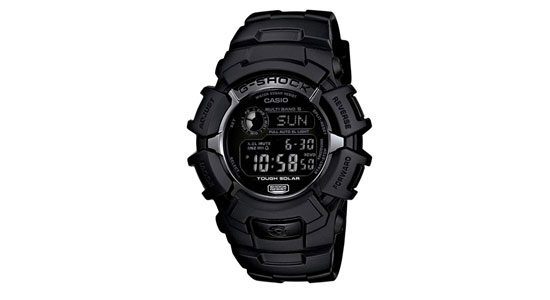 Highlights
Water-resistant down to 200m
Shock-resistant
Premium features
Atomic clock synchronization
Variety of modes
Another G-Shock watch with some pretty good features and a pretty reasonable price comes in the form of the GW2310 Atomic Solar. As a G-Shock watch, it is rugged and shock resistant, as expected. It is also water-resistant down to 200m, and on top of that, it has some neat features.
One of those features is Tough Solar, which means that the face of the watch has a solar cell built into it, and with regular exposure to everyday lighting, it should keep the battery charged automatically. This means you won't have to worry about changing batteries.
The other premium feature that we liked about this watch is Multiband 6, which is Casio's atomic time synchronization technology. There are six atomic time transmitters in different parts of the world – one in China, two in Japan, one in Germany, the UK, as well as one in the USA, in Fort Collins, CO. This watch will receive atomic time information from any of those six atomic time transmitters, and it will automatically update itself every day to keep itself accurate. The watch is also capable of showing you any time zone besides the one you are currently in.
When you consider the relatively low cost of this watch and those excellent features, it's easy to see that the GW2310 is an excellent entry into the G-Shock world.
8. Timex Men's Expedition Ranger – Great For Everyday Wear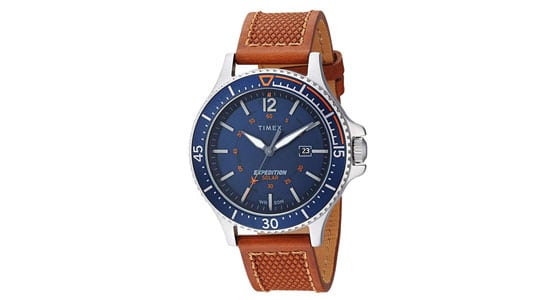 Highlights
Date function included
Simple and elegant design
Brushed finish
High-quality strap
Indiglo feature
This Timex watch has a 43mm brass case, which is 11.5mm thick, and measures 51mm lug to lug. It's on a 20mm leather strap, and it is, of course, solar-powered. It is water-resistant up to 50m (165ft). There are a neat Indiglo loom and a non-screw-down crown at 3 o'clock.
The clock doesn't include a day function, but it does show the current date in a small window, also situated at 3 o'clock. The non-movable brass bezel also looks quite nice and fits well into the overall design.
We love the way this watch looks most of all. We loved the indexes and the hands, especially the second hand, with the little arrow on the end. It is very legible and good-looking, and the royal blue gives it a timeless feel.
The fact that the case is made of brass rather than stainless steel doesn't affect the robustness of the watch much, as it still feels quite solid and substantial. Even though it is rather inexpensive, the watch feels well-built and surprisingly good-looking.
Because this is not a dive watch, it doesn't require a movable bezel, but it feels like that could have been incorporated anyway as it feels like a bit of a cop-out to make the bezel fixed. Also, something you're not going to see in the advertising pictures is that the crown is constantly popped out a bit, rather than being flush with the case.
9. Casio Men's Solar Sport Combination – Best For Sports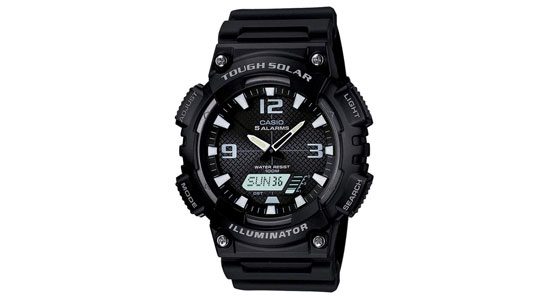 Highlights
Lightweight
Robust design
Several modes available
Digital screen
This relatively large watch measures 44mm in diameter and 48mm lug-to-lug, while the case thickness is about 13mm. Despite all that, the watch feels very light, mostly because the housing is made of plastic while the face is acrylic rather than glass.
Stainless steel was used for the back cover, and the strap and clasp are both made of plastic. On the sides of the case, there are four large bumps with buttons hidden inside. The bumps are quite substantial, so there's no risk of accidentally pressing any of the buttons, and you should be able to navigate them quickly, even with your eyes closed or in the water.
Analog hands indicate the hours and minutes. As far as the small digital screen goes, it shows the month, date, and seconds. Also, on the right of the digital display, there's an indicator that counts the seconds in 5-second intervals. We honestly thought this indicator was pretty useless, and space could have been used more efficiently.
The numbers in the digital display are not very easy to see, as the display itself has a height of only about 4mm. This is typical for Casio watches, however, so if you're a fan of their design overall, this shouldn't be a problem. Pressing the bottom left button changes modes, and you can switch between a few. There's the battery level indicator, which mostly stays at High, and only sometimes drops to Medium.
10. Seiko SNE331 Sport Solar – Military Look Watch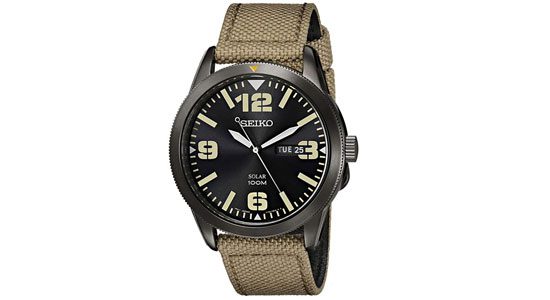 Highlights
Well executed minimalistic design
Insufficient charge warning
Reliable and long-lasting
Very legible
With this Seiko product, you're looking at a 43mm case, which is 11mm thick and has a 25mm nylon bracelet. It is waterproof up to 100m or 330ft. The watch has a mineral crystal and features the Seiko V158 Quartz movement.
The 10-month power supply is supplemented by solar charging, and the watch includes an insufficient charge warning. This means that if the battery starts to run down, the second hand will tick every two seconds to let you know you need to charge it up. It has a date and day function at 3 o'clock, as well as LumiBrite on a few of the indexes and the hands. We thought this watch was very good-looking, especially for those looking for a military-style design.
You could say that this watch is essentially a solar version of a popular SNZ G15, and it is also somewhat reminiscent of the Kinetic SMY14-3P1. Seiko has been putting out a lot of these field-style watches, and this is the solar version, while there's also an automatic and kinetic version.
The watch is legible and easy to read, and it has a black IP-coated stainless steel case. It does have a fixed bezel with knurling, which makes it seem like the bezel would turn, which we don't really like to see, but it's not a dealbreaker by any means. If you like simplicity and minimalism, this is one of the most straightforward solar watches you can get, but because it is Seiko, it is very well executed.
11. Citizen Men's Eco-drive Perpetual Chrono – Great Titanium Solar Watch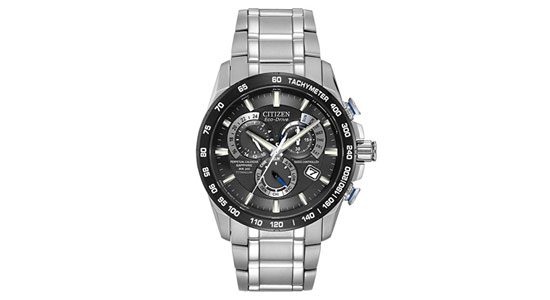 Highlights
Titanium case and band
Great textured design
Comfortable and lightweight
Stainless steel version available
This watch has a titanium case and a titanium band, which altogether makes for an excellent lightweight tool-watch that has almost every feature you could want in a watch.
As soon as you unbox this watch, you'll see that it has a really handsome design. You can differentiate the steel version of this watch from the titanium version because the titanium has blue accents on the knobs, the time zone display, as well as the power indicator, while on the stainless steel version those accents are in red.
If you're not a fan of the blue accents for some reason, the red accents on the stainless steel version are an option, although we would recommend going for the titanium version of this watch.
It is exceptionally comfortable on the wrist because of how light it is, and we also really like how the blue accents work with the face of this watch.
The texture on the back of the face is the light-sensitive portion of this Eco-Drive solar panel. We think the texture is quite pleasant to look at, and it gives the features on the face an extra note of depth.
With this watch, you're getting a feature-packed device. One of the main features is the titanium build, which makes it quite a bit lighter while remaining just as strong and resilient as the stainless steel band and case.
12. Pulsar PZ5061x1 – Great Solar Chronograph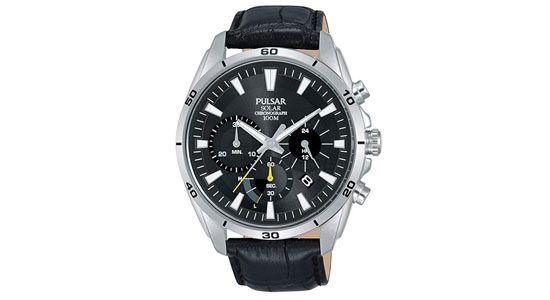 Highlights
Built to last
Highly functional
Japanese quartz technology
Large face
It's fair to say that there are three critical factors when it comes to selecting a watch you want to wear every day. It has to be built robust, functional, and, perhaps most importantly, good looking. The PZ5061X1 manages to check all of those boxes, which is why we decided to feature it on this carefully curated list.
For those of you who don't know, Pulsar started as a brand for the Hamilton watch company that was bringing LED watches to the market in the 1970s. The Pulsar was the first electronic digital watch that caught the eye of a big company. In 1978 Seiko watch corporation acquired the Pulsar brand, and it served as their mid-tier offering. Today, Pulsar watches are mostly analog and use the same technology as the 7062 Quartz.
When it comes to this particular watch, we can start by talking about the visuals. It uses a round metal face with luminous indices, three sub-dials, and a day window. It has a 45mm stainless steel case with a mineral dial window, Japanese quartz movement, and an analog display.
People tend to notice the good looks of this watch easily because of its impressive size. Speaking of which, if you have a small wrist, this watch is going to look huge on you. On top of that, it does pack a significant amount of weight, which could be a positive or a negative depending on who you talk to.
13. Garmin Fenix 6x Pro Solar – Top GPS Solar Watch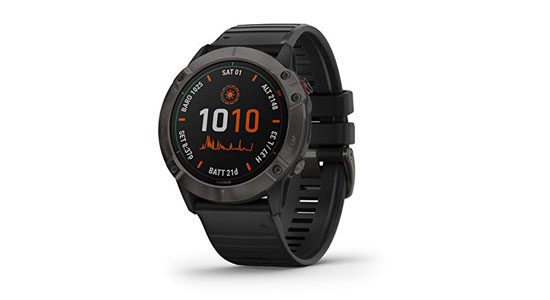 Highlights
Underwater heart-rate monitor
Customizable battery modes
GPS
Variety of fitness modes
If you are unfamiliar with the Garmin Fenix series, there are some things we would like to make you aware of in terms of its features. First of all, this is a fitness tracker. In fact, it's a really serious athlete's fitness tracker with more options than you'll probably ever need, but it's nice to know they are there if you ever need to use them.
So, what do we mean by 'fitness tracker?' Well, it gives you data for everything you could expect like steps, calories burned, intensity, sleep, all-day heart rate, satellite tracking for outdoor activities, and sensors, including GPS, GLONASS, and Galileo.
Aside from that, the 6X includes a compass, gyroscope, thermometer, accelerometer for indoor activities, and a barometric altimeter for ascent and descent. The first feature that separates this watch from the rest of the Fenix pack is the customizable battery settings. This is something that we've seen before in some of the Suunto series watches, and it allows you to quickly adjust system settings, activity settings, and GPS to extend your battery life during an activity.
You can create different power modes based on your needs and apply them to the activities to help conserve the battery. With each change you make, the watch is going to display an estimate of how much you're going to extend battery life while you're in the selected power mode.
14. Casio Women's LTP-S100D-7BVCF – Lovely Ladies Watch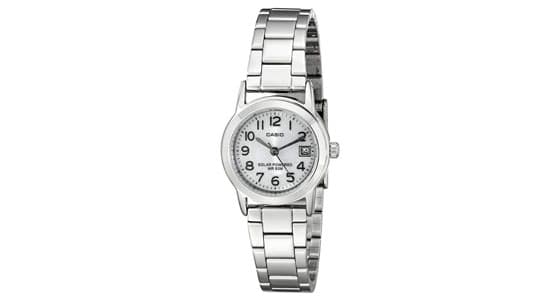 Highlights
Stylishly understated design
Date feature
Water-resistant up to 165 feet
Lightweight
If you're a woman, you want every accessory that you wear to exhibit a sense of your personal style and class. This is especially true when it comes to watches since they are often more eye-catching than we realize, mainly when we can find the right one. However, it can be an arduous task to find a solar watch that fits all your fashion needs.
Thankfully, Casio seems to have figured it out and designed the best solar watch for ladies that can work in any situation and complement your fashion needs no matter what you're doing for the day. It will be easy to fit this watch into any outfit and still have it feel like it belongs.
This means the watch doesn't stand out much on its own, however, but that's a trade-off we'd be willing to make because we find that with watches, it is often a case of 'less is more.'
However, there's nothing understated when it comes to the quality and features of this watch, and there are many reasons why you'd want to give it a look aside from its stylish looks. For instance, the watch includes a date feature, and it is water-resistant up to 165 feet. It is also made from stainless steel, which means it can last a very long time without scratches and marks.
15. Casio Men's WS220-1A – Top Pick For Digital Watch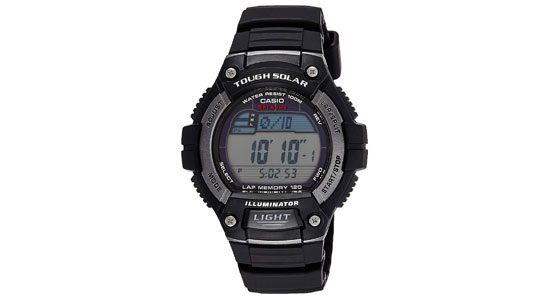 Highlights
Great G-Shock alternative
Excellent value
Variety of modes and functions
Robust and durable
Sometimes referred to as G-Shock's little brother, this cool watch has proven to be just as durable as its more substantial counterpart.
If you're looking for a digital watch that is sporty and that you can wear rain or shine, most likely, the first thing that comes to your mind is probably G-Shock. However, because of their price, some of you might want to check out some more affordable alternatives, which is why we poked around and found this.
We all know that Casio is a very reliable brand, and if you're looking for a G-Shock alternative, it doesn't get much better than the company that makes the original. The watch is comfortable, robust, durable, and looks cool, so don't be surprised if people come up to you and ask questions about it, wondering if it is a new G-Shock model.
Thanks to the solar charging, the battery life on this watch is awe-inspiring, as it is practically impossible to drain the battery. It also has several neat features and modes such as 24-hour time, stopwatch, countdown, world time, and it is capable of storing up to five different alarm times.
Holding down the adjust button allows you to change everything from the current time to date and time zone. The LED light isn't the brightest one we've seen but helps you see in the dark just fine. The 100m water resistance also allows you to do pretty much anything with this watch apart from scuba-diving to a great depth.
Finding The Best Solar Watches – Buying Guide
There are many different factors we considered when we made our selection of the highest-quality solar-powered watches. There are many good solar watches out there, but we set out to find the best of the best, and here's what we paid particular attention to.
Things to Consider When Choosing the Best Product
Quality
It goes without saying that the quality of any product – solar watches being no exception – affects how much you enjoy using it and the amount of value you receive from it.
We looked at all kinds of solar watches to create this list, and we can confidently say that the watches we selected for this list are among the most well-made and reliable timepieces on the market right now. Choosing a watch with a high quality of design and manufacture as well as highly-efficient solar capabilities was the priority for us as it should be for you.
It could be argued that finding a good-looking watch or one that fits your style is relatively easy, but finding one that will last and will offer you the features you need is not such a straightforward task.
Power Reserve
A solar watch can't fulfill its function correctly without a good battery that can last a long time between charges, as well as remain operational over years of use. We made sure to select the highest quality power reserves on the market and feature watches in our list that are capable of remaining usable for a very long time.
This is a tricky category because it is difficult to gauge the quality of a watch's battery without using it for a long time, which is why we relied heavily on the reviews from previous customers and Amazon shoppers for this one.
Looking at reviews can be one of the best ways to make sure that a product is the right one for you, so don't be afraid to give them a thorough look at whatever purchasing decision you're trying to make.
Brand
We understand that the brand of a product doesn't necessarily have to reflect its quality. That said, when it comes to solar-powered watches in particular, high-end, reliable brands have shown a tendency to present high-quality products, and they don't mess around with their brand name.
This means that more than any other product, watches are somewhat brand-dependent when it comes to quality. This is why we decided to feature some of the most well-established, well-known brands on this list, such as Casio, Seiko, and Citizen.
On the other hand, finding a watch from a relatively unknown brand that can deliver on its promises can be one of the most satisfying shopping experiences, so don't be afraid to dig around.
Important Features To Look For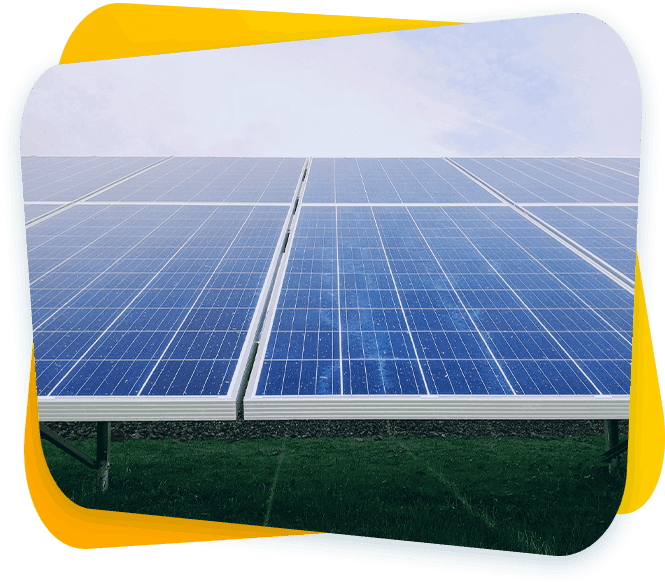 Q:
Are The Straps On These Watches Adjustable?
If you've selected a watch with a metal strap, you can make it shorter by removing links. It's probably best to leave this to a professional unless you have some experience with the process to prevent any potential damage to the strap.
Leather, plastic, fabric, and nylon watch straps can't be shortened or extended but they come with pre-punched holes, which should allow you to adjust the strap to your wrist. You can also remove the strap from most watches if you'd like to replace it or clean it thoroughly.
Q:
How To Take Care Of My Watch?
The type of care you're supposed to give your watch depends mostly on the kind of band it has. Resin, leather or nylon watch straps should be watched closely, especially in warm weather or when used in sports that induce sweating.
If your band gets damp, it's a good idea to wipe it with a clean cloth to prevent it from wrinkling and adopting an unpleasant smell. When it comes to stainless steel or titanium watch bands, use a damp cloth to remove the gunk that might accumulate over months of use.
Q:
Are Solar Watches Accurate?
If you're worried whether a solar watch will continue to keep time when light becomes unavailable, it will. Solar watches continue to work for a long time, even sitting in drawers and cabinets that never see any light.
The rechargeable batteries on these watches are capable of holding a charge for varying amounts of time, but most of them show excellent results, and you'll likely not need to worry about battery ever. In terms of accuracy, solar watches are just as accurate as any other type of watch, which is especially true for atomic watches that adjust their time automatically every day.
Q:
Do I Need Sunlight To Recharge My Solar Watch?
Actually, any type of light can be enough to charge your solar watch; it just may take a bit longer than exposing it to sunlight. Recharging time will also vary depending on the season, so you'll get faster charges during the beautiful sunlit summer months when the sun is out for most of the day.
During late fall and winter, it's a good idea to leave the watch by a window when you're not using it to give it the best chance of remaining fully charged at all times. You can also simply leave the watch sitting out in a brightly-lit room.
Q:
How Do Solar Watches Work?
Both analog and digital solar watches utilize solar panels, which are usually arranged around the face of the watch and collect energy from the light during the day. Most of them come pre-charged, but if you need to do it yourself, check the included instructions and it should be easy enough.
Because watches don't need a lot of energy to run in the first place, solar technology fits them perfectly. Unlike things like laptops, tablets, and smartphones, solar watches will keep their charge for a very long time without you ever really needing to think about keeping them in the sun.
Conclusion
Solar-powered watches have brought in a significant change in the world of wearable timepieces. Because of the continually recharging batteries, your watch will continue to work for a very long time without you needing to worry about replacing the battery every couple of years.
On top of that, many solar watches include a variety of useful features and modes that you can explore and utilize. If you travel a lot, for example, you could find great use in the World Time feature, or if you're a fan of swimming, you'll likely need it to be water-resistant.
Picking the right watch for you, however, is not an easy task. You must first determine exactly what it is you're looking for, and then set out to find the watch that suits your needs best. We highlighted fifteen of what we think are the best solar watches on the market, and we hope this guide will help you on your quest.
Check out some other picks from Amazon also: